How to Print Text Message Conversation from Samsung Note/Galaxy S2/S3/S4?
I suspect that my daughter is having "puppy love" but her father doesn't believe that. So I want to print my daughters' cell phone text messages out for evidence. Is it possible? By the way, her cell phone is Samsung Galaxy S3.
Printing text messages from the phone of your daughter, your husband or your wife seems not aboveboard, but it is really a forceful way to leave an evidence of their cheatings and know who they have communicated most frequently and what they have talked about. Most Samsung users choose to print out text messages from a Samsung phone is taking screenshots of the text message conversations by pressing the power and home button at the same time for about 1 second. Email yourself these screenshots and put them all in a Microsoft Word document, then, print it out. This is the most direct way without downloading any third-party software. However, only the current page of the SMS messages can be captured and if the conversation is very long, you may need to take hundreds of screenshots one by one, which will cost you much time and energy.
Is it possible to print out SMS from Samsung mobile with a click?
Want to print out a mass of text messages from a Samsung smart phone easily, you can extract all text messages from the Samsung device, save them as printable format and then print them out in one piece of paper together. However, text message does not like other file type, such as video, music, photo, etc, is saved on the SD card in a phone. SMS files are stored in phone's internal storage that we can not use the traditional USB delivery method to transfer them to computer. To export text messages from Samsung Note/Galaxy S2/S3/S4, you just need an Android SMS extracting program to extract all the text messages from your Samsung device.
To save your time to look for a suitable Samsung SMS extracting tool by trial and error, you can have a try with Coolmuster Android Assistant (for Windows 8/7/XP) or Coolmuster Android Assistant for Mac, a professional Android manager to help you extract text messages and other file types like videos, music, audio files, contacts, call history, etc. from Android phones to Mac or PC with zero quality loss. With the help of Android Assistant, you can transfer all your needed text messages from a Samsung phone and save them in HTML format, which can be printed out smoothly without any adjusting. Wonder how it works? Read on and follow the step-by-step guide below.
Tutorial: A Few Steps to Print out Samsung SMS on A Computer
Windows and Mac versions are both available for the program, you should choose the right version according to your own situation. No matter you are using a Mac or Windows PC, you can refer to the guide below.
Step 1. Connect your Android phone to Mac computer
First of all, link the Samsung phone from which you want to print text messages to an empty USB port on your computer and wait until the phone appears as a removable storage device in "My Computer". Install and launch the Android managing tool, then, you will see the main interface with some parameter information of your phone, including phone model, system version and storage space size.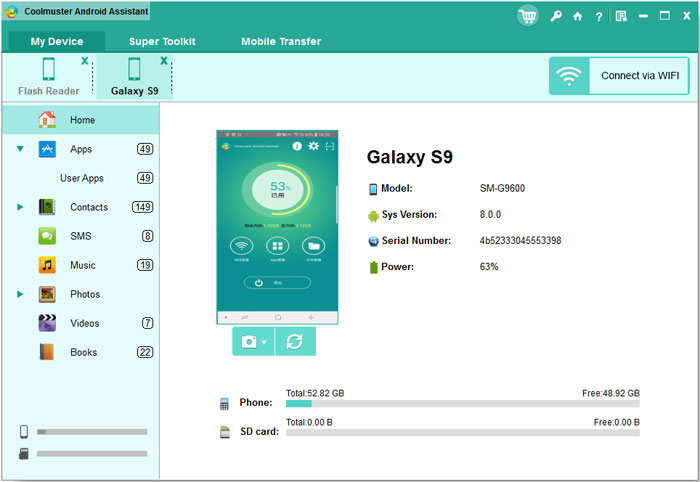 Note: Coolmuster Android Assistant is fully compatible with all popular Android phones, including HTC, Google, Motorola, Samsung, Sony Ericsson, Huawei and so on.
2. Ready to scan and preview text messages
The program will scan your Samsung mobile phone, including the SD storage card and the internal memory. After a few seconds, all your phone data will be scanned out and displayed in the left panel, organized in clear categories. Just choose the "Messages" category and preview all the stored incoming and outcoming messages in details, including transmission time and sender.
Note: By using this program, you can directly and conveniently send messages on your computer to specific phone number. In that way, you can easily send a message to a group of friends.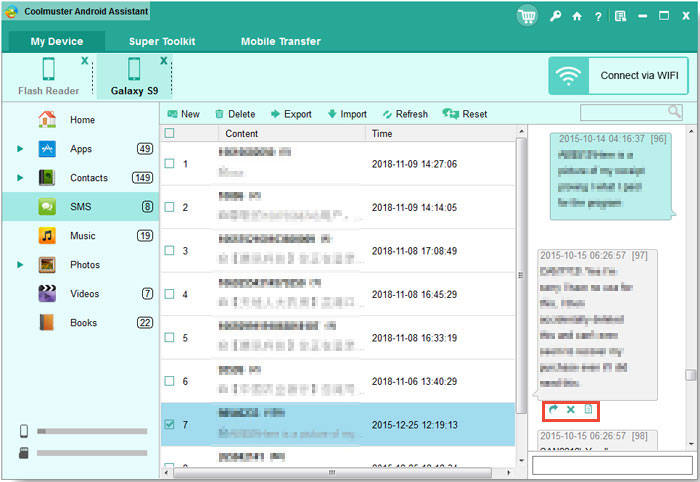 3. Start to export and print the Android SMS messages
Select the text messages you want to print out from the Samsung phone and then press the "Backup" button on the top menu to start the transferring. There will be a "Path" dialog pops up, asking you to choose an output directory where you want to put the exported text messages. Just choose to save these SMS files to your computer local and then the transference will begin automatically.
After a few seconds, you will see all your selected text messages are laid in the specific output folder, saving in a printable format. Now, you are able to open them and print them directly with a connected printer without any extra work. It is very simple, isn't it? Don't hesitate to try Coolmuster Android Assistant, you will see your wanted text messages can be printed out easily as a piece of paper. It is also a competent backup tool to help you make a copy of all your crucial data on your Android phone and you will not have to worry about data loss issue any more.
Related Articles:
How to Save Text Messages from Cell Phone to Computer
Transfer Text Messages from Samsung Galaxy S4 to Mac/Windows 8/7 Computer