Transfer Text Messages from Samsung Galaxy S4 to Mac/Windows 8/7 Computer
Text often with your mobile phone? As we all know that text messaging is an indispensable part of the cell phone and continually grow as a preferred communication method. The much-appreciated Samsung Galaxy S series like S4, S3, S2, etc. also provides users with powerful message features. People choose to transfer these text messages from a mobile phone to a computer for lack of space or for further records. Before showing you how to export text messages from Galaxy S to computer, we would like to tell you where the text messages located in Samsung Galaxy S. Well, we know that there are two storage places available in a mobile phone: Internal storage and SD memory card.
How does Samsung Galaxy S4/S3/S2 Store Text Messages?
Most people would expect that the text messages should be placed in the SD memory card, but the fact is that only the multi-media files would be saved in the external SD card and the text messages will be stored in the internal storage. You can easily transfer data from a cell phone SD card to computer by inserting the SD card into a card reader and then connecting to a computer, but you can not copy files in the internal memory from a mobile phone in the same way. Text messages are stored in the internal memory inside your Samsung phone's memory, which is different from the media content. You have to ask help from third-party software to help you export text messages from a Samsung Galaxy S4/S3/S2 to a Mac or Windows computer.
Best Tool to Help Transferring SMS from Galaxy S4/S3/S2 to Computer
We humbly introduce you with a professional text message transferring tool Coolmuster Android Assistant (for Windows 8/7/XP) or Coolmuster Android Assistant for Mac, which is specially designed for Android Samsung Galaxy S series. It is a versatile program that is able to help Samsung Galaxy users to transfer text messages from their phones to computer hassle freely. And you are fully capable of managing your Galaxy files on Mac or Windows computer directly.
- Effectively transfer SMS, contacts, photos, videos, music, apps, etc., between Samsung Galaxy S4/S3/S2 and computer.
- You can directly send the messages, even group messages from computer to specific cell phone.
- Deeply scan all your data from your Galaxy internal memory.
- Directly send messages from your computer to specific phone number.
- Support almost all Android phones and feature with an easy GUI.
How to Copy SMS from Samsung Galaxy S4/S3/S2 to Computer?
Below is a straight-forward three-step process showing you how to transfer text messages from a Galaxy S phone to a computer by using Coolmuster Android Assistant. The guide takes Windows version (Windows 8/7/XP) as the example. If you are using a Mac, you can download the Mac OS X version and refer to the guide as well.
Step 1. Connect Samsung Galaxy and run the program
Connect your Samsung Galaxy to your PC directly via the USB data cable. Once the connection is successful, the phone will appear as a removable storage device in "My Computer". Install and launch the Android managing tool, you will see the program will automatically detect your phone and all the detailed information of your phone, such as phone model, system version and storage space size, will be displayed in the main interface.
Note: Coolmuster Android Assistant is fully compatible with all popular Android phones, including HTC, Google, Motorola, Samsung, Sony Ericsson, Huawei and so on.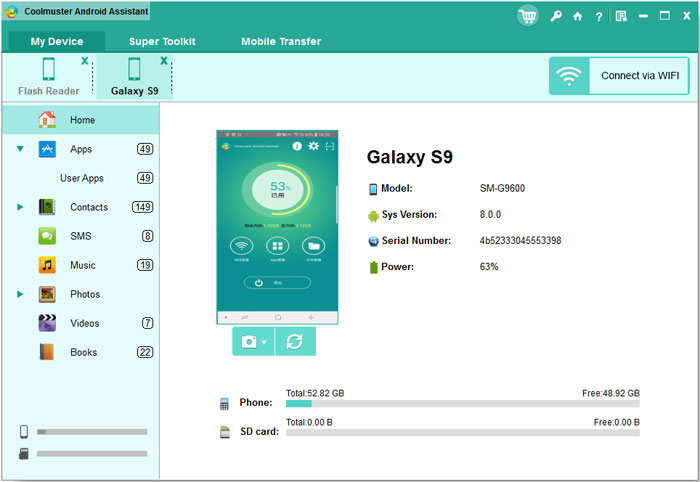 2. Start to scan and preview text messages
Next, the program will automatically scan your phone's memory, including its internal memory. After a few seconds, all your phone data will be scanned out and displayed in a tree structure. You can choose the "Messages" category and preview all the stored messages in details, including all income and outcome text messages.
Note: By using this program, you can directly send messages, especially group messages, from your computer to specific phone number.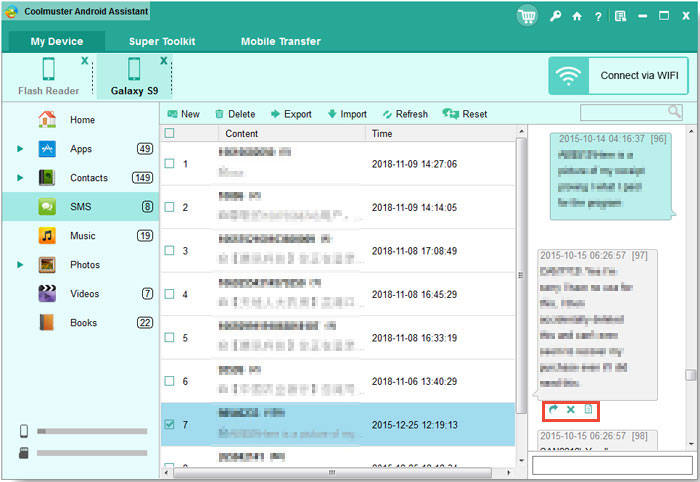 3. Choose output path and ready to export
Select the text messages you want to export to your computer and then press the "Backup" button on the top menu to start the transferring. There will be a Path dialog pops up, asking you to choose a save directory if you do not want to save the exported text messages in the default output location.
After a short waiting time, you will see all your wanted text messages are laid down in the specific output folder, saving in the format of .csv. Coolmuster Android Assistant is regarded as the best Android managing software. If you are searching for a way to make full use of your Android phone and managing your Android files much easier, Coolmuster Android Assistant is your must-have tool. There is no way better than to try it yourself, download the software right now!
Related Articles:
How to Save Text Messages from Cell Phone to Computer
How to Transfer Photos from iPhone to iPad with or without iTunes