How to Recover Lost Files from Micro SD Card Efficiently?
Each time I try accessing the photos on my phone, my Micro SD card hung. It says that the memory card is not formatted. Should I format my card? If so, how do I recover the contents of the card if they are lost due to the formatting? Thanks for any suggestion!
The storage capacity for portable device is limited. It is far unable to meet the needs of the people, who like to save numerous videos, songs, photos and other file types. That is why the external storage is becoming more and more popular and even becomes a necessity. Micro SD Card is one of the external storage devices that is widely used on portable devices, such as digital cameras, personal digital assistant, media player and so on.
What are the reasons behind the data loss from Micro SD card?
The tiny Micro SD card is easy to carry and makes it convenient to store large amounts of information. However, just like other storage media, the files saved on Micro SD card can also be easily lost or stolen.
- You thought you have already backed up your photos and movies so you delete all the original ones. Or you just accidentally pressed on the Delete key.
- When you insert the SD card into the computer, the system remind you to format the card if you want to continue to use the card. So, you are forced to format your SD card.
- The Micro SD card was suffer from computer malware or virus and the storage capacity shows 0 KB.
- Other unknown reasons.
When we delete a file from a SD card, the system just mark the file as deleted and the space it occupied has been released. You will not lose the file actually until other files come in and take up the space. Therefore, if you delete any important files from Micro SD card and want to retrieve it back, do remember not to bring new data to overwrite the deleted file. Then, what can we do if we want to restore lost files from Micro SD card?
Way to Restore Lost Files from Micro SD Card Step by Step
To make the invisible deleted files readable, we would like to share a Micro SD Card recovery tool - Coolmuster Data Recovery (for Windows 8/7/XP) or Data Recovery for Mac, which is focus on recovering deleted, formatted, corrupted or lost photos, videos, music, documents, etc. from Micro SD card, as well as USB drive, mobile phone, MP3/MP4 player and other external devices. It has a wizard style interface and very easy to handle. Just within minutes, you will get back what you want with original high quality.
Step 1. Run SD Card recovery and insert your Micro SD card
Coolmuster Data Recovery is very small and you may free download it in seconds. Connect your Micro SD card to the computer, run the downloaded executable file for the software and you will see its user-friendly interface like below. Highlight the recovery option you need and click the button of "Start" to detect your connected Micro SD card.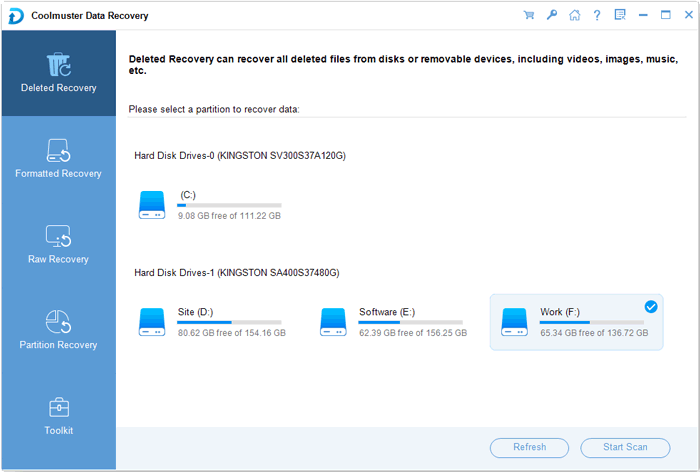 Step 2. Select your Micro SD card for scanning
The program will detect your Micro SD card if you connect it to the computer successfully. Just select the drive letter for your SD card and click "Scan" to scan for your lost files. With a proud Deep Scan engine, Coolmuster Data Recovery will perform a thorough and quick scanning for your card.
After scanning your SD card, all the data, including the lost files will be organized in clear categories and displayed in the left panel. You can preview these recoverable files before recovery.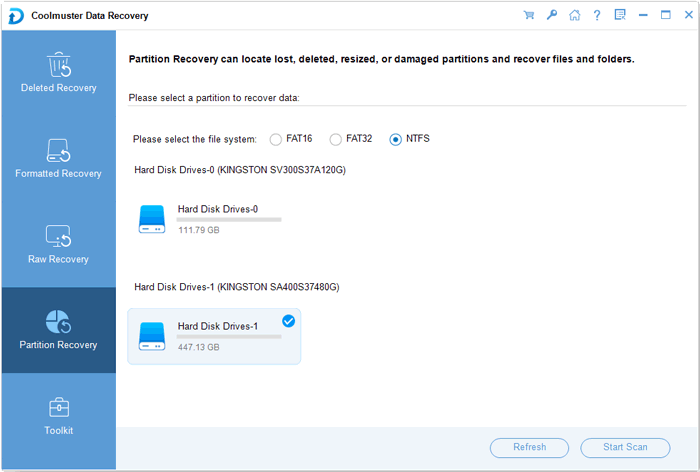 Step 3. Restore Lost Files from Micro SD Card
Mark the files you want to recover and click the "Start" button. Then, there will be a pop-up dialog box asking you to choose an output folder where you want to save the recovered files. Just select a save directory and then the SD card data recovery will begin.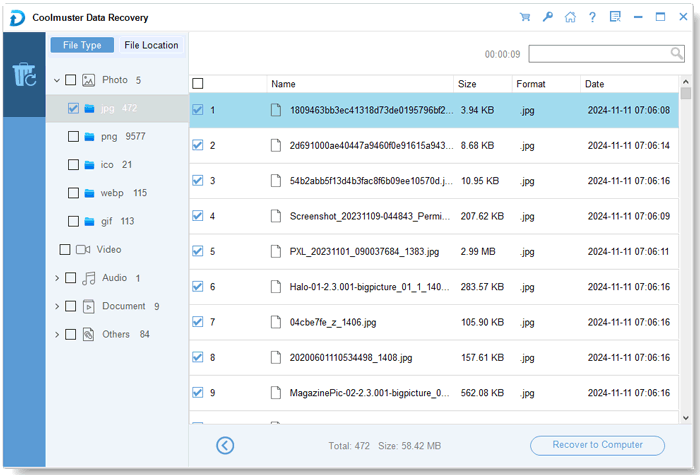 Matters Need Attention about SD Card Recovery
Coolmuster Data Recovery is powerful but it is not a panacea. It can help you effortlessly recover your lost data from SD card but also becomes helpless if the recoverable data was overwritten by new files. So, it is crucial that never use your card to capture new data once you lost files from it. When recovering files, do not save the recovered files on the original Micro SD card where you lost them, for safety's sake. Just save them on your computer or other storage devices.
Related Articles:
How to Recover Lost Photos from Formatted Micro SD Card