Top 5 Android Backup Software in 2017
Since we are all become more and more dependent on our smartphones, we should secure the data that is stored in them. Since phones are technical gadgets, they can start showing signs of trouble at the slightest glitch in its hardware or software. On the other hand, there is always a chance of them getting stolen, lost or broken due to carelessness.
To make sure that you can still access all your precious pictures, videos, contacts, music and conversations, you need to have a good Android backup software. No matter what happens to the device itself, you will not lose any data in case of a mishap. Wondering what the best Android backup apps are there in 2017? Read on to find out more.
1. Coolmuster Android Assistant
2. MOBILedit
3. Helium
4. Sandisk Memory Zone
5. Backup and Restore
Top 5 Android Backup Apps for You in 2017
1. Coolmuster Android Assistant
Coolmuster Android Assistant is not just an application. A complete Android managing software, it can back up all your data including Android media, contacts, texts, games and more on your computer so that you never lose anything valuable. Filled with amazing functions, you will find that just a series of clicks is all you need to protect your data. It provides the perfect combination of a simple interface, high compatibility and efficiency, which makes it the best in the market.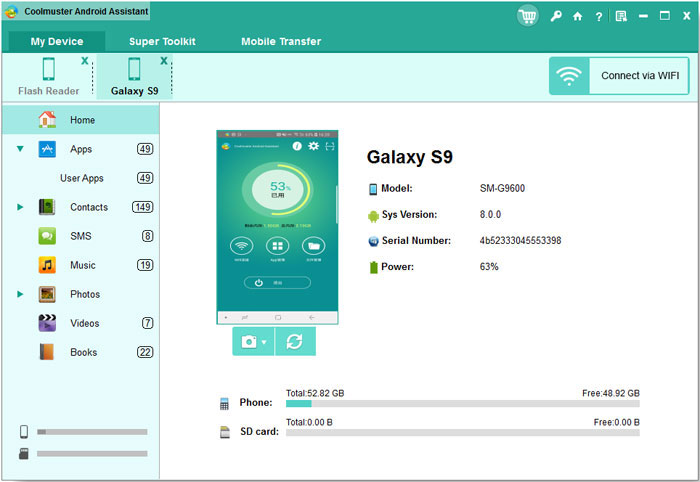 Pros:
- Can back up everything.
- Money back guarantee within three months.
- Works with all Android brands.
- Trial version available.
Cons:
- Not free for full features.
MOBILedit backs up all data from your Android phone automatically when you are exploring the software. You can find the backup files in your offline folder. If you connect your phone to the computer, you can save all data and manage the phone storage.
Pros:
- Automatic backup.
- Cloud-based backup which is foolproof.
- Highly compatible.
Cons:
- It is not free of charge.
Helium is an application that is packed in less than 5 megabytes but delivers solid work. Developed by ClockWorkMod, Helium has a number of premium features that come with no cost. You need Google Drive support if you want an online backup. But you can also save your data offline to the MicroSD card or computer. You can use it in both root and non-root mode.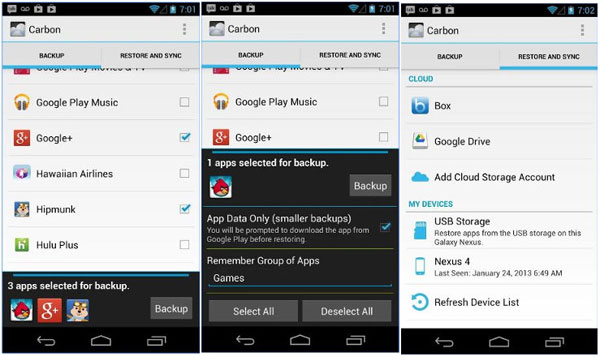 Pros:
- Highly accessible.
- Provides both online and offline backup.
- Free premium features.
Cons:
- You need to upgrade to Premium mode to avail online backup.
When a premier HDD manufacturer like Sandisk launches a backup app, you know that it is bound to be good. Once you download the Sandisk Memory Zone, you will find a tabbed interface from which you can choose the files that you want to back up. The app is multi-faceted in the sense that it will also help you do bulk file transfer or compression.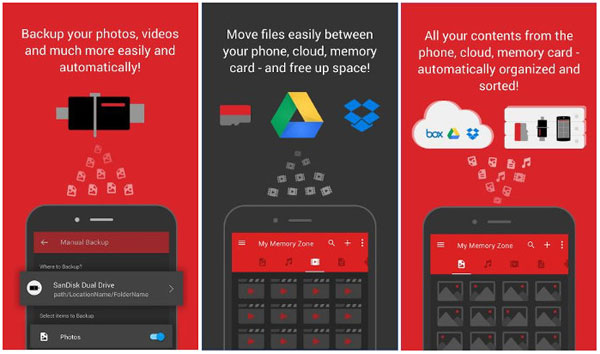 Pros:
- Search function for quick detection.
- Supports cloud services like GDrive and DropBox.
- Extensive sorting functions.
Cons:
- Can malfunction.
Backing up your files will not feel like a complicated task with this app - Backup and Restore. The simple user interface is supported by a variety of free premium features. You can even share applications between devices using this app. The one-tap backup module will help you keep all contacts, calls, and texts safe.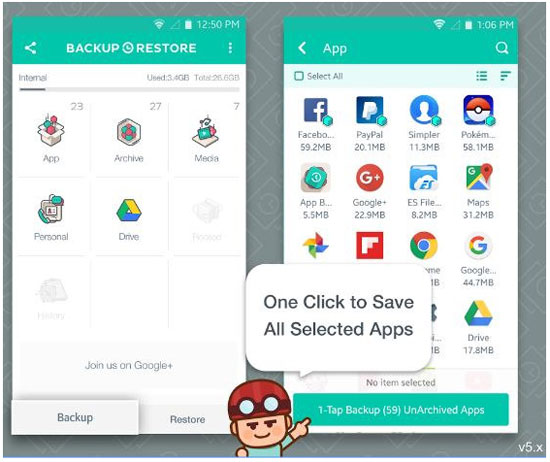 Pros:
- Supports Google Drive cloud.
- Inbuilt virus scanner.
Cons:
- Too many advertisements.
Android Assistant - The Best Backup Software for Android in 2017
To sum up, Android Assistant is the best Android backup software because of:
- It supports almost all types of files, including music, photos, videos, contacts, SMS, apps, etc., enabling you to backup them to computer and restore them easily.
- It also provides one-click backup and restore feature that make things quite easy.
- What's more, it is a Contacts and SMS manager that allows you to delete, add, export and import contacts and text messages.
- Allows you to send text messages from computer to any phone number.
Related Articles:
Top 5 Android eBook Readers You Should Know