Professional Android Music App to Create Realm of Music!
Android phones and devices come with preinstalled music apps. But they are very basic and lack functions and features to please music lovers. Android music apps are needed for their great performance, customizable playing options and many features and offerings that make listening to music a great experience. Lets us find out the best 5 music apps for Android now.
These apps will help you to do more with the music you love .Whether it be enabling you to listen to the music you want differently or just help you tinker with it, there is a lot that you could do with these cool music apps.
Top 5 Music Apps for Android Phones and Devices
Here is a look at some of the top Android music apps that you definitely would want to check out:
1. Equalizer music player booster - It offers a cool equalizer that enhances the sound quality. You can also use the sound booster feature to increased output. It has a vintage design and useful music playing options. It also has different playing modes. With this music app, you are free to customize the music songs to your tastes as you needed and wanted!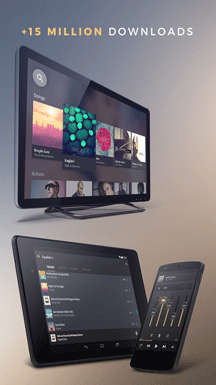 2. Poweramp - It supports many music formats and has a 10 band graphic equalizer. The bass and treble can be customized and has a unique dynamic cue option. It supports and searches for lyrics and comes with many themes and visuals. And various formats like MP3, MP4/M4A, OGG, WMA, FLAC, WAV, APE, WV and many more can be perfectly supported.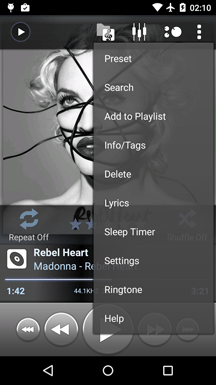 3. Blackplayer - Equalizer, bass boost and 3D surround sound – this light and simple Android music app is great for playing your tracks. Different gestures let you control and browse the library and support FLAC and embedded lyrics. This app supports the standard local music file formats like MP3, WAV, OGG. And the inbuilt Equalizer, bassboost & 3D surround virtualizer allows you to enjoy music feasts at ease!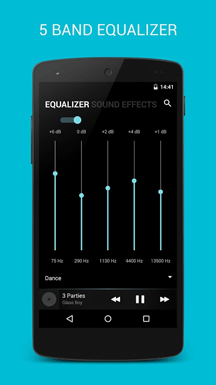 4. Google Play Music - From the official Android lineage, Google music app is best for using on the go. Almost 20,000 songs can be uploaded on the app and accessed from anywhere. It also has a great subscription service. The collection of over 50,000 songs allows you to enjoy music songs and freely relax yourself without any difficulty. This app also enables you to discover and subscribe podcasts to your taste.
5. PlayerPro Music Player - A popular music app that with unique features like gesture and shake support. It plays multiple file types with lock screen widgets. This PlayerPro Music Player also empowers you to edit the music songs as liked, such as rename your music file folder with a special name. Also, you are free to change the playing mode so as to suit your own taste.
Why Need an App Manager for Android Phones?
Music apps need managing and organizing. Coolmuster Android Assistant lets you manage and export all your Android apps, media files, texts, and many more directly to your computer and back them up. In case of data loss, the backups can be used to successfully restore the Android devices. Apps are easy to be copied or transferred even to SD cards and use the PC to install, delete or control apps.
How to manage music apps with this software:
Step 1 - Launch the tool, select Connect via USB and connect your Android device with the computer. You have to activate USB Debugging. For that follow the on screen instructions. You can also make the connection using Wifi.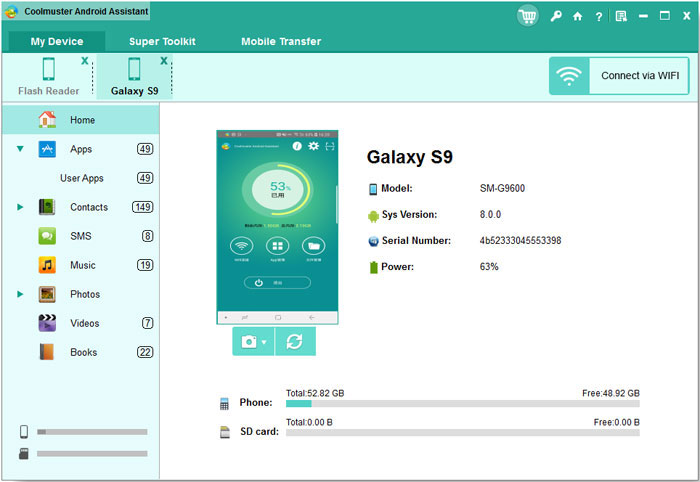 Step 2 - After the debugging, your phone details will be displayed on the interface. Now from the left side menu, click on Apps. This will list all the apps on your device including Android music apps. You can now manage apps at will. They can be installed, uninstalled and exported easily with just a click.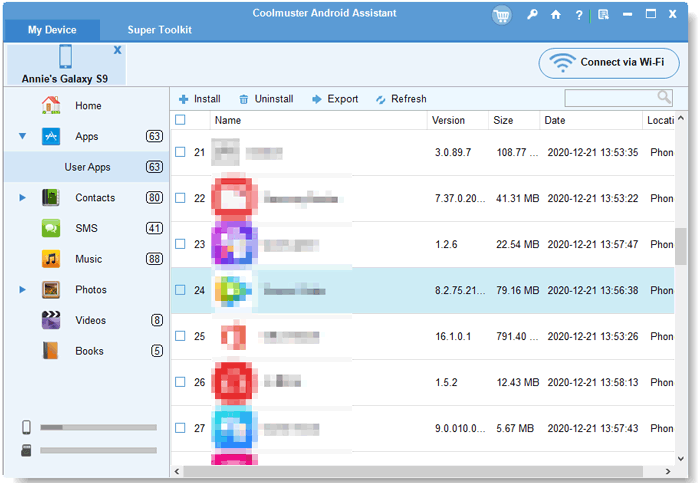 These simple steps will help you ensure that you can play all your favorite music on your Android device just the way you want it to. All it takes is a few simple steps and Coolmuster Android Assistant makes things really easy.
Related Articles:
How to Manage Multiple Android Apps