Best Apple iTunes App for Android Phones/Tablets
As far as mobile music interfaces go, it is difficult to beat iTunes. For almost fifteen years, this Apple media platform has been making it easy for music lovers to download, store, display, locate, and listen to their favorite songs. However, a streamlined music interface is just one of the benefits of using iTunes. At present, the Android does not have an equivalent to the iTunes interface, and this gives it a distinct disadvantage. The question is, what are Android users supposed to store, manage, and play their favorite tunes on? How are they supposed to handle the quick and secure movement of files across all of their devices?
What is the Coolmuster Android Assistant app?
The good news is that there absolutely is an iTunes equivalent for the Android, and it can be downloaded in a matter of minutes. It is called the Coolmuster Android Assistant or Coolmuster Android Assistant for Mac, and it is a third party app which can be used as a management program for all kinds of different data on the Android. This app is great for organizing and transferring music, video, text, SMS, contact files, and more. It is similar to iTunes because it offers Android users an easy to navigate interface, from which they can move audio, image, and text files back and forth between a computer and a mobile device with nothing more than the click of a button. Plus, the same files can be exported, imported, and moved around a number of different iOS devices in a matter of seconds.
The Coolmuster Android Assistant is easy to use, works fast, and is guaranteed to keep your data secure. Free download the trial version of the program and then the following part will show you what the Coolmuster Android Assistant can do for you.
What Can The Apple iTunes App for Android Do for You?
Back up Android Data
If you would like to back up data from your Android to a computer you first need to select the data files which you wish to work with. For example, if it was music files you wanted to back up, just in case your phone ever breaks down, the best thing to do is double tap the MUSIC button on the main interface. This will bring up a window containing all of the available music files, and you can then select the relevant ones, and press EXPORT.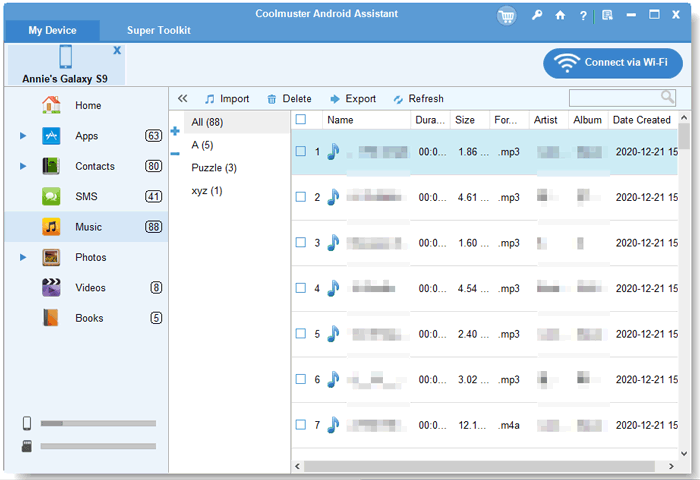 Restore Your Android Phone
Once you have backed up your essential data, you will always have the option to use it for a restore if it ever becomes necessary. This is an easy thing to do, because it involves just tapping the RESTORE button, selecting the data which needs to be restored, and then clicking the RESTORE button a second time to kick start the process.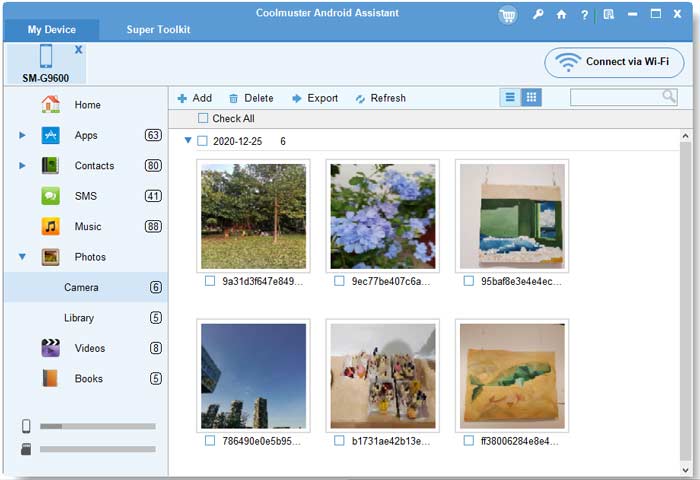 Import Files to Android Device
The Coolmuster Android Assistant imports all kinds of data from computer to your Android device. In order to move content, you only have to check and select it (this applies to images, videos, and text files), and then tap the IMPORT, function to transfer these files to Android from other sources. For music files, this is the simplest way to take songs off your computer and put them directly on to your Android phone.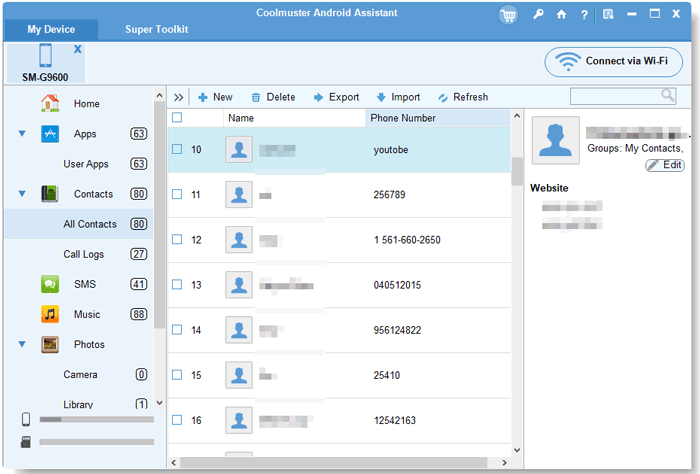 Manage Android Applications
Last but not least, it is also possible to use this iTunes app for Android to organize and manage applications. Once again, this is very easy to do, and involves nothing more than tapping the APP icon, and selecting which application and which action you want to take. From this window, you can install, uninstall, or export any application downloaded onto your Android.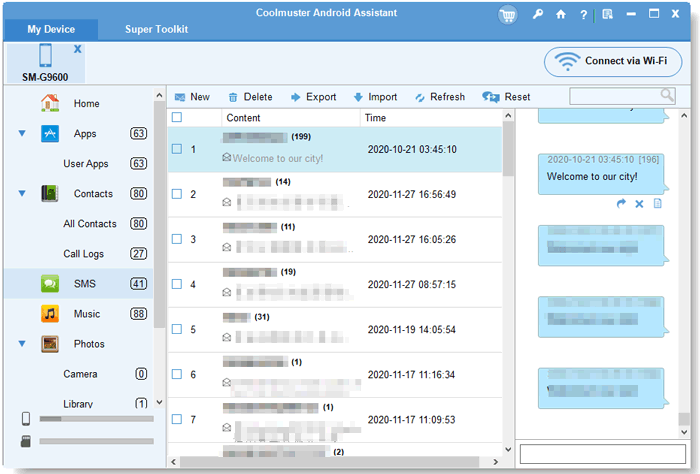 Android Assistant can also Add/Delete/Modify contacts and Export/Import/Send text messages on your Android phone. Isn't it more powerful than Apple iTunes?
Related Articles:
How to View Android Text Messages on Computer