How to Backup Android System Apps & Settings?
It is very important to backup the system apps and settings on your Android device even though most people always ignore it. However, it is not easy to do that because when you search on web, there are a few ways you can refer to backup system apps on Android and backup settings on your Android device. Even most methods require you to install a third-party tool. Therefore, it becomes important for you to choose an app that is reliable. There are many popular apps for backup Android, such as MyBackup Pro, Titanium Backup and SMS Backup, etc.
People Also Read:
Best HTC Backup Assistant
Backup Samsung Galaxy S9 Data
After you have made a backup of your Android system apps and settings, it would be simple to restore the backup after data loss issue occurs. In this article, we are going to share you with one of the most popular third-party apps to backup your Android device.
How to Backup System Apps and Settings on Android Device?
You need to find a third-party application to do the backup of Android system apps and settings. Well, we provide you with a detailed step-by-step guide that you can follow directly without consideration of which application should be selected.
Step 1. Search for a reliable Android backup app
To find the best application you want, you can directly go to the Google Play Store and enter "Backup Android" in the search bar. Then, there will be a list of Android backup apps displayed, including Titanium Backup and My Backup Pro. Just select the one you like and tap "Install" button to install it on your Android device.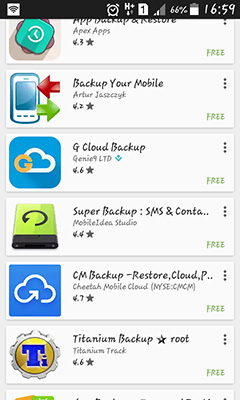 Step 2. Select the apps for backup
Once you have installed the app you have selected on your Android device, you can launch it and then use its Backup and Restore feature to backup your Android device. Most Android backup apps allow you to select the files to backup. Here, you just select the apps for backup.
Step 3. Backup Android system apps and settings
After you have backed up the apps you want on your Android device, you can then use email or Bluetooth to export the data to your PC. To do that, you can navigate to the backup file on your phone's memory or SD card, click on the Share button, choose "Send Data Device" and then click on "More" > "Send Data" to send the data to your computer by following the on-screen instructions.
Recommendation: Simplest Way to Backup Android Phone Data
As you can see, the method above is a good method to backup your Android data, but the operations seems pretty complicated and if you are a computer novice, you would run into trouble midway through the backup process. If you are looking for a direct and convenient way to backup app and other data on your Android device completely, you cannot miss the efficient and reliable tool - Coolmuster Android Assistant (for all Windows versions) or Coolmuster Android Assistant for Mac (for all Mac versions).
Main Features of Android Assistant:
Android Assistant is specially designed to backup and restore all data on your Android device easily and quickly. You can use it to:
> Export videos, photos, music, contacts, SMS, apps, text messages, etc. from any Android phone or tablet to computer.
> Restore any Android phone data from this same saved backup file with a simple click.
> It is a contacts & SMS assistant, which can help you add new contacts, delete old or expired contacts, edit existing contacts and duplicate contacts and send & receive text messages on computer directly.
> Be compatible with all Android devices, including Samsung, HTC, LG, Sony, Motorola, Huawei, ZTE, etc.
> Easy to use and 100% risk free.
Next, follow the guide in the below to see how to use it to backup your Android data. Before that, you should click the following buttons to get the Android Assistant installed on your PC or Mac computer.
Step 1. Connect your Android phone with your computer
After you have downloaded and installed Android Assistant, you can launch it directly on your computer and use a USB cable to connect your Android device to your computer. (You may have to open USB debugging on Android phone before Android Assistant can open and read all your phone data)
After detection, a screen will pop up with all the data categories of your smartphone on the left hand side column and an icon for your smartphone in the middle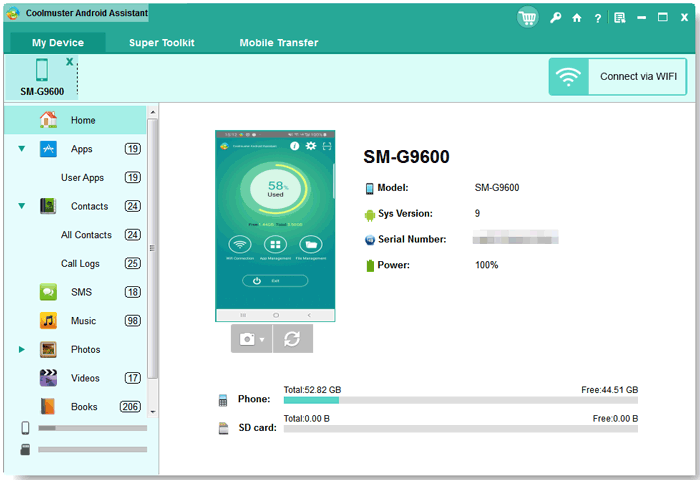 Step 2: Backup your Android phone data completely
Android Assistant provides one-click approach to backup your Android data. Just go to "Super Toolkit" on the top and choose the option of "Backup". Then you'll see an interface with all the different data categories listed here. Click the boxes next to the file types you want to backup and click on the "Backup" button.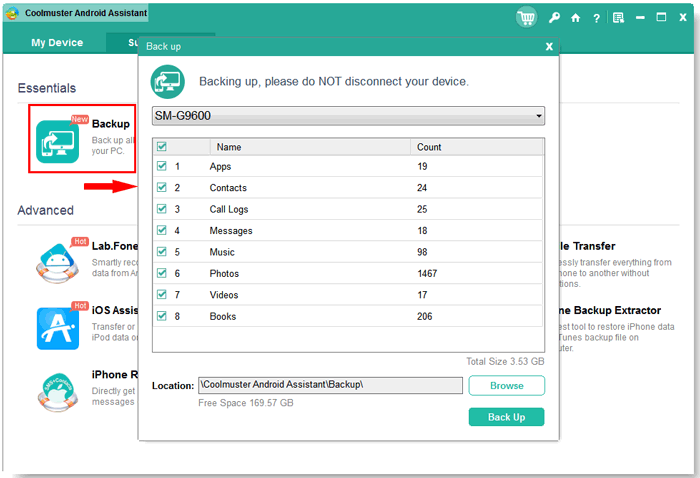 Tips: Android Assistant also enables you to preview before export and backup data selectively. Just click the file types on the left sidebar, such as Contacts, SMS, Photos, Videos, Music, etc. For example, once you click Contacts, all contacts on your Android phone will be scanned out and displayed on the right side window. Preview them one by one and choose those you want to backup. Finally, give a click on the "Export" button on the top menu to back them up on your computer.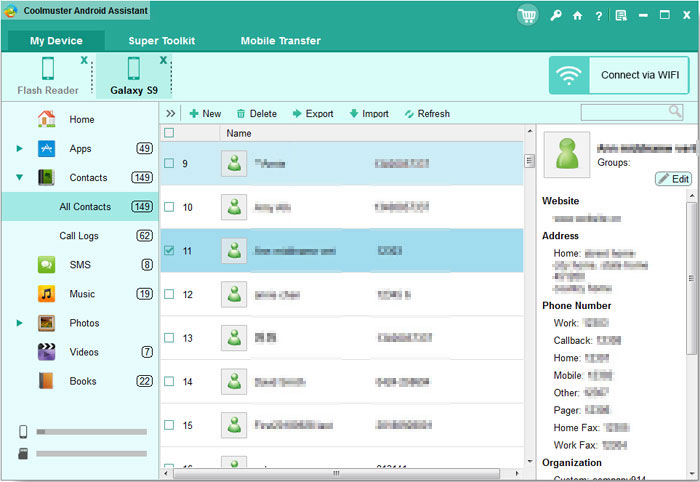 Download Android Assistant to have a try:
Related Articles:
How to View Android Text Messages on Computer