Tips on Backup Android Using Synology
As a popular and advanced cloud service, Synology allows you to backup everything from your Android to your PC or Mac computer. It features with many powerful functionalities that you can backup your Android data and secure the data on an option that provided by Synology, which comes with advanced technology for cloud storage. Here in this post, we will give you with detailed tips on backing up Android using Synology. We also recommend the best alternative to Synology for you choice.
Part 1: How to Backup Android Using Synology
Part 2: Better Alternative Way to Backup Android
Part 3: One-Click Way to Backup Android Phone
Part 1: How to Backup Android Using Synology
Synology is regraded as an Android app, but it is not a real Android backup app. That's because you have to backup your Android data on your Google or Dropbox accounts. After that, you can then backup Android data on Synology.
Before you use Synology to backup Android device, you firstly need to make sure that the Synology DiskStation is running DSM 6.0 and you have the Cloud Sync installed. Launch the Cloud Sync and then login to your Google account or Dropbox account. After that, authorize Synology and then you can start the backup process.
You should know that either Google Drive or Dropbox can make full backup of your Android data, therefore, using Synology is not an ideal way to back up your Android device. In the following part of this article, we will tell you how to backup Android with a better alternative tool to Synology.
Part 2: Better Alternative Way to Backup Android
Here is a better and more effcient way to back up your Android device. That ideal solution comes in the form of Coolmuster Android Assistant or Coolmuster Android Assistant for Mac. It offers uncomplicated operations to back up your whole Android data to computer without any data loss. It features with powerful ability to backup and manage Android data on computer.
Key Features of Coolmuster Android Assistant:
* You just need to install the app on your computer and connect your Android device to your computer. Then, let the program do the rest jobs.
* As long as you want to, you can backup all data types on your Android device, including contacts, text messages, call logs, apps and other file types on your computer.
* It can also be used to restore the backup completely or selectively to your Android device.
* You can view the files in the device and choose the ones that you really want to backup.
* It supports all Android based devices, including Samsung, HTC, LG, Motorola, HUAWEI, ZTE, etc.
* As the name implies, this program is a professional Android managing tool that allows you to transfer, manage, edit and delete Android data on computer.
Step by Step Guide to Backup Android with Android Assistant
1. Start by downloading and installing the Coolmuster Android Assistant software on your computer. After that, launch the program by double clicking on it. Then, connect your Android phone with the computer via a USB cable.
Note: You may need to enable USB debugging on your Android phone firstly. After that, you will see the Android phone is detected by the program like the following picture shows.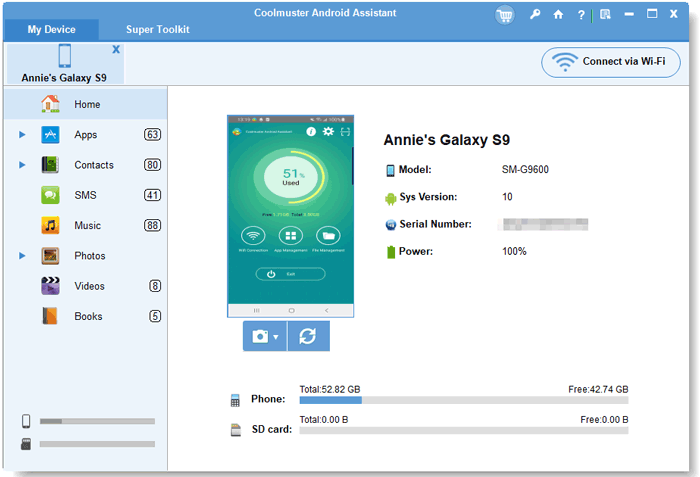 Step 2: Preview and select your wanted data
All the Android data types are displayed on the left side menu. You can go to choose the file types that you want to backup and Android Assistant will scan your Android device automatically and display all the scanned out files on the right side window.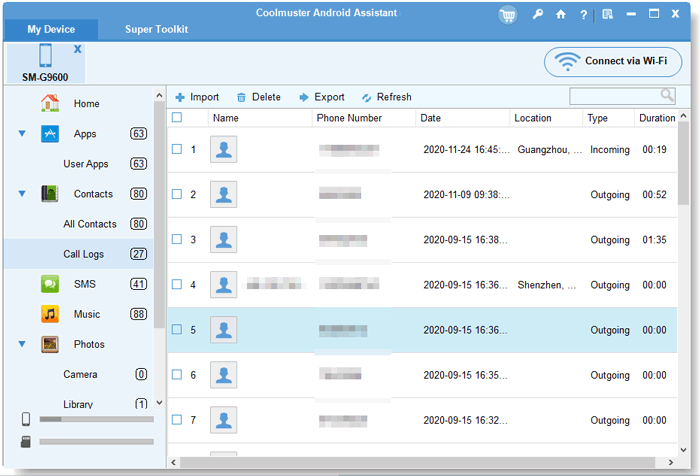 Step 3: Backup Android data to computer
Now all you have to do is selecting the data you want to backup and then click the "Export" button from the top menu. You can decide a location on your computer to save the exported files. The backup process will be complete within a matter of minutes.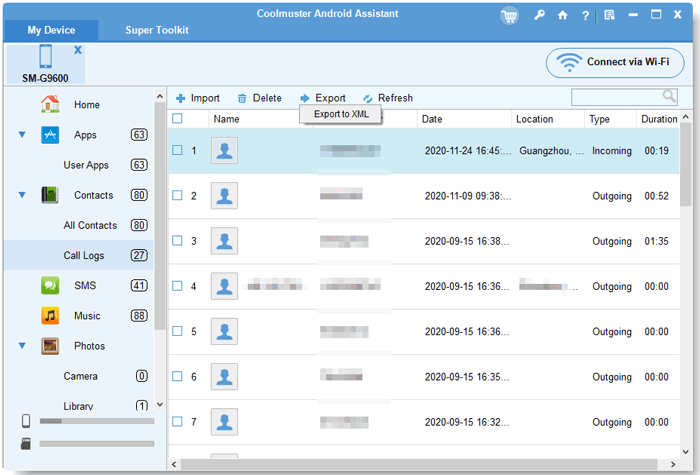 Part 3: One-Click Way to Backup Android Phone
Android Assistant also provides you with 1-click operation to backup your whole Android phone. It allows you to backup all your data from Android to computer with 1 simple click. And also enables you to restore these backup files to any Android devices with 1 click.
To achieve it, you only need to do the following jobs:
1. Launch Android Assistant and connect Android phone to the computer.
2. Go to "Super Toolkit" from top menu and choose the option of "Backup". Then you'll see an interface like below: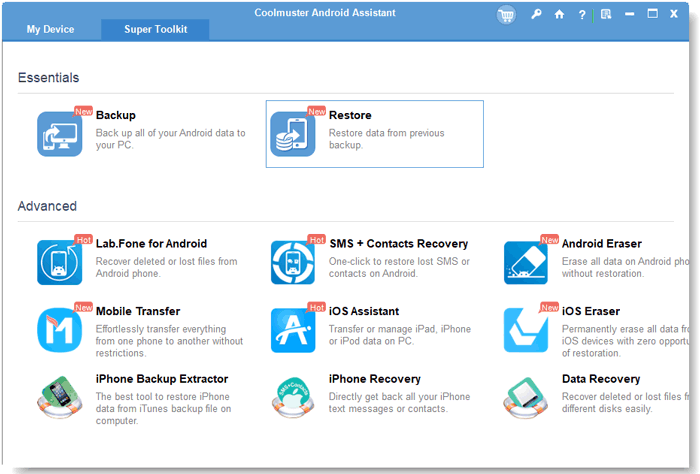 3. Select the contents you want to backup and choose an output location on your PC to save these backups. Then click on "Back Up" button to save them to the destination.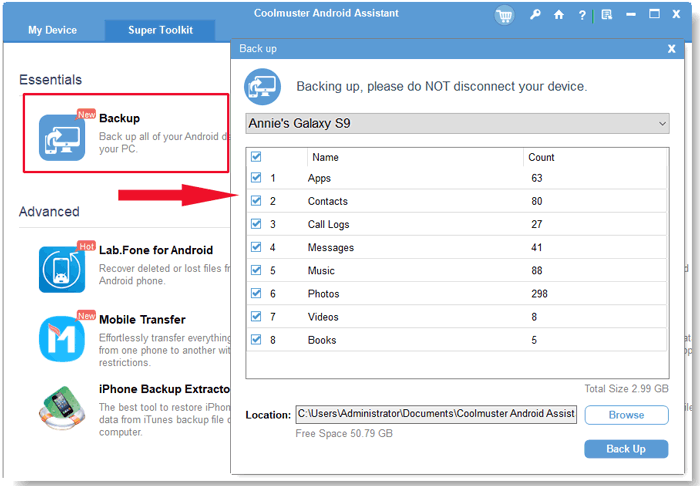 Related Articles:
How to View Android Text Messages on Computer
Backup Android Calendars to Computer
Backup Android Phone Data to SD Card