Full Guide: How to Backup Files to OneDrive
OneDrive, which introduced by Microsoft, provides users with a fast and safe way to upload your data to the cloud and access it anytime and anywhere. It is the type of tool that once you start using it, you cannot imagine living your life without it. It is typically a straightforward technique of backing up files to OneDrive and making your files accessible on any PC, tablet or phone. The same way Apple named its cloud services iCloud and Google named theirs Google Drive, Microsoft named its OneDrive to help users exchange and store data online.
Microsoft users can access these cloud services from the OneDrive website from any location and any time of the day. Anybody with a Microsoft account can access OneDrive straightaway and receive 5GB limited storage which can be upgraded via paid plans. At OneDrive, you can drag and drop documents to and from your browser or desktop. In this guide, we will teach you how to backup files to OneDrive using different methods.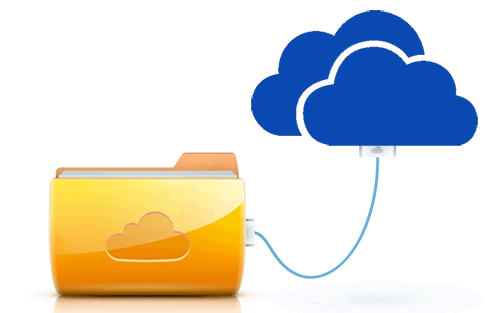 Part 1: How to Backup Files to OneDrive on Windows or Mac Computer
Part 2: How to Backup Files to OneDrive on Android, iPhone and Windows Phone
Part 3: Final Thoughts
Part 1: How to Backup Files to OneDrive on Windows or Mac Computer
In most cases, most users prefer backing up files to OneDrive via Mac or Windows computer due to the large desktop space. Besides, computers offer an ample working space that enables users to handle the files more freely. Users can either use the official OneDrive website or OneDrive program when backing up data to OneDrive through a PC or Mac.
Method 1. Using the OneDrive Program to Transfer Files to OneDrive
First Step: Downloading and Installing OneDrive on Your Computer
Download the Microsoft OneDrive application by going to their official website. From the site, you will get an option to download Microsoft OneDrive Android app, its Windows desktop program, Mac tool, etc. Choose the most suitable program and download it according to your operating system.
Second Step: Transfer Files to OneDrive Folder
A dedicated folder will be established after installing the application on your system. The directory of the application will be recorded under "favorites". From the OneDrive directory, you can also create other new folders. Afterward, you can comfortably backup the files to OneDrive through:
Dragging and Dropping – here, you only drag and drop the files that you need from the cloud. However, this tactic requires you to move one file after the other.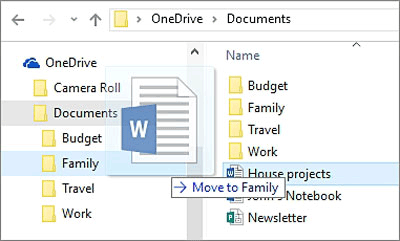 Real-time copy – if you want files to be stored to cloud automatically, you have to enable the "sync" option of the OneDrive.

Save through Office – you can also save your files directly from Microsoft Office to OneDrive by clicking on your Office document "Save As" and then select the option of OneDrive.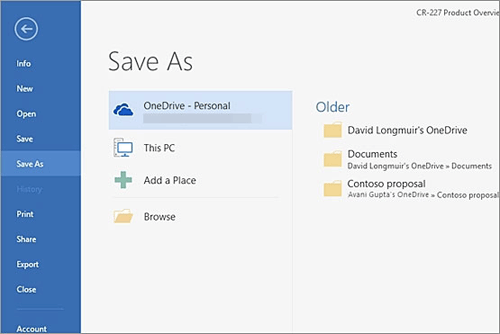 OneDrive files not syncing? Here are 12 tips to fix OneDrive not syncing problem.
Method 2: Using OneDrive Website to Backup Files to OneDrive
If you don't like to download OneDrive desktop app, you can also visit the official website of OneDrive and back up files and folders manually. Just follow the simple instructions as below:
First Step: Sign into the Site
Use your Microsoft credentials to sign into OneDrive account via a browser right here. After logging in to OneDrive's dedicated website, you can see and access the docs that you have already saved.
Second Step: Upload the Files Manually to Cloud
You can either upload an entire folder or selected files by clicking on "upload" button on the main toolbar. Just choose your preferred option simply.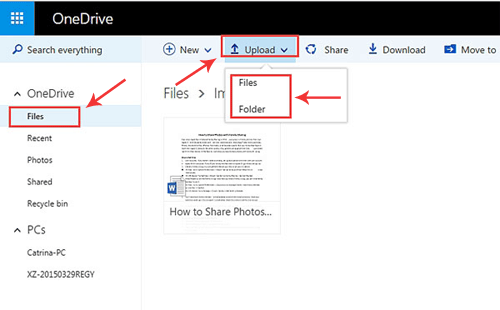 Third Step: Complete the backup process
Afterward, a new browser will be opened, and you can use it to select the files that you want to back up to OneDrive. The process will be completed in a few minutes. After uploading your files, you can view or access them from OneDrive's website directly.
People Also Read:
How to Backup Android to Mac
How to Backup Android to SD Card
Part 2: How to Backup Files to OneDrive on Android, iPhone and Windows Phone
If you find it hard backing up data to OneDrive via a PC or Mac, you can download and install OneDrive app on your Android, Windows phone or iPhone and then use it to back up content on it instantly. Just download it from here. After installing it on your phone, you can follow the steps as below:
First Step: Download and Install the app on your Phone
Download the OneDrive application from the respective mobile store and install it on your phone. Use your Microsoft credentials to sign into the app. If you do not have a Microsoft account yet, create one by clicking on the sign-up button.
Second Step: Upload your Data to OneDrive
- If you want to add new files or content to OneDrive, you will be required to click on the options button (three dots) at the top to get different options that you can perform on your Microsoft OneDrive Android or iOS app.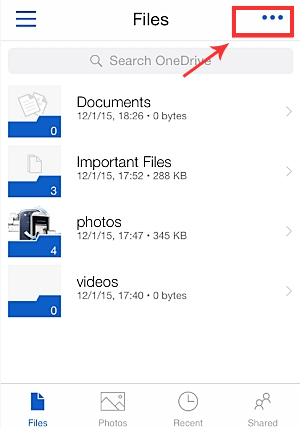 - Backup content from your phone to OneDrive by clicking the "Add Items" button. You may be needed to click on OK button to continue the process if you are moving specific files.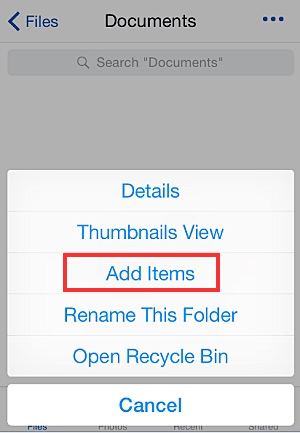 - Now, select the files you want to back up to OneDrive. Wait for a while, browsing and handling files in OneDrive is easy and straightforward after uploading files to the cloud service.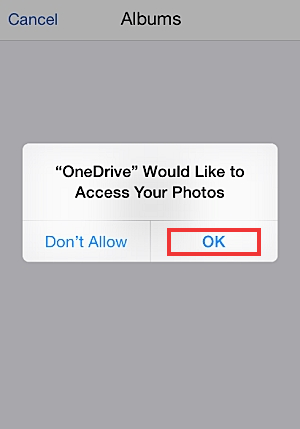 Part 3: Final Thoughts
Lastly, Microsoft wants to use OneDrive to sync and store all your information across devices. With this, it is pushing OneDrive applications to all platforms and offering users 1TB of online storage for every machine that has an Office 365 subscription (see how to backup Android photos to cloud). Microsoft is aware that you cannot fill the space with documents alone, but your documents will be automatically backed up thanks to its flawless integration with Windows 10.
Besides, in the last few years, cloud storage was merely a method of sharing files with other users or moving them from one device to the other. Nevertheless, cloud storage has grown to become a preferred backup solution as storage space becomes cheap. The good thing about Microsoft's OneDrive is that it syncs across various platforms and integrates with the apps and services used by most users, including Microsoft Office, Outlook, Windows and much more. Nevertheless, it is essential to have more than one back up plan in case of unforeseen problems.
Related Articles:
Backup and Restore Samsung Galaxy