How to Backup & Restore WeChat History on Android
Summary:
Lost important chat history, especially private photos and interesting videos in WeChat and now looking around for methods to backup your WeChat history? Don't bother yourself anymore. Here in this tutorial article, you'll find professional solution for backing up WeChat chat history and restoring lost WeChat photo/video/songs/documents from backup record with ease.
Problem: Lost important WeChat chat history in Android phone
My HTC One M9 is running slowly so yesterday I reset it to factory settings. Now, it is running faster but the bad news is that I forgot to make a backup of my phone. The worst of it is that my WeChat chat history are all gone! Anyone can help me to get them back? They are really important for me! Any ideas will be appreciated!
To tell you the truth, I have already received the same questions from a large number of WeChat users. WeChat is so popular nowadays and most users choose to use it because of its convenience to communicate with other people. You can easily send messages, photos, videos, documents and more via WeChat and this app is carrying a lot of your important data. So, losing WeChat chat conversations really is a disaster for both iPhone and Android users.
Find Solutions to backup & restore WeChat chat history on Android
Well, iPhone users can easily recover deleted WeChat data on iPhone from your iTunes or iCloud backup, but for Android users, the restoring method is totally different. Read this article and you will know how to backup and restore WeChat chat history on Android phones.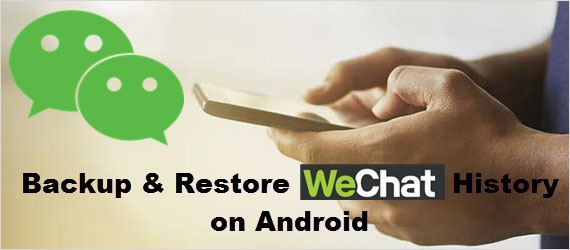 Part 1: How to Backup WeChat Chat History on Android
Part 2: How to Restore WeChat Chat History on Android
Part 1: How to Backup WeChat Chat History on Android
Making backup of your Android phone is always a good habit for protecting your phone data. Here, we provide two methods for you to backup chat history from WeChat on your Android phone and you can select the more suitable one for yourself.
Way 1:
1. Connect your Android phone to PC and make sure the phone and your PC are connected to the same Wi-Fi.
2. Log in to WeChat on your PC.
3. Choose the options Settings > Chat Backup.
4. Select the option of "Back Up" and confirm it on your Android phone.
Then, all your WeChat chat history will be backed up to your PC.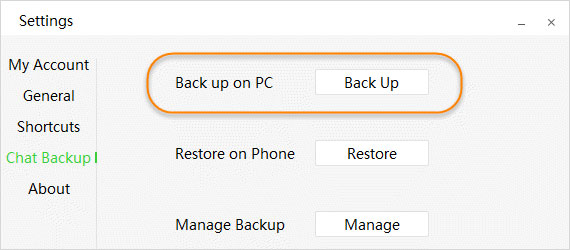 Way 2:
1. Launch WeChat app on your Android phone and then open WeChat on your computer.
2. Go to the bottom-left corner of WeChat on your computer to click the Settings (gear like icon).
3. Choose the "Backup and Restore" option and you will see two options are displayed here - "Back up on PC" and "Restore on Phone".
People Also Read:
Fix Android Blue Screen of Death Problem
How to Fix WeChat Login Problem
Part 2: How to Restore WeChat Chat History on Android
After you have backed up your WeChat chat history on your phone to PC, you can directly restore deleted and lost WeChat photos, videos, music and other chat history from backups with easy operations. Here are the detailed steps you can follow:
Step 1. Turn on your Android phone, choose Apps > WeChat > Me.
Step 2. Select the options like Settings > Chat > Chat History.
Step 3. Choose the tab "Backup/Restore Chat History" and then select the backup file you need to restore. Finally, click "Restore" button to kick off the restoring process.
After the operations above, all your lost WeChat photos, videos, music, documents and other chat data will be restored from backups directly and you can regain them on your Android phone again.
Additional Tips: Android Data Recovery to Rescue Your Lost Android Data
Above are all the procedures of backing up and restoring WeChat chat history on your Android phones. And if your lost other precious data, such as contacts, text messages, call history, photos, videos, etc. on your Android phone, we have a professional Android data recovery to help you out!
Coolmuster Lab.Fone for Android is specially designed for Android users to:
- Recover data lost or deleted from Android phone or tablet with original quality and format;
- Retrieve lost sent and received text messages and store them in html format (see guide of Android SMS recovery);
- Retrieve lost contacts, email addresses along with embedded profiles and job descriptions intact, all in html format;
- Easy recovery of call details, time of calls, duration of calls logs in a printable html format (see how to recover call logs on Android);
- Restore all media files like images, videos, audios and store them in a computer friendly format.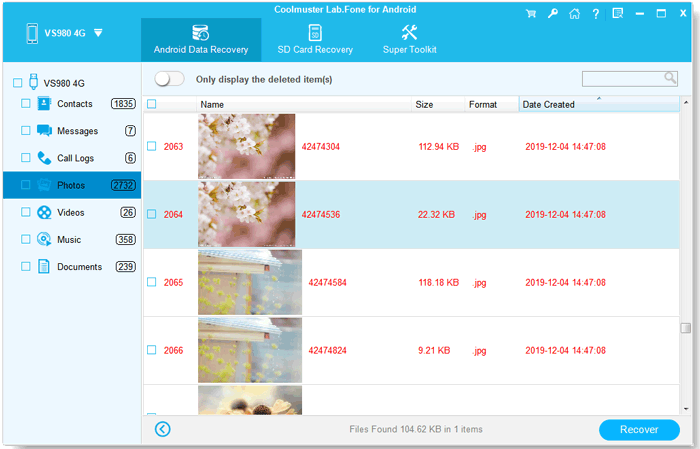 Related Articles:
How to Print Contacts from Android Phone