Best 5 Android Password Managers to Manage Android Passwords
Looking for the best Android password manager? Today, smartphones house all the private information, right from contacts to bank account details. So as to avoid the pain of remembering different passwords, the majority of people prefer to have a single weak password for various websites. But security threats can expose all mail account passwords, debit and credit card passwords to anti-social elements. An Android password manager stores the login information for various websites encrypts them and offers a single master password that is not easy to crack.
So, how do you store your data safely on your smartphone? Here is a look at the best Android password managers available today.
Part 1: Best 5 Android Password Manager Apps
1. Keeper
- Keeper is encrypted using 256-bit AES encryption. Along with it, it has a two-factor authentication so as to keep all the information securely.
- Its password generator generates strong passwords that can safely keep all your passwords, important files, notes and photos in the vault.
- It has a self-destruct feature that automatically destroys the vault in case of theft.
- Owing to its 2-factor authentication, you can set up SMS alert and other authenticators.
You can download Keeper from Google Play Store >>
2. Dashlane
- It secures your passwords, credit card information, notes, etc.
- Dashlane works on AES-256 encryption and thereby offers optimum security to all your apps and passwords.
- It also provides the feature to auto-fill forms on any website.
- Dashlane gives you the chance to pay securely through the digital wallet.
You can download Dashlane from Google Play Store >>
3. 1Password
- 1Passoword uses AES-256 bit encryption and ensures that all your credit card information, website logins, and secure notes remain secured.
- It has an easy to use interface, and you just need to login into the built-in 1Passsword keyboard to access your vault.
- It can sync with all the major devices like PC, iPhone, Mac or iPad.
You can download 1Password from Google Play Store >>
4. LastPass
- LastPass offers a Password Keeper that secures all your websites and applications. It also offers a form auto-fill feature that automatically updates all the information in your online accounts.
- If your android phone has a fingerprint scanner, then LastPass would support it.
- LastPass allows you to share your password with your family and friends easily.
You can download LastPass from Google Play Store >>
5. MSecure
- MSecure enables you to sync all the secured information on Dropbox and various platforms.
- It offers a customized password generator that gives you numerous options to generate passwords.
- Uses 256-bit encryption to protect your account numbers, usernames, and passwords.
- MSecure gives a plethora of choices to personalize the records. It has over 270 icons that can customize the interface of the app.
You can download MSecure from Google Play Store >>
Part 2: How to Manage Android Password Manager Apps on A Computer?
Do you use your smartphone to keep a tab on pending tasks? Handling all your Android contacts, media, apps, SMSes, and notes is not an easy task and especially when you ought to do it on PC. So as to help you out with this grave situation, Coolmuster Android Assistant (here is the Mac version) comes to your aid. This one-stop Android managing software conveniently manage all your Android applications and data in one place on the PC.
Instructions: To manage your Android password manager apps through this software, you just need to start the software and browse the left-side of the menu. You'll find the "App" icon. Just click on it and you will find all your Android applications on the right-side window. Now you can easily backup, install and uninstall Apps by clicking "Export", "Install" and "uninstall" buttons.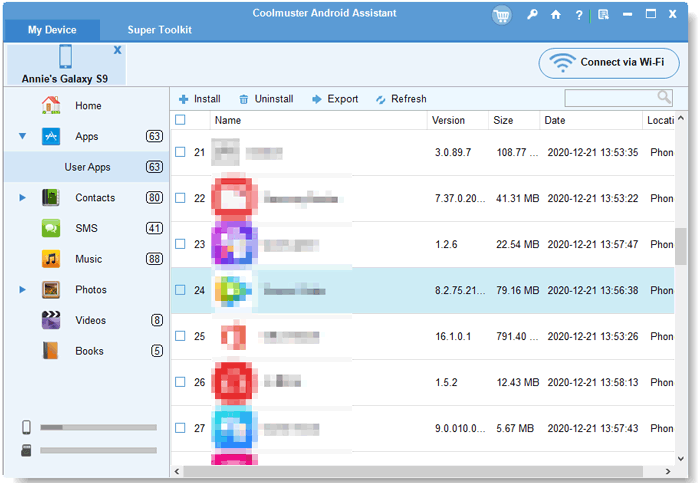 Related Articles:
Top 3 Android Notification Manager