Best Backup App for Android Phones/Tablets
What do you do if you Android handheld is damaged, stolen or lost? Today's SmartPhones have a lot going for them. They can pay your bills, handle your email, and even help watch your home. This means you have a lot of apps downloaded and personal data stored on you Android device. Don't you think it's a good idea to make a copy of your device's data and apps? Today we are going to show case various app that can do just that and then give you the lowdown on one of the best. After you have finished reading this article, you'll know exactly what to do to protect your valuable contact lists and all the other information that your cell Phone is saving for you on a day-to-day basis.
Solutions, Solutions, Many Solutions. But, Which is the Right One?
There are many products out there today that can protect you Android's SIM and the other data stored elsewhere on internal and external memory as well. There are over 20 different backup solutions out there and here is only a short list:
1. Barracuda - They offer:
A Spam Firewall
Data Backup
Email Security
A SSL VPN
2. Helium - This gives you Backup:
Apps
Contacts
Data
SMS
A paid version offers Cloud backup as well
3. Ultimate Backup - here you have an inexpensive/Free package that will:
Similar features to Helium about, but also provides addition utilities to make the management of your handheld easier.
My Backup Pro - This offers everything you could want in a backup package, but only if you are on a rooted phone.
4. Why not try the One-Click approach?
Tool 1: The Best Android Backup App - Android Assistant
Using Coolmuster Android Assistant is like having a personnel IT department living on your Android handheld. Not only do you get all the features of the previously mentioned apps, but you also get one click control, which allows you to save everything with the touch or swipe of a finger. You can save everything to your PC and then you can edit contacts and take a look at what's what on a larger screen to see just what you have on you Android Smartphone you might have forgotten about as well, everything is backed up with perfect clarity and restores just as easily as it was backed up. As your personal assistant Coolmuster acts to help, you wade through your SMS traffic and even the largest contact list in a flash.
This package also downloads new apps that you see on the web as well as any content you might want to transfer to your SmartPhone as well. This means a new music video or game can be brought down to your PC and later can be moved over to your Android at your leisure. The true power is that Coolmuster Android Assistant the best backup app for android is that it is fully compatible with ANY Android make or model of SmartPhone you may own. It is also compatible with all current versions of Microsoft Windows. As an added feature, you only need to load just this one package to be up and running right from the box.
Coolmuster Android Assistant also comes with the Mac version Coolmuster Android Assistant for Mac, which performs the same feature with the Windows version. If you are interested in this program, you can download the trial version of it.
Step 1. Connect your Android device to computer and launch the app
Make a connection between your Android phone/tablet and computer via a USB cable. Launch the best backup app for Android - Coolmuster Android Assistant to let it detect the connected Android device. Then, the main interface of the app will pop up like the picture below.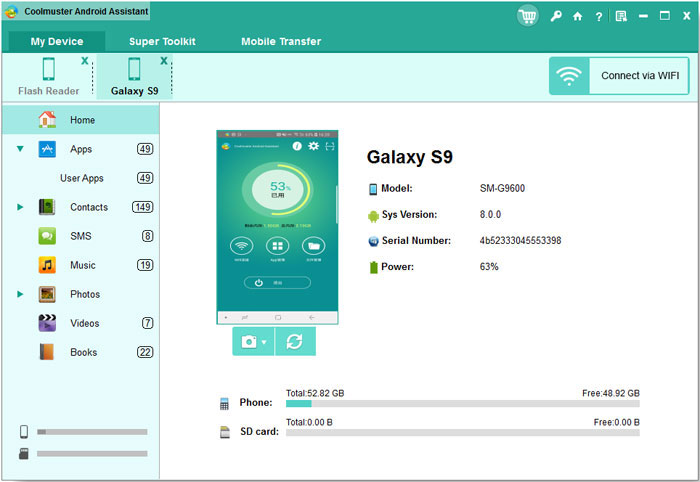 Step 2: Scan and preview your Android phone data
All contained files in your Android device will be scanned out at the same time and displayed on the top menu in categories. You can open each category and preview the Music, Videos, Photos, Contacts, Apps, Books, etc. in details.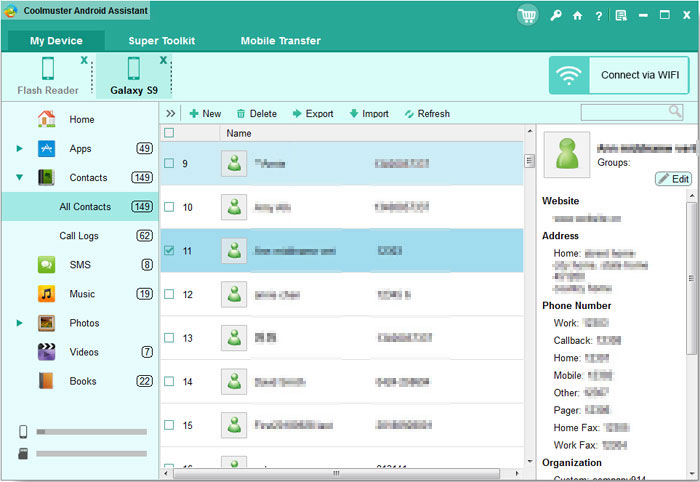 Step 3. Start to backup your Android to computer
Select the data you want to backup and click the button of "Export" to bring out the path choosing dialog. Customize an output folder to save the exported Android files and then the transfer process will begin immediately.
Tool 2: Another Handy Android Backup Solution - Mobile Transfer
Another recommended tool to help you backup your Android on computer is Coolmuster Mobile Transfer or Mobile Transfer for Mac. As its name implies, it is specially designed for transferring data from phone to phone, but it can also backup phone data on computer. With it, you can backup your music, photos, videos, contacts, SMS etc. to computer and restore them easily. All the Android data can be exported to computer with one click, without any quality loss. If you are interested in this software, you can keep on reading to see how to use Mobile Transfer to backup Android on PC or Mac.
Step 1. Download, install and launch Mobile Transfer on your computer. Connect your Android device and please be patient until your device is fully connected and you will see its main interface.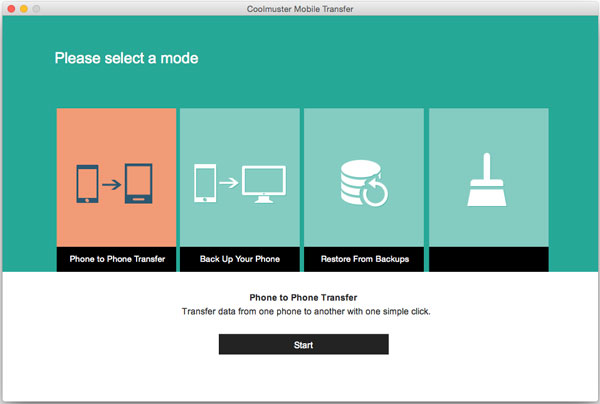 Step 2. Choose "Backup on Computer" option from the main interface and you will enter the backup window. All the transferable Android data is categorized in categories.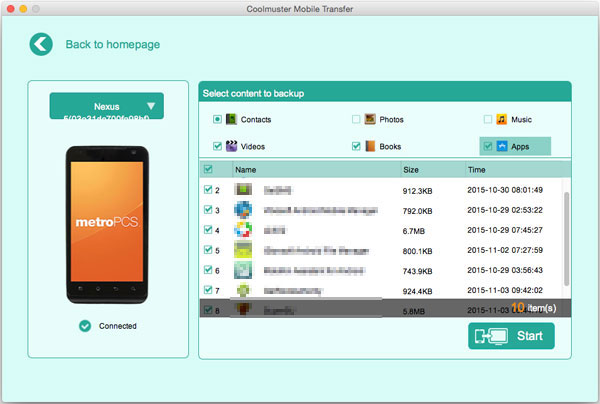 Step 3. Open the file folders, select the files you want to transfer to computer and click "Start" button to copy those selected Android files on computer.
Related Articles:
Copy Contacts from Samsung Galaxy Note to Computer