How to Boot in HTC Recovery Mode?
You must hear about HTC mobile devices can be booted into recovery mode and then access the phone system so as to recover all the necessary information from the mobile phone. But few people know how to achieve that and what is Recovery Mode. This article includes all the answers to your questions.
Part 1: What is HTC Recovery Mode
Part 2: Why Boot HTC One to Recovery Mode
Part 3: How to Enter HTC Recovery Mode
Part 1: What is HTC Recovery Mode
HTC recovery mode is a very useful function, as it is utilized for several purposes in order to make the most out of one's device. It can help resolve a variety of different matters that might arise in the internal system, including viruses and performance downfalls. This mode also aids in expanding storage space, retrieving data, clearing cache, and thus boosting performance in several aspects. Many leaders in the industry have referred to HTC recovery mode as the go-to solution to hard reset a smartphone within a short period of time, and we definitely agree!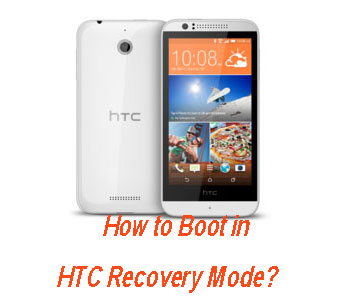 Read Also:
How to Boot Android Phone into Recovery Mode
Recover Android Data After Factory Reset
Part 2: Why Boot HTC One to Recovery Mode
Third-Party Applications Are Not Always the Go-to Answer
There are a lot of HTC smartphone users who believe this recovery mode is difficult to get the hang of, hence why many resort to one of the numerous applications available on the market that are geared toward individuals whose devices are suffering from the previously mentioned matters. Although most of these applications were designed to help resolve typical problems, they have been noted to be too risky. In several cases, they have resulted in causing inadequate updates to take place and thus causing downfalls in the internal system that cannot be reversed.
The reason behind this problem is due to many of these applications being designed by individuals who have no sufficient knowledge about this arena. Nowadays, anybody can create an application and put it up for grabs on the market, without having to undergo any type of regulation.
HTC Recovery Mode Can Be Undertaken by Anyone
The great thing about HTC recovery mode is that you do not have to be a pro in order to put it to practice. Contrary to popular belief, entering HTC recovery mode is not a difficult process. You just need to follow a few simple steps for everything to go as expected. The most reliable and thus the most used method to enter recovery mode is using the hardware buttons. (It is important to note that this method would not be of any help if one of the buttons on your device is not functioning properly.)
Part 3: How to Enter HTC Recovery Mode
Step 1. When fastboot on one's device is disabled, recovery mode can be booted. The first step is to go to settings; click on battery and then uncheck fastboot.
Step 2. The second step is that of completely turning off device and then waiting a few seconds before proceeding to undertake step number three.
Step 3. The third step consists of pressing down the volume button, holding it while pressing the power button and then releasing it. This will get you the HTC in bootloader mode. You will quickly see several options being presented on the screen.
Step 4. In the fourth step, you should utilize the volume down button to move to the option that you want. Once you find it, utilize the power button to select it.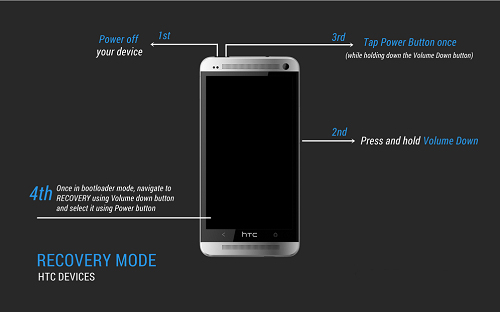 Step 5. In the fifth step, you are going to enter HTC recovery mode by scrolling down to recovery and then selecting it by utilizing the power-off button.
After undertaking these five steps, your device will have a boost in different aspects. The changes will automatically take place. You will notice how your phone will be working for the better just the way it did when you used it for the very first time.
Be on the Safe Side!
As you can conclude, booting in HTC recovery mode is not a difficult task to undertake. In order to be on the safe side, we recommend that you print this article and keep it nearby in order to remind yourself of them when you consider that HTC recovery mode is what your device needs to undergo.
Related Articles:
Copy SMS from Motorola Phone to Computer