Camera apps are becoming the order of the day for android users. It is the most important aspect of any phone. It is because of the popularity that several camera apps are introduced on the market frequently. These days, there are improved camera components for android phones. Developers are helping a lot by creating the most powerful apps for android users. This no doubt increases the joy and experiences the phone users derive from them. You can understand the popularity by going through the reviews of some of the top camera apps for android users. Many of these powerful camera apps are free on the market. Their features can effectively compete with those sold at exorbitant prices.
Review of the Top Five Camera Apps for Android
Hundreds of camera apps are available on the market today, and they could be used for android phone. Many of these camera apps have unique functionalities and many of them are simple and easy to use. If you are an android owner and you want to have a new experience with it, try any of the camera apps we are reviewing below:
* Camera MX
The first camera apps we are going to review is the Camera MX. This product is one of the best camera apps on the market today, which you can lay your hands on. It is the ideal camera for hobbyists and not necessary the best for professionals. This app is available for android owners free. If you want to share your photos with such social media sites like the Instagram and Google Plus, this is the ideal camera.
* Camera360
Camera360 is another great camera apps you can use for your android today. It is among the most popular free apps for android users. It is packed with lots of features. You can customize the apps to have a unique experience using it. Even if you are a professional photographer, you can use this app. It has filters, which you can use to create the type of image you want.
* Cymera
Cymera is another popular android app, which many people are familiar with. This is because at least over ten million of it has been downloaded from the internet. This is the evidence that the apps are very popular. It is one of the top rated apps for android camera app on the market today. It is unique because it is meant to take different kind of pictures. It is the most useful camera you can use to take people's face. This is why many people convert it to a regular camera. It is fitted with filters, which users rely to customize their pictures.
* GIFs
Perhaps the most popular camera apps for android on the market today are the GIFs. This is the most popular camera apps on the internet judging from the millions of patronage. You can create your customized picture using the camera. It is very simple and easy to use. Picture frames can be adjusted to create the type of effect you want.
* Google camera
The last camera apps we are going to review here include the Google camera. It was one of the newest releases on the market and it has better functions and features. This makes it very popular in the market. Another thing that makes it unique is its lens blurs mode as well as photosphere feature among others.
Additional Recommendation: Coolmuster Android Assistant
Apart from the camera apps, another important aspect you have to consider for your android is the Coolmuster Android Assistant. This very important software would help Android users to manage most of their information on windows operating system in one place. With this software, you can take full control of SMS, contacts, android media and other different apps in one simple location within your system. It contains all the features that one would require for the comprehensive management of data such as restore all and backup. If you are using a Mac, you can have a shot with the Mac version Coolmuster Android Assistant for Mac (OS X 10.10 or later).
Click the above button to have a try with this program. And following is the main interface of this tool.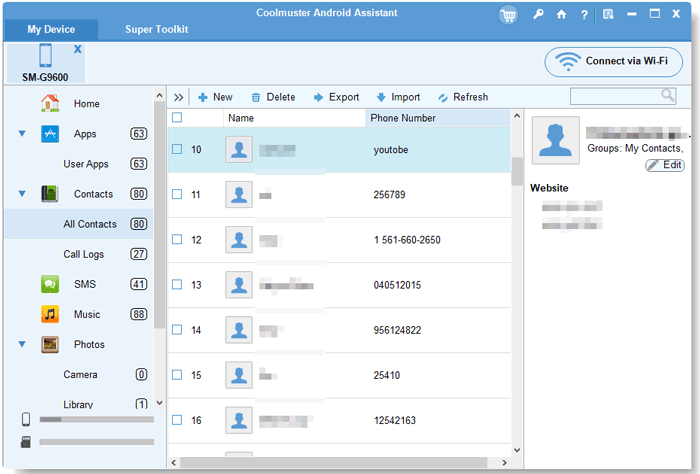 Related Articles:
How to View Android Text Messages on Computer