How to Copy and Switch Contacts between Android and BlackBerry Phone?
Transferring contacts from a BlackBerry phone to an Android phone is a hot topic of discussion as the number of users who are switching from BlackBerry to Android increases over time. Congratulations on your new Android phone if you are one of those who has just given away your old BlackBerry mobile phone. Whether you switch from BlackBerry to Android or just have the both phone at the same time due to your work requirements, I bet the first problem you need to consider is how to transfer the contacts over. After all, we all don't want to leave important and valuable data behind with our old phone after we change into a new device.
Phone Transfer to Swap BlackBerry Contacts from/to Android phone
Perhaps you think of transferring the contacts via online service like Google Account, but Google didn't support BlackBerry since 2012. Therefore, you need to search for another way out, such as trying a professional phone contacts transfer - BlackBerry to Android Transfer. It is a specialized tool that can transfer everything between phones in different operating systems, such as BlackBerry to Android, Android to BlackBerry, BlackBerry to iPhone, iPhone to BlackBerry, iPhone to Android, Android to iPhone, Android to Android, etc.
You can easily transfer not only contacts, but also SMS, call logs, videos, photos, music and more between BlackBerry and Android with its help. Click the below buttons to get the software downloaded on your computer and then you can continue to read the following paragraph to learn how to perform the contacts transfer.
Process of Transferring BlackBerry Contacts (Phone Numbers) to Android
Preparation: Backup BlackBerry to computer
First of all, install BlackBerry Desktop Software and launch it on your computer. Connect your BlackBerry phone to the same computer's USB ports via a USB cable and click "Backup Now" option to backup your BlackBerry device on your computer.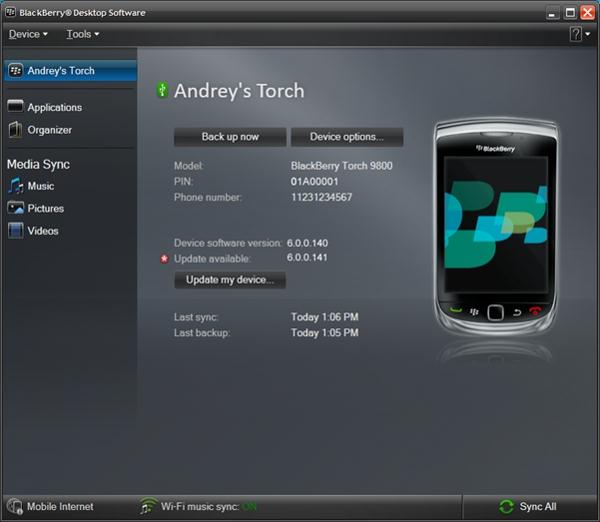 Step 1. Launch the Phone Contacts Transfer Tool
After you download and install the BlackBerry to Android Transfer, launch it directly. Choose Restore from Backups on the primary window and click the "Start" button to continue.
Step 2: Connect Android phone to the PC
Connect your Android phone to the computer where you has the phone transfer software launched. Once the connection is successful, the software will detect the phone and the backup file for your BB automatically and show them side by side.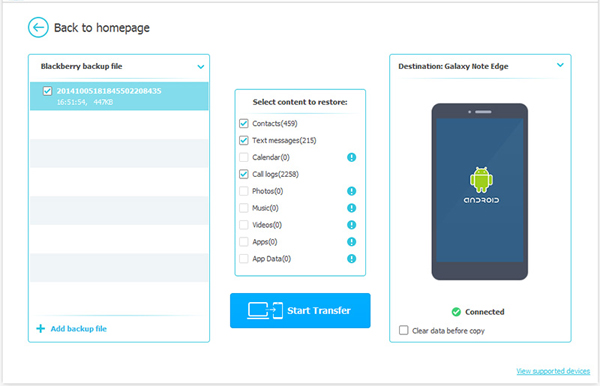 Step 3. Share contacts between BlackBerry and Android
Finally, select the files you want to transfer, like contacts, SMS, call history and so forth. For this topic, you just tick the "Contacts" option and press "Start Transfer" to begin the process.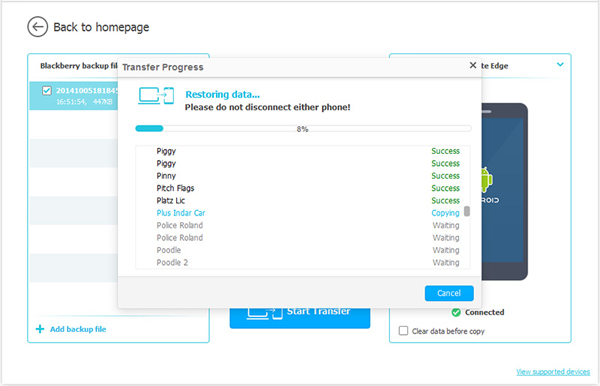 Please keep your BlackBerry and Android phone connected well with the computer until the transferring is finished. That is just the most ideal way to transfer contacts between BlackBerry and Android phone. Click and download it below.
Related Articles:
Transfer Contacts from Samsung Galaxy Note/S to Computer