Data Recovery for Samsung Galaxy S8/S8 Plus
Data on your newly bought Samsung Galaxy S8 can be lost due to fat fingers, that is, deletion of files by mistake, file corruption, virus attacks, formats, etc. It's very important that you not only consider how your phone could lose data but what you can do to protect yourself. You may not be able to prevent these things, but you can exercise a few options when it comes to protecting your data, such as backing up your Samsung phone on computer, locking your phone, encrypting your phone data and so on. Though these tips may seem simple, they can save you a lot of stress, frustration, and money.
But if unfortunately you have already lost precious data from your Samsung Galaxy S8, don't worry, those lost files can be easily recovered via Coolmuster Lab.Fone for Android (with its Mac version - Lab.Fone for Android Mac). It provides an easy three click process that will lead you to a fullproof recovery of all lost data, including contacts, text messages, photos, videos, music, call history, documents and so forth from Samsung Galaxy S8/S8 Plus and other types of Samsung phones, including Samsung Galaxy S7/S6/S5/S4, Note 7/6/5/4/3, A9/A8/A7/A6 and so on. You can also sort the data you want to keep and the data you want to let go as this tool has a feature displaying the deleted/lost data as well as the existing data on your device.
This program is compatible with both windows and mac operating systems and it works well for Android based devices, including Samsung, HTC (here is guide about HTC data recovery), LG, Motorola, Huawei, Google Nexus, etc. This feat of recovering lost data from Samsung Galaxy S8 or S8 Plus, is accomplished in 3 easy steps. You don't need to be a rocket scientist to carry out this drill!
How to Recover Lost Data from Samsung Galaxy S8/S8 Plus?
Step 1. Launch Galaxy S8 data recovery program
Launch the Lab.Fone for Android after you downloaded and installed it on your computer. Then, connect your Samsung Galaxy S8 to the computer via USB and make sure you have enabled USB debugging on your phone, otherwise, the computer will be unable to detect your device.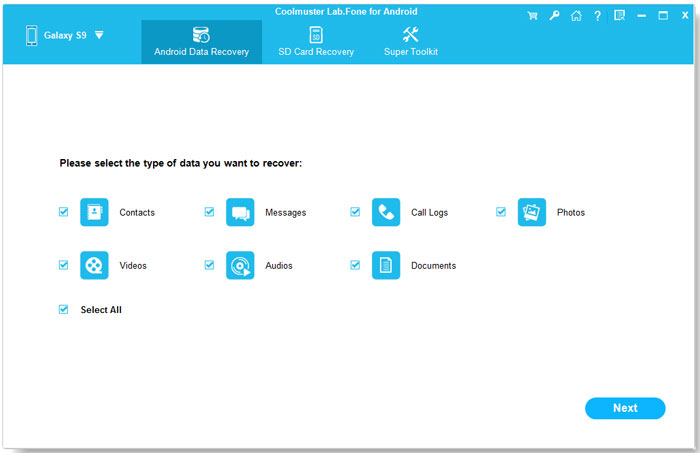 Step 2. Scan Galaxy S8 for lost data
As I mentioned above, this Android data recovery supports to recover various types of data from your S8. You should choose the file types you want to recover and click the "Next" button. Then, the program starts to scan your S8 and display the scanned out data in list. The lost data is colored red, while existing data is colored black so you can sort and select the data you want to keep which makes this program even more efficient.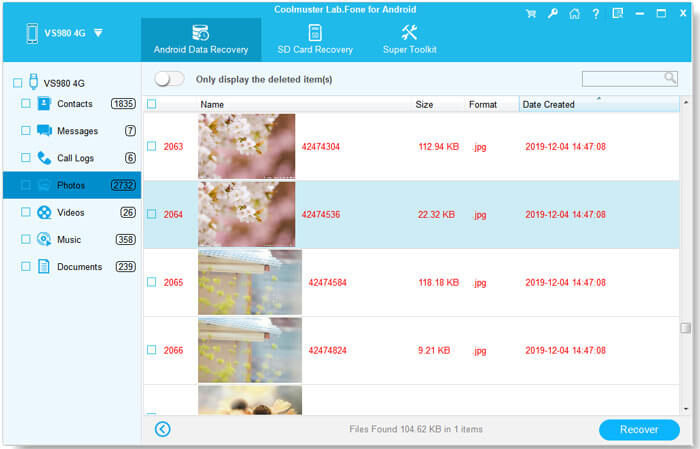 Step 3. Data recovery for Samsung Galaxy S8
Preview and tick off the files you want back and click the button of "Recover" on the bottom right to save them on your computer. Do not disconnect the Samsung Galaxy S8 phone to the compute during the recovery process.
Related Articles:
How to Recover Messages from Broken Android Phone
Recover Messages from Android with Black Screen
Add a comment