Best Data Recovery Software for Damaged Samsung
Wondering how you can recover data from your damaged Samsung phone? While Samsung phones are great, after the debacle of the Note 7 or Galaxy S8, you might just wonder whether and what you need to do in case of data loss. This article will recommend you with the best data recovery software for damaged Samsung devices.
Samsung is globally acknowledged as of the most premium smartphone brands. Whenever we decide to buy new smartphones, we always consider Samsung products because of their durability, sophistication and functionality. However, Samsung phones can unexpectedly break or suffer from cracks. It might because of the user's carelessness or a genuine accident. Accidentally dropping a phone can harm the phone both internally and externally. The extent of the damage depends on the structure and make of the phone.
The big question is how to rescue the data on the damaged Samsung device. Well, it is actually easy to recover data from a damaged Samsung phone as long as you use the best damaged Samsung data recovery software - Broken Android Data Extraction. It accesses the damaged Samsung and extracts all data from it. And then helps you keep all your data protected and even takes backups for later cases even after the device is broken. With the Broken Android Data Extraction, you can even deal with software problems like virus attack, system crashes, failed debugging and more.
More Similar Guides:
Recover Data from Bricked Android
Recover Lost Files from Broken Samsung
Then, how to use Broken Android Data Extraction to recover data from a damaged Samsung Galaxy S8/S7/S6/S5, Note 7/6/5/4? Read the following tutorial and you will know how to do that.
How to Recover Data from A Damaged Samsung Galaxy Device?
Step 1. Launch the damaged Samsung data recovery tool
Once you install the Broken Android Data Recovery on your PC, you need to connect your damaged Samsung device to the computer using a USB cable. Click on the mode "Broken Android Phone Data Extraction" to continue with the task.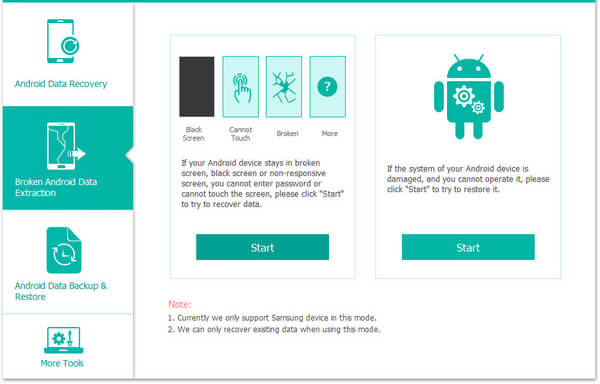 Step 2. Confirm name and model of your Samsung phone
If your Samsung phone has undergone physical damage, then you can press the "Start" button. You have to confirm the name and model of your phone before progressing, On the other hand, if there is some problem with the Android OS, you have to select the "Fix Device" option.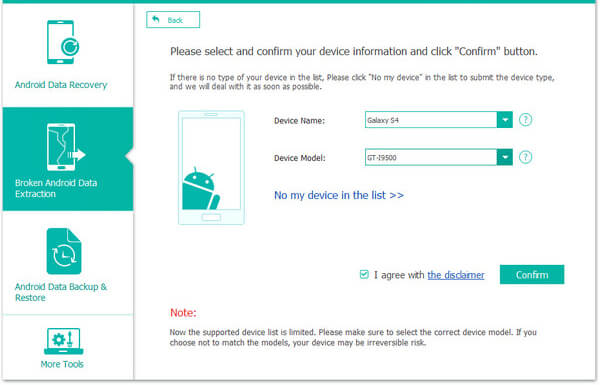 Step 3. Go to the Download mode
A series of onscreen prompts will lead you to the Download mode where you have to press the "Start" button so that the program can scan and fix any system issues.
Step 4. Recover data from damaged Samsung
Once the contents of your Samsung device are scanned, you can see the results on the screen nearly divided into categories. Put a check beside the ones that you do want to recover and click "Recover" button to save them on your computer.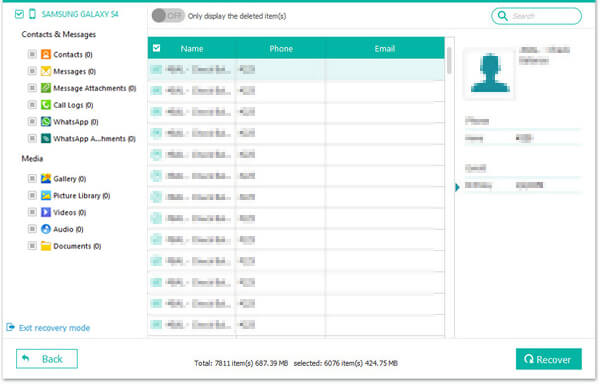 Broken and damaged phones do not seem that daunting anymore, do they?
Check Supported Devices of Broken Android Data Extraction
Samsung Galaxy Note:
Note 3: SM-N900, SM-N9002, SM-N9005, SM-N9006, SM-N9007, SM-N9008 SM-N9008V, SM-N900S
Note 4: SM-N9100, SM-N9106W, SM-N9108V, SM-N9109W, SM-N910C, SM-N910F, SM-N910G, SM-N910H, SM-N910K, SM-N910L, SM-N910P, SM-N910R4, SM-N910S, SM-N910T, SM-N910U, SM-N910V, SM-N910W8
Note 5: SM-N920C, SM-N920G, SM-N920I, SM-N920K, SM-N920L, SM-N920P, SM-N920R4, SM-N920S, SM-N920T, SM-N920W8
Samsung Galaxy S:
S4: GT-I9500, GT-I9505, SCH-R970, SCH-R970C, SGH-I337M, SGH-M919, SPH-L720
S5: SM-G900F, SM-G900FQ, SM-G900I, SM-G900K, SM-G900L, SM-G900M, SM-G900P, SM-G900R4, SM-G900R6, SM-G900S, SM-G900T, SM-G900T1, SM-G900W8
S6: SM-G9200, SM-G920F, SM-G920P, SM-G920T, SM-G925F, SM-G925P, SM-G925T, SM-G928P, SM-G928T
Samsung Galaxy Tab:
Tab Pro 10.1: SM-T525
Related Articles:
Samsung Galaxy Desktop Manager Software
SMS Recovery for LG Optimus/G2/Viper/Ally
Add a comment