Top 5 Free Dialer Apps for Android
Presently, there is a huge number of great Android apps on the market. Many of which are being used for specific reasons. In some cases, it may solve a problem that the user needs to take care or it may simply enhance a user's experience. In either case, this is why there is a dialer app for Android available on Google Play Store. With these apps, the user can take advantage of a wide range of features based on the app that they choose. So, here are 5 of the best dialer apps for Android phone that you can check out via a brief description.
Read More:
Top 3 Android Repair Software for Choice

Top 5 Dialer Apps for Android - Enjoy Better Dialing Experience on Android
1. Lollipop Dialer - Android 5
The Lollipop Dialer Theme can be described as an innovative app for your phone, and it provides one of the best dialer interfaces that people can have access to in Android world. It is also considered to be one the first apps of its type. Here are some of the main features that you can expect to use when you install it on your android.
Features:
- Contacts on the device categorized
- Access to Multiple Color Themes
- Keypad tone
- As in the Lollipop Dialer, the user can take advantage of Flowing Animations
- Circle animation on buttons
- By name or number, user can Search Contacts
- Efficient, speedy and small size application
- For faster access to fav contacts, the user can take advantage of a Speed Dial Screen access of your favorite contacts
- Use Light Version
- Dial-pad on single click
- Minimum ad support to give you better interaction
- accessing speed dial, recent call list and contacts via Screen Swipe feature for
- Call Details with multiple options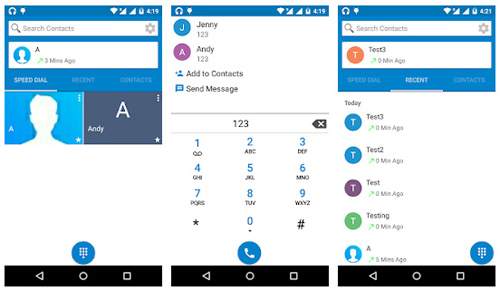 Download Link: https://play.google.com/store/apps/details?id=com.approids.lollipopdialer
2. ZenUI Dialer & Contacts
ZenUI Dialer & Contacts is an app that has a wide range of different options for its users. It is an app that provides everyone with an all-in-one contacts and dialer, and has a call log app that gives very powerful phone call features. These features will enable you to block cell phone calls from spam senders as well as unknown numbers. If you to take a short contact to call your favorite list, you can use speed dial to make your calls easily. If you want to have access to additional features, please review the list below.
- Run a smart search
- View history
- Link duplicate contacts
- Use personalized themes
- Block calls from private number and unknown callers
- Show and Type partial/first character to obtain the name or number
- Available languages includes the following: English, Traditional Chinese, Simplified Chinese, Russian
- Speed dial with a tap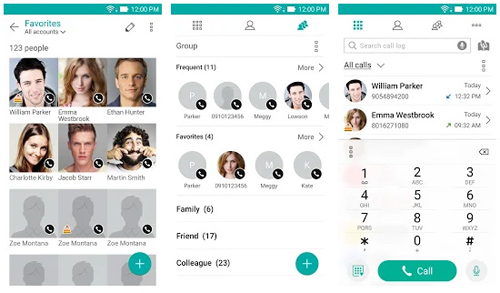 Download Link: https://play.google.com/store/apps/details?id=com.asus.contacts
3. True Phone Dialer & Contacts
True Phone can as an app that has arrived for any user who wants to replace their present stock dialer & contacts app. With this app, everyone will have a chance to take their dialing experience to the next level. This app is unique because It's one dialer full contact management support that comes available for Android. Therefore, it is easy to use and a high customizable application. It has a one hands on navigation features that is simple to use. Here are some of its top features:
- Multiple language support
- Clean and convenient navigation
- Fast T9 search in your recent calls and contacts
- Smart recent calls grouping
- Extended Dual Sim Support
- Themes Support
- Customizable Design with Modern features
- User can edit their contacts in one centralized location
- Contact Information can be view easily
- User can link similar contacts when desired
- Export and Import Contact Features Available
- Gives Users the capability to organize their favorite list and share them with a vCard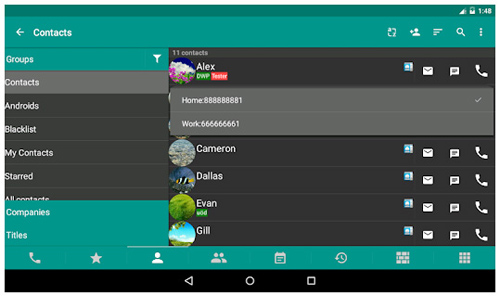 Download Link: https://play.google.com/store/apps/details?id=com.dw.contacts.free
4. OS11 Phone Dialer
OS11 Phone Dialer can be described as a can be described as one of the fastest dialers that can be used on an android phone. With this software application, users will have an in one contact features that you can used to support their dialer features. Because the developers have focused on lightweight dialer, the actions that the user gets is smooth and fast performance. So, it is both intuitive with a super easy design. Also, because of the information that on this phone, the user can easy organize their phone book by easily eliminating any duplication of messages. Here is some top of the features that everyone can expect.
- Smart T9 Dial pad
- Call blocker
- Speed Dial to quick call
- Keypad Touch sounds.
- Dual SIM Management.
- Automatic call recording on your Phone.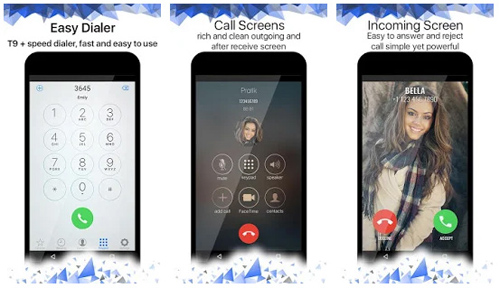 Download Link: https://play.google.com/store/apps/details?id=com.jptech.contacts.phone.dialer.callerid&hl=en_US
5. Metro Phone Dialer & Contacts
The Metro phone dialer and contacts app is software that is available through the designers of Launchers World. Most people will love this app because of its good looks as well as an ideal blend of performance. Gives each user a unique and new experience since it is very clean and is presented with the perfect interface. The user can customize their look with different theme colors and it provides a lot of variety for those who like to switch things up.
Features:
- Fast & Easy to use
- provides a different categorical view
- Just swipe for easy navigation
- Themes are elegant and attractive
- Tab navigation features are available for the user to switch back and forth between screens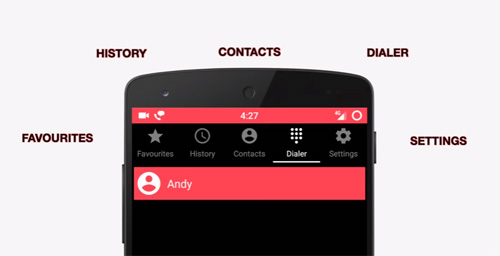 Download Link: https://play.google.com/store/apps/details?id=com.lw.win10dialer
Words in the End:
Above are the top 5 dialer apps for Android you can download from Google Play Store. No matter what types of Android phones you are using, you can choose one of them to enjoy a better dialing experience with your mobile phone.
Related Articles:
Top 5 Android eBook Readers You Should Know
Transfer Contacts from Android Phone to Computer