Android Messages Downloader - Freely Download Messages from Android
Android devices have made your life simpler and easier and are hugely popular all over the world. With multi-functioning and complex task performing abilities, apart from just the basic function of a phone, an android phone helps you greatly on day-to-day basis. However, it sounds as a perfect device, there can be some limitations. One such limitation is the losing your text messages.
One receives and sends a number of business and personal text messages every day. The messages can be of great importance to you. Just imagine what would happen if the message gets deleted automatically or you accidentally delete the text message? And to make the situation worse you don't have any backup on your device.
How can you lose your messages?
There can be a number of reasons that can lead to loss or deletion of text messages from your Android device:
- Text messages can be automatically deleted at times if your Android device is attacked by a virus.
- Factory data resets, formatting the device also deletes the text messages.
- In some low-end Android devices, storage space is a concern and you need to delete the text messages from time to time to free up the space.
- Malfunctioning of hardware, corrupt software and accidental deletion can also lead to loss of text messages.
Hence, it is always advised to download the text messages from Android phone from time to time so that the messages can be restored in case of any urgency. There are a number of third party apps available that help you to download text messages from android phone to a computer. Usually, the process of downloading text messages from Android phone is not that easy due to compatibility issue. It is also difficult to find the storage location of the messages due to number of files present in the internal storage and then download it externally. Coolmuster Android Assistant is one tool that helps you to download text messages from any android phone very easily. Apart from text messages, one can transfer media files, contacts & apps and is available for both Windows and Mac.
Extra Bonus:
Access & View Lost Contacts/Messages from Samsung
Top 5 Messaging Apps for Android Phones
Steps to Download Text Messages from Android Phone
Step 1: Open the installed software on your desktop. A new window appears on the screen asking you to connect the Android device to the computer. Click on the option "Connect via USB" and connect your device to the computer using a data cable.
(Note: If you want to connect your device to the computer via Wifi, click here.)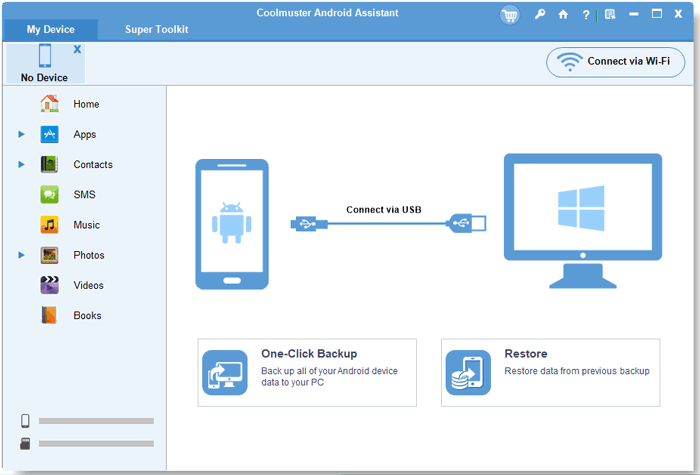 Step 2: After enabling USB debugging on your Android phone, this software will detect your Android phone and show you the below main interface where different file folders are arranged on the left panel.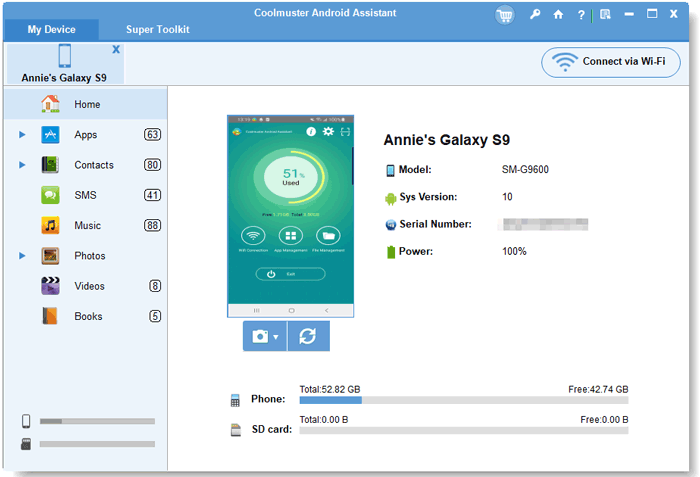 Step 3: Click on the option "SMS" on the computer screen present on the left side. The screen now shows the list of all the text messages available on your Android phone. You can also view the content of text messages by clicking on the contact name. Select the messages that you want to download by clicking on the checkbox adjacent to the message list. A blue check ensures that messages have been selected.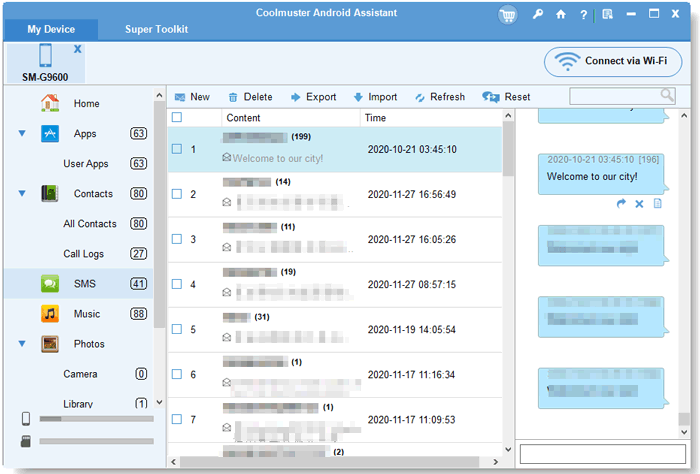 Step 4: Finally, click on the "Export" option present above the message list to download the messages to computer. A new window pops up asking for the location to save the downloaded text messages. Now, you can browse and select the desired location and click on the "OK" button to complete the downloading process.
Other features of Coolmuster Android Assistant:
- It has a very simple and user-friendly interface and is available for both Windows and Mac.
- It allows creating and restoring the backup of the entire Android device (including all data and files) with single click effortlessly.
- It allows transferring media (photos, videos etc.) from PC to your phone and vice versa.
- It also allows installing and deleting apps on your phone directly from the computer.
- Similarly, it allows sending and receiving texts and also creating, modifying and deleting contacts on your phone directly from the computer.
Below is the Video Tutorial on Downloading Android Messages:
Related Articles:
Best File Browsers for Android Phones