How to Erase All Data on Samsung Galaxy S9/S8/S7 without Restore?
Samsung Galaxy S4 is launched by samsung company in 2013, which adopts the pixel density of 441 ppi (480 dpi) 5 "1080 p (1920 x 1080) Super AMOLED HD screens and 2GB of RAM, equipped with 12.8 million rear camera and 2.1 million pixels front-facing camera. It runs on Android 4.2.2 when it is releasing. For entertainment, the creative photo mode provided by Galaxy S4 adding unlimited fun to our life; For socially, instant language translation software eliminates the communication obstacles; The brightest intelligent "human-computer interaction" pattern is more glamorous: "Smart Scroll" let users roll the phone screen without touching the screen, while "Air Gesture" just put the palm volley wave can be answered the phone operation. All above features make the S4 welcomed by a large mount people. In addition, the Galaxy S4 is equipped with Health butler "S Health" that builds exclusive health plan for users through the all-weather monitoring. New Galaxy S4 is no longer a cold phone but more like a good partner which is closely connected with our life.
Are you planning to give up your old Samsung Galaxy S9 and switch to the newly released S9? If so, what do you want to do with your old S3? Whether you are going to resell the old phone on eBay, or giving it to someone as a gift, you want let other people see or know the precious and private data you saved on your old phone. After all, you saved a lot of important contacts, private text messages and batches of photos that you don't want anybody know them. If you put your phone on trade, you won't know who will get your phone and what he will do with your private data. Therefore, how to erase all your private data on the Samsung Galaxy? To reset it to factory settings? Well, you must know that although your put your phone to factory settings and all the data seems gone, but with a simple data recovery tool, everything can be detected and recovered from your phone easily. Please follow the below instructions if you want to wipe Samsung phone's data permanently.
Why need to use special tool to erase Samsung phone's data?
To erase all data on your Samsung Galaxy phone without any possibility of recovery, you must use Coolmuster Android Eraser (for Windows 10/8/7/XP/Vista), which is specially designed to help Android users to delete all files and personal information on any Android devices, including Samsung, Huawei, HTC, Xiaomi, LG, Motorola, ZTE, Meizu, etc. The deleting performed by the tool is permanent that no any data recovery software can get the deleted data recovered. After using the data eraser, all data like contacts, SMS, phone numbers, photos, user names, passwords, emails and many more will be erased completely from your Samsung mobile phone. You will get a totally new Samsung Galaxy S9 and you can sell or give it away safely. Next, we will wrote an illustrated step-by-step guide to show you how easy it is to erase Samsung data by using this data eraser program!
In the first place, please free download the trial version of the software from the download button as below to get ready. Windows and Mac version are both available, you can download the right version according to your own situation.
Can't Miss:
How to Wipe a Samsung Phone Completely? You'd Better Know
Best Samsung Galaxy Desktop Manager Software
Strategy about Permanently Deleting Contacts, SMS, Photos & More from Samsung Galaxy
Note: Since the deletion performed by this software is permanent, we kindly suggest you backup your important information at first before you start the erasing process on your phone.
Step 1. Run the software and connect your Samsung phone
First of all, connect your Samsung phone or tablet to the computer with a USB cable and launch the installed Coolmuster data eraser software. Once the connection is successful, the software will automatically detect your device and pop up you with the interface like the below picture shows. Choose whether you want to erase all data or just the deleted files. For this topic, you should choose "Erase".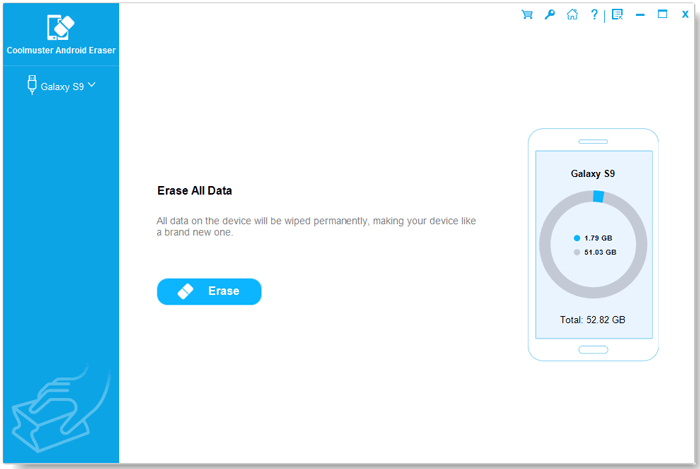 Step 2. Choose level of data erasing as needed
The program provides you with three different levers for erasing data: Low - Medium - High. You can directly choose the default second Medium lever, which will leave no traceability of data erasure and use random data to overwrite all existing and deleted data on your Samsung device.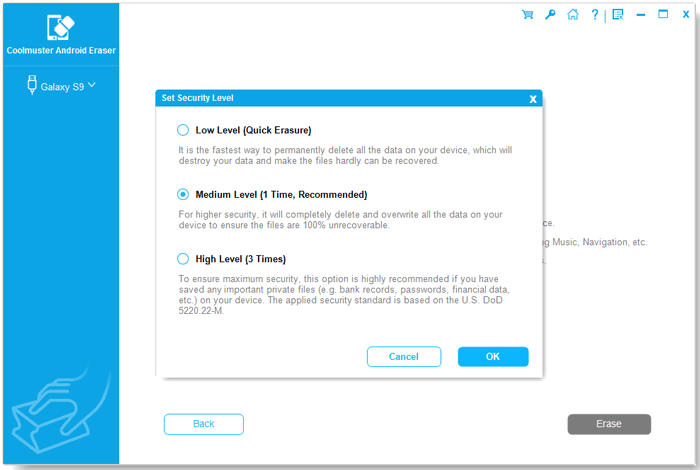 Step 3. Start to wipe all Samsung data
Finally, the program will start to erase all data from your Samsung phone or tablet at once. All the private information like contacts, messages, account info, passwords, emails and more will be erased permanently. Nothing can be recovered any more!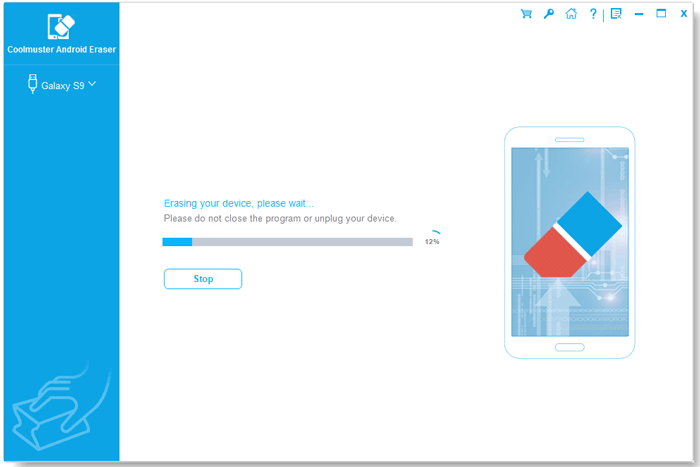 Step 4. Factory reset Samsung device.
After erasing and overwriting your Samsung device, you are suggested to restore your device to factory settings to wipe all system settings completely.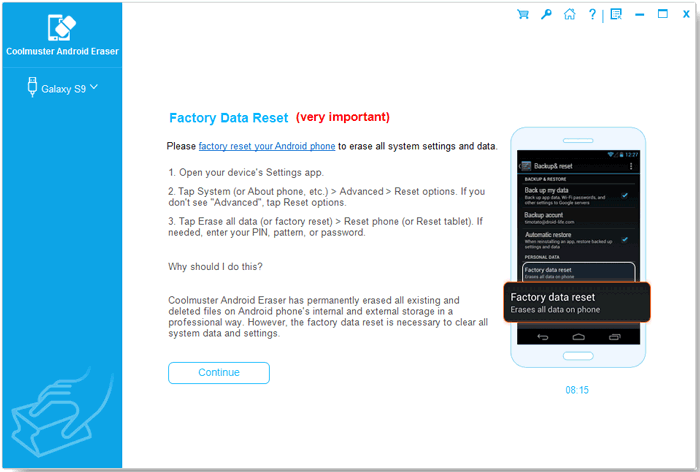 Related Articles:
Print out Text Messages from Motorola to A Piece of Paper
Erase Text Messages from HTC Hero Permanently
Add a comment