Extract Whatsapp History from Damaged Samsung
You should have every means available to protect your phone well. However, your Samsung mobile phone still get damaged. Accidentally dropping the device is one of the main reasons why buying a phone case is really not a luxury but a necessity for use in preventing damages. Another common cause of a damaged or broken Samsung phone involves horseplay. It really does not matter if it is adults or children. Some people may decide to throw the phone from one to another in the middle of simply just playing around. Unfortunately, this kind of play can be very expensive.
Losing important data is one of the most pity things for damaging Samsung phones. If you want to rescue the phone data, such as WhatsApp chat history, you can keep on reading and follow the tips in the below:
Way 1: Restore WhatsApp Chat History from Another Phone
Way 2: Extract WhatsApp Chat History from Damaged Samsung Directly
Way 1: Restore WhatsApp Chat History from Another Phone
If your Samsung device has been damaged seriously, you might decide to change to a new phone directly. Then, if you have ever backed up your WhatsApp, you can follow the steps below to restore the WhatsApp data from the backup file to the new phone.
1. Turn on your new phone and download & install WhatsApp. You can find it on Google Play Store.
2. Launch the installed WhatsApp and tap the option "AGREE AND CONTINUE".
3. Select "Allow" when you are popped up with a prompt saying whether allow WhatsApp to use your contacts and media.
4. Enter the country code and your phone number which associate with your WhatsApp account. After that, click "NEXT" and then "OK" to confirm.
5. Allow WhatsApp to access your SMS messages and verify your phone number with a 6-digit code.
6. WhatsApp will look for backups you have ever done on the Google Drive and you just tap "RESTORE" to restore the backup WhatsApp messages on your account.
After the above operations, you should click "NEXT" to edit your profile info.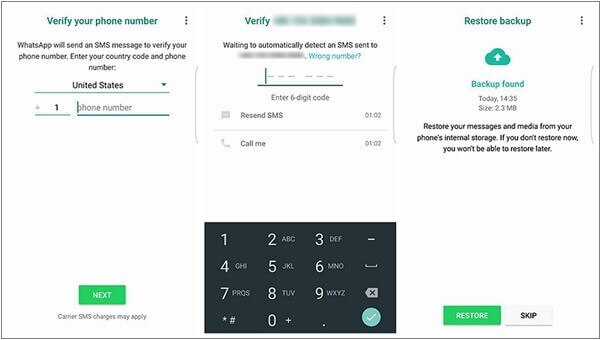 More Similar Guides:
Recover Text Messages from Android with Black Screen
Recover Lost Files from Broken Samsung
Way 2: Extract WhatsApp Chat History from Damaged Samsung Directly
If you have no WhatsApp backup on Google Drive, don't worry, you are still possible to get back WhatsApp chat history from your damaged Samsung phone. Broken Android Data Extraction is right here that specially designed for you to recover what you want from damaged devices. If you are interested in the main features about this program, you just move your mouse and read on:
Supported data types: contacts, messages, WhatsApp data, call logs, social media data, gallery and documents.
Supported devices: Samsung Galaxy S8/S7/S6/S5/S4, Note 7/6/5/4/3, Galaxy Tab Pro/S, as well as other more Android devices.
Related situations: Can recover data from Android devices with broken, black, dead screen and Android devices stuck in Starting Loop, Download Mode, FoneGo interface and others.
Steps to Extract WhatsApp History from Damaged Samsung with Android Data Extraction:
Step 1. Download, install and launch the Broken Android Data Extraction software on your computer. Then, select "Broken Android Phone Data Extraction" from the left panel of the program interface.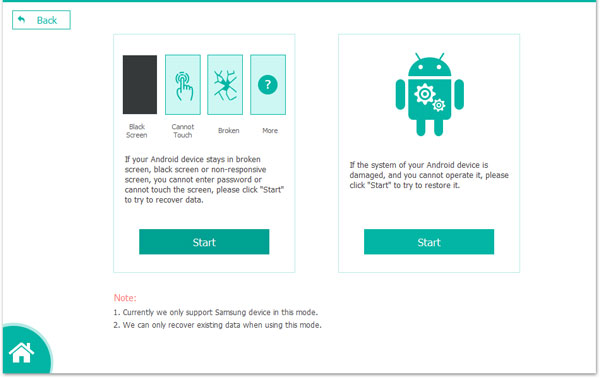 Step 2. Connect your damaged Samsung to the computer via a USB cable. Select the fixing mode from the program interface and click "Start". Then choose the name and model number of your Samsung phone and click "Confirm".
Note: If you are not sure about the information of your phone, you can click question mark and the program will show you how to find the information.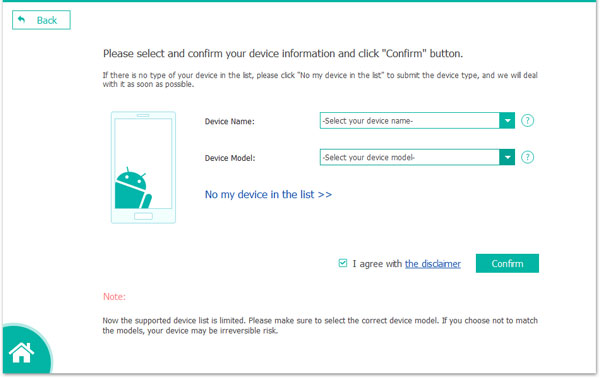 Step 3. On the pop up interface, you will be asked to put your Samsung device into Download Mode so that the program can download repairing package for your damaged device. Just follow the onscreen prompts to put your broken Samsung in Download mode. After that, the program will scan all the content stored on your phone out.
Step 4. When the scanning is complete, you should tick off the "WhatsApp" and "WhatsApp attachments" and click "Recover" button to export and save those recovered WhatsApp messages on your computer.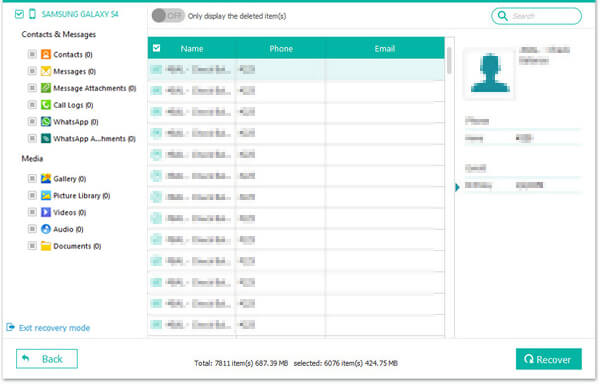 See, you can use whichever way to get your WhatsApp data back from your damaged Samsung device without a hitch. Well, for safety consideration, you'd better backup your Samsung device from time to time.
Check Supported Devices of Broken Android Data Extraction
Samsung Galaxy Note:
Note 3: SM-N900, SM-N9002, SM-N9005, SM-N9006, SM-N9007, SM-N9008 SM-N9008V, SM-N900S
Note 4: SM-N9100, SM-N9106W, SM-N9108V, SM-N9109W, SM-N910C, SM-N910F, SM-N910G, SM-N910H, SM-N910K, SM-N910L, SM-N910P, SM-N910R4, SM-N910S, SM-N910T, SM-N910U, SM-N910V, SM-N910W8
Note 5: SM-N920C, SM-N920G, SM-N920I, SM-N920K, SM-N920L, SM-N920P, SM-N920R4, SM-N920S, SM-N920T, SM-N920W8
Samsung Galaxy S:
S4: GT-I9500, GT-I9505, SCH-R970, SCH-R970C, SGH-I337M, SGH-M919, SPH-L720
S5: SM-G900F, SM-G900FQ, SM-G900I, SM-G900K, SM-G900L, SM-G900M, SM-G900P, SM-G900R4, SM-G900R6, SM-G900S, SM-G900T, SM-G900T1, SM-G900W8
S6: SM-G9200, SM-G920F, SM-G920P, SM-G920T, SM-G925F, SM-G925P, SM-G925T, SM-G928P, SM-G928T
Samsung Galaxy Tab:
Tab Pro 10.1: SM-T525
Related Articles:
How to Backup Data from Broken Samsung Galaxy