Best Equivalent of Find My iPhone for Android
What is "Find My iPhone"?
With the invention of the mobile phone, people have a wide range of different capabilities and convenience. Therefore, it is normal for a mobile user to carry these devices everywhere that they go. From taking it to the store to buy their groceries from an app that has been installed on their devices to using these mobile devices to find the location of a new place that they are scheduled to go, these devices are taken everywhere today. This is also why a lot of people can easily lose or misplace their device without batting an eye. So, for those of you who are more likely to have this type of problem, you can benefit from using the Find my iphone app. Also, here are several great beneficial features listed below.
- Gives the user the capability to access this app via cloud services. Simply put, if your iPhone is lost or misplaced, you can use this app on your Mac, Pc, another iPhone, iPod touch or your iPad.
- Once the user has accessed this app through the platform that is available, the device can be tracked to its exact location. This is an excellent feature for those who have had their iPhone devices stolen and they want to recover it before their information is compromised.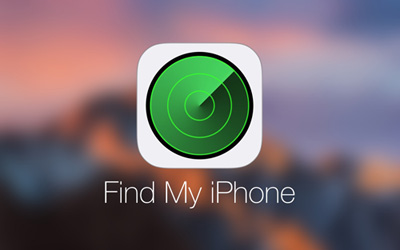 Also Read:
How to Back up An Android Tablet
Why Do People Want to Find An Equivalent of Find My iPhone for Android Phones?
Though this application is very useful, it does not have the capabilities that will be needed for other mobile users. Therefore, if you have an android phone, you can benefit from finding an equivalent software application that will perform the following functions for you.
- Provide Android users with the tools that they need to find their Android devices in situations where the device is lost, misplaced or stolen.
- Gives the android user the exact location of where their android phone has been placed.
- Gives the android user a method to report their devices as lost or stolen to local law enforcement authorities.
- Gives the android user a chance to delete confidential information from their devices remotely so that no one can access their personal information.
- Users have the capability to lock the device so that no other user can hack into their information.
- Users have the capability to turn on the lost mode so that normal activities cannot be performed.
Top 3 Apps Are Equivalent to Find My iPhone to Track Android Devices
1. Find My Phone
Free download Find My Phone from here >>
Find My Phone has a lot of great features that people can use to locate their android phones. One in which provides an alert that will do the following:
- Reminder included that the user has forgotten their android phone if they leave it;
- Assist user with finding their Android devices in the situations where the user has forgotten where they have placed it.
- Fingerprint and Lock pattern system
- Alarm screen application that allows the user to make modifications to their: Ringtone, Sound Volume, Vibration, Flash along with making changes to its Brightness
- Users are provided with the capabilities to Disable certain functionalities including the Home, Volume, Back, and other essential buttons. Specifically, when the Alarm screen has already been activated by a special feature.
- To install this application, you will have the ability to connect it to your watch.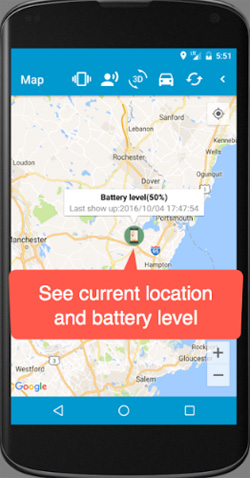 2. Find iPhone, Android Devices, xfi Locator Lite
Free download xfi Locator Lite from here >>
Another app that people are using today to find their Android devices, especially when their devices cannot be found just by looking around, is the Find iPhone, Android devices xfi locator lite. This software application has been designed with a number of useful features and they are provided to you below.
The functionality of this app is made differently for diverse platforms so it can be used for both iOS and android. Here's a few things that the user can do to ensure they can find the device.
- Install the app on their android
- After the app has been installed, the next step is to follow the instruction provided that will allow the user to register a pin. This pin will be used to log in to the app for access when ever it is needed.
- Apps is designed to bypass silent mode so that it will alert whenever it prompted for its location
- Designed to support more than one account at a time.
- Different map types can be selected for use.
- Real time data provided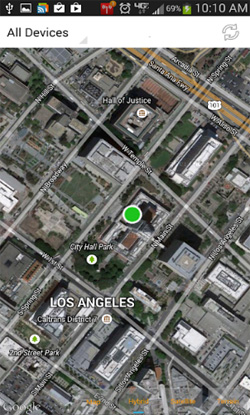 3. Wheres My Droid
Free download Wheres My Droid from here >>
Where's my droid has been designed with several different key features in mind. One of which is finding android devices that have been lost or stolen with ease. Here are some of its top features:
- The user can find their phone with the ring/vibrate feature that has been programmed.
- Utilizes GPS location functionalities
- Provides a GPS Flare for those androids due to the Location alert on low battery
- Passcode protection features
-Provides a Notification if another user changes the SIM card or phone no
- Prevents other users from seeing incoming text
- White/Black list to control who can use the app via text
- Remotely locks device for some android OS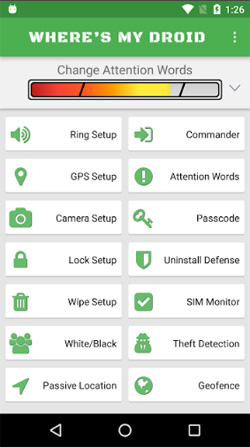 Related Articles:
Easy & Safe Way to Format Android SD Card
Top-notch SD Card Manager for Android Phones