How to Flash TWRP Recovery for Android
You may ask "What is TWRP Recovery and what is it used for?" Well, TWRP is short for "Team Win Recovery Project", which is embedded in Android-based devices. Generally speaking, you don't need to understand it deeply. But if you want to try custom ROM or rooting or modding so as to try most of the latest released Android OS on your phone, then, you have to read this article carefully. After all, flashing TWRP Recovery is the first priority to get all modding ability on your phone.
Part 1. What Can We Do with TWRP Recovery
Part 2. Preparations before Flashing TWRP Recovery on Android
Part 3. How to Flash TWRP Recovery on Any Android Device
Part 1. Part 1. What Can We Do with TWRP Recovery
TWRP Recovery not only enables Android users to install third-party firmware and backup the current system, but also allows users to:
1. Custom Rom with TWRP Recovery.
2. Flash ZIP files to customize your Android device.
3. Use TWRP Recovery flashable zip SuperSu to root and unroot your Android. If you only want to know the procedure of rooting, you can go to read how to root Android devices.
4. Easily take backup on your current Android system and restore the backup.
5. Flash the image files with ease.
6. Clear all bloatware, as well as Wipe, Cache and Data.
7. Underclock and overclock.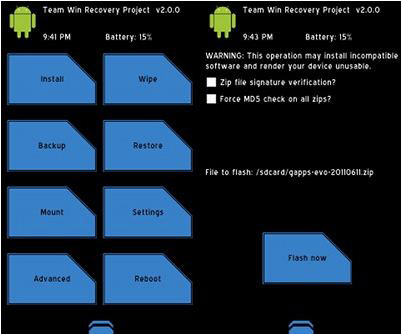 Part 2. Preparations before Flashing TWRP Recovery on Android
Before we teach you how to install TWRP Recovery software, we would like you to make sure the following items are prepared. Since the TWRP Recovery installing process is a little bit complicated if you are not a specialist, you'd better follow our instructions carefully.
Things should be prepared in advance:
1. You need an Android device, a laptop or PC.
2. Charge your Android device over 60%
3. Enable USB Debugging on your Android device.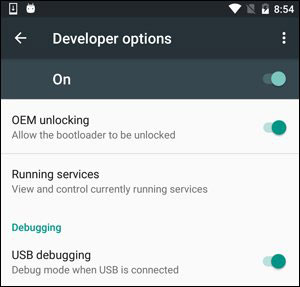 4. Backup your Android device in case of data loss possibility.
5. Unlock the Bootloader of Android device. (To do this, you should install Android SDK > Turn off Android device and press Power + Volume Down buttons to boot your device in bootloader > Connect Android to computer > Go to your computer's Command prompt / Terminal interface to type "fastboot oem unlock" > Hold Volume Up + Power to confirm unlocking bootloader.)
6. Go to TWRP website to download a suitable version of TWRP on your Android phone.
7. Install Android Debug Bridge (ADB) zip file from Android SDK download page.
Part 3. How to Flash TWRP Recovery on Any Android Device
Step 1. Open USB Debugging Mode on Android
The process of USB Debugging opening is differ from different Android OS. Just go to the page of how to enable USB debugging on Android to learn how to open the mode on your Android device.
Step 2. Download TWRP for your Android
Go to TWRP official website (https://twrp.me/) and navigate to the Devices page (https://twrp.me/Devices/). Browse the page to find your device and click it to get the TWRP downloads for it. After you have downloaded the TWRP image, copy and paste it to the folder where the Android ADB installed and rename it as "twrp.img".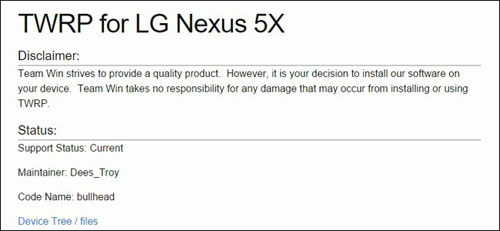 Step 3. Reboot into Your Bootloader
In general, you can turn off your Android phone, press and hold the Power + Volume Down buttons for 10 seconds and then release them to boot your Android phone into Bootloader. But if you find it doesn't work, you can search on Google for help because the operations may be vary with different phones.
Step 4. Flash TWRP to Your Android Phone
After booting your Android device into bootloader mode, you can follow the steps below to continue:
- Connect your Android phone to your computer with a USB cable.
- After the connection, you can go to your computer to open the folder where you have installed ADB.
- Shift+right click on an empty area and choose the "Open a Command Prompt Here" option.
- Run the "fastboot devices" command and you will be popped up with a serial number, which means your phone can be detected. (If you haven't received the number, you can go back to check whether you have followed the operations above correctly.)
- Run the "fastboot flash recovery twrp.img" command and you will see a success message in the Command Prompt window.

Step 5. Boot into TWRP Recovery
Disconnect your Android phone from the computer and use volume down key to find the "Recovery" option in your bootloader. Then, use volume up or power button to select. After that, your Android phone will be reboot into TWRP.
By the way, you will be asked to enter a password or PIN to unlock the bootloader and choose whether you would like to use TWRP in Read Only mode.

After you have finished all the settings above, you will enter the TWRP screen automatically. Now, you can enjoy all the advantages I have mentioned in part 2 with the TWRP Recovery on your Android device now.
Related Articles:
How to Boot Android Phone into Recovery Mode