Top 5 Free Android Apps - Free Apps on Android
Smartphones and tablets have changed the way individuals interact with each other. Communication has become cheaper since the introduction of smartphones and tablets. Creative developers around the world have engaged their innovative juices and have come up with the best apps for android phone users.
Below are the top 5 free apps for android you need to know about.
#1. WhatsApp
This is one of the top free android apps that enable users to be able to exchange messages and send pictures among other functions. The app is designed to utilize internet data plan that the user has subscribed from their current carrier. The messages are sent for free and users can get to create groups where they can discuss and send messages on a particular topic. The best thing about the app is that it does not display ads therefore using it is a flawless experience.
#2. True Caller
True caller is an amazing top free android app that enables users to view the identity of the person calling their phone. When truecaller is installed in the phone, it has access to one's contacts therefore helps to identify unknown numbers. It allows users to search both local and international numbers, one can block numbers belonging to spam callers and has yelp integration for faster business lookup results.
#3. Facebook
Facebook android app allows users to share, communicate, update and post content via their android tablet or smartphone. Users can get to see what their friends are upto, they also get notified when friends comment or like posts they had updated before. Apart from sharing and updating content, users have the opportunity of playing some of the best games available on the platform.
#4. Instagram
Instagram android app allows users to be able to capture wonderful moment through their smartphone or tablet camera. Users can transform photos that have been captured into works of art and be able to share them with family and friends. Its features include editing of photos, improving photos, find people, share photos and videos via social networks such as facebook.
#5. Messenger
This is a free app that allows users to send and receive messages. It has been developed by facebook and enables users to have group chats, share photos, share videos and make free call. It allows users to send message freely since it utilizes internet data plans one has subscribed to.
The Best Android App Helps Transferring and Managing Android Data
But you also need an app to help you transfer files between Android device and computer, and manage Android files on computer as well, right? Coolmuster Android Assistant or Coolmuster Android Assistant for Mac is an application that allows users to back up data contained in their phones to their PC and Mac. Its features include adding, deleting and editing contacts on the PC. One can also send and reply to message via their PC.
Other features are:
1. 1 click backup of your smartphone and tablet contacts, messages and other data forms.
2. Allows users to export app files that have been downloaded directly to one's PC
3. It allows users to transfer music, pictures and videos among other media formats.
4. It supports various brands of Android smartphones and tablets
5. It performs read only operations therefore ensuring no damage is caused to your data or computer.
6. Its standalone therefore a user does not need third party apps.
7. It works on all Windows OS starting from Windows 2000, as well as Mac OS X 6, 7, 8, 9.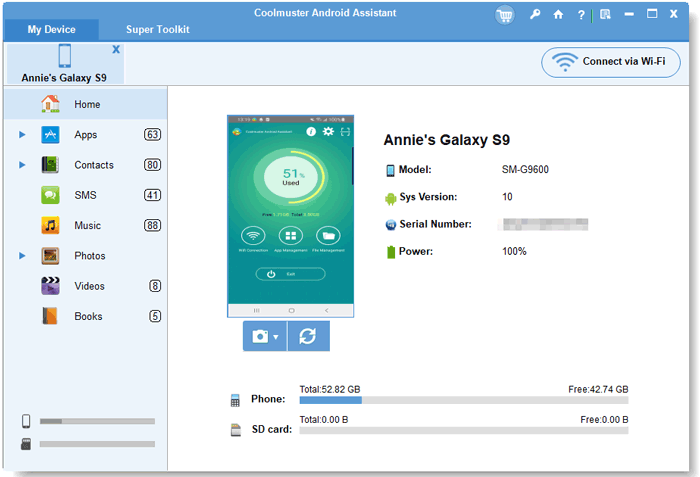 It is the best management software currently available in the market, users are guaranteed the best experience when using it and one no longer has to worry about losing their android data anymore. And you can download it right now for free.
Related Articles:
How to View Android Text Messages on Computer