How to Backup and Restore LG G3, LG G4 Data?
Why we need to backup and restore our LG G3 phone?
Compared to iOS, Android software is infinitely more customizable and flexible. This means you can do more to personalize your LG G3 than you could an iPhone. All that customized, personalized data should not only be saved on your phone, especially if you want to upgrade to a newer LG G3 or want to restore one that has had its data deleted. All those customizations and platform-specific apps may not be available in the same format or even exist two years from now. Google Play's apps are infinitely more diverse than the App store, but the transitory nature of this online marketplace means that apps that you used to customize your LG G3 launcher or wallpaper may no longer be sold there. You need to back-up this data so it will always be accessible to you whether or not it's still available to the public.
What's the best way to backup and restore data on LG G3?
The best way to back-up and restore data on Android phones like the LG G3 is to use third-party software you launch on your desktop or laptop computer to connect and upload/back-up your phone data onto it. Coolmuster Android Assistant (for all Windows versions) or Coolmuster Android Assistant for Mac (for all Mac versions) is the perfect Android backup and restorative third-party software on the market today. It can enable you to export videos, photos, music, contacts, SMS, apps, text messages or any other kind of mobile data from any Android phone or tablet to any PC or Mac computer. This not only will free up space on your LG G3 for for new apps and personal data, but it will also restore any Android phone data from this same saved backup file with a simple click. It also gives you the ability to add new contacts, delete old or expired contacts, edit existing contacts and duplicate contacts from this same computer easily.
The best part is that Android Assistant is so easy to use. To backup or restore data on your LG G3 phone using the handy Android managing tool, you should first download the software from the following button onto your computer. Next, follow the guide in the below to see how to use it to backup and restore data on LG G3.
Simple Process for LG G3 Backup and Restore with Android Assistant
Step 1. Connect your LG G3 with your computer
Launch Android Assistant while you have your smartphone connected to your computer via USB cable. A screen will pop up with all the data categories of your smartphone on the left hand side column and an icon for your smartphone in the middle. (You may have to open USB debugging before Android Assistant can open and read all your phone data)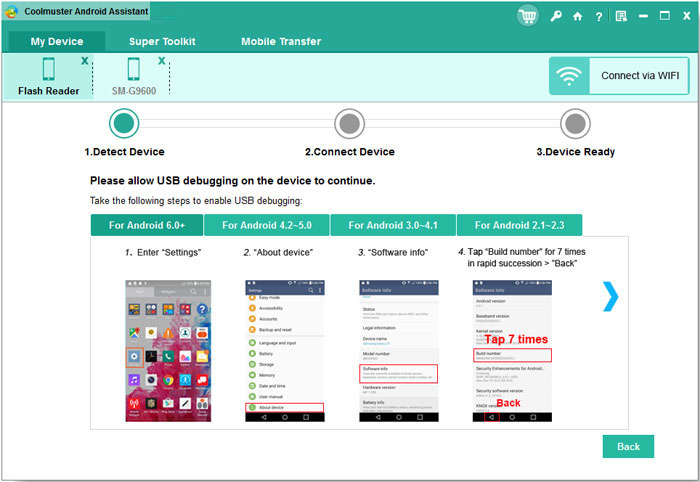 Follow the below instruction to enable USB debugging:
1) For Android 2.3 or earlier: Enter "Settings" < Click "Applications" < Click "Development" < Check "USB debugging".
2) For Android 3.0 to 4.1: Enter "Settings" < Click "Developer options" < Check "USB debugging".
3) For Android 4.2 or newer: Enter "Settings" < Click "About Phone" < Tap "Build number" for several times until getting a note "You are under developer mode" < Back to "Settings" < Click "Developer options" < Check "USB debugging".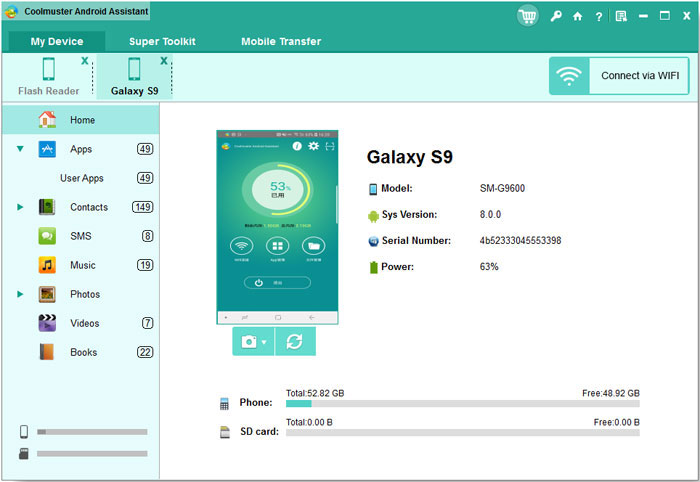 Step 2: Backup your LG phone data selectively
Go to the left hand column and click on the different data categories Android Assistant has detected on your phone. Click the boxes next to all the files you want to backup and access whenever you want. After chosen what you want, you can click on the "Export" button to back them up on your computer.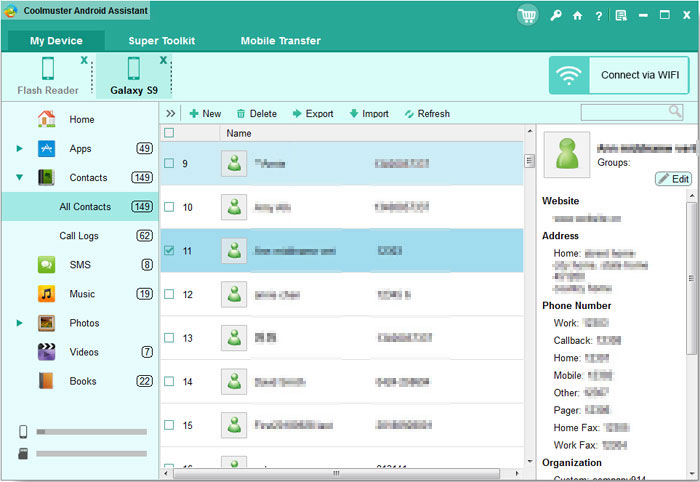 Step 3. Restore backup data to LG G3 phone
Next time if you want to restore the backup data to your LG G3 or other Android phones, you can connect your Android phone to the same computer, launch the Android Assistant, and click the button of "Restore" to sync the backup record to your Android phone.
Related Articles:
How to View Android Text Messages on Computer