ZTE Contacts Manager - Manage Contacts on ZTE
Nowadays, people can do almost all things they want on a mobile phone, such as taking high quality photos, surfing on the internet, and even doing convenient on-line payment. But we will never deny that its primary use it to communicate with people. SIM card in a ZTE phone allows users to save thousands of contacts, not only phone numbers, but also addresses, emails and other contact information in the "Contacts" application.
However, managing your contacts on ZTE phone and keeping them really organized and not very familiar with people. How to backup ZTE contacts on computer? How to restore contacts from computer to ZTE phone? How to transfer ZTE phone contacts to other phones? How to edit contacts on ZTE? How to delete and create new contacts on ZTE phone? Those are all the questions concerned by all phone users. Now, with Coolmuster Android Assistant or Coolmuster Android Assistant for Mac, all the mentioned contact managing works can be done with one click.
What The ZTE Contacts Manager Can Do?
- Backup & restore Android phone contacts on computer with one click
- Create and add new contacts, as well as contact information on Android phone via computer
- Delete needless and duplicate contacts from ZTE phone easily
- Edit contact information on ZTE phones via computer
- You can also learn how to transfer ZTE contacts to iPhone here.
Free download the ZTE Contacts Manager on your computer and manage ZTE phone contacts right now.
How to Manage ZTE Contacts with ZTE Contacts Manager?
Step 1. Launch ZTE contacts manager program
After downloading and installing this program on your computer. Launch it and then connect your ZTE phone to the computer via a USB cord. Enable USB debugging on your ZTE phone at first and it will be recognized by the program.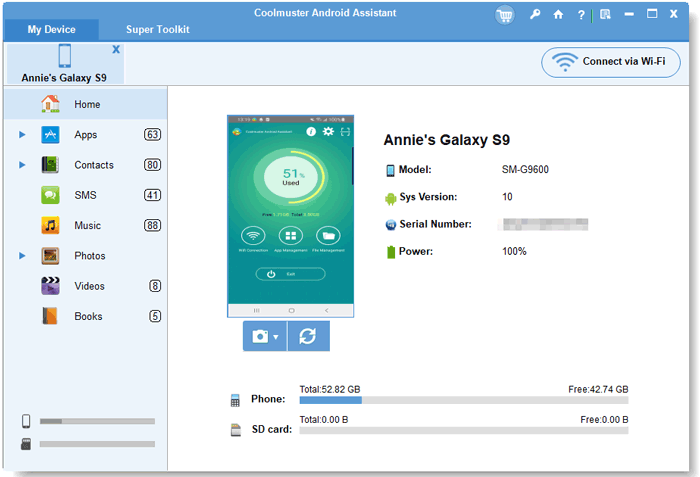 Step 2: Manage ZTE contacts
Click the "Contacts" icon in the left directory menu to enter the Contacts managing window. Here, you can view all contacts on the right and all managing options displayed on the top menu.
1. To transfer contacts from ZTE to computer: Select the contacts you want and click "Export" option.
2. To import contacts from computer to ZTE: Click "Import" button, select the contacts you want to transfer to ZTE and click OK.
3. To add and create new contacts: Click "New" button to bring up the contact adding window to input the new contact information you want to create.
4. Delete unwanted contacts from ZTE: Select the needless and duplicate contacts you want to remove from the phone and click "Delete" button.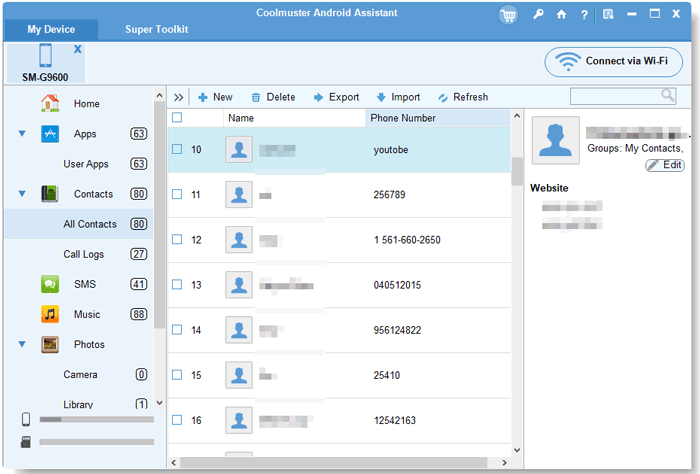 That's how you can manage ZTE phone contacts efficiently with Coolmuster Android Assistant. Have a try right now!
Related Articles:
Save Contacts from Samsung Galaxy/Note to Computer