How to Manage Samsung Galaxy Note/S6/S5/S4/S3 on PC/Mac?
As a high-end smart phone released by Samsung Electronics, Samsung Galaxy S3 is a sleek phone with a 4.8-inch HD screen and a powerful series of configurations. Equipped with high-resolution rear and front cameras, it's loved and used by a great number of people for shooting photos and videos. Besides, it has multiple newly developed functions, such as Direct Call that dials a number automatically for you when you place the phone near your ear, Smart Stay that keeps the screen bright when you're e-reading or browsing the Web, Pop up Play that allows multitasking, and S Beam that supports high-speed transmission of files between two S3 devices.
Multifunctional as Samsung Galaxy S3 is, thousands of users have used it to make phone calls, send and receive text messages, listen to music, take pictures or videos to record the precious, funny or amazing moments of their life, play various games, and download a wide range of apps. There're images, videos, audios, contacts, text messages, apps and other files stored on your device, yet you don't have a one-stop tool to manage them. You may have been prevented from importing or exporting data between your phone and the computer, or having difficulty backing up or retrieving data, which's an awful lot of bother. But don't worry, as you'll be worry-free with our all-in-one desktop manager software, Coolmuster Android Assistant.
Main Features of this Samsung Galaxy Desktop Manager Software:
Coolmuster Android Assistant is well compatible with all Windows versions, including Windows 10/8/7/XP/Vista. By connecting your phone to a PC or Mac, regardless of the operating system, merely with a USB cable, you can transfer all types of media files, such as music, videos and images from the computer to your device, or the other way round. You can also back up or restore data with one click without bringing damage to any, edit, add or delete contacts, send or reply text messages instantly on the computer. Furthermore, you can download and install apps and games from your computer to your SD card inside the phone, so that you can use them as long as you carry your device, or uninstall them from the computer in a flash.
- Backup all data like contacts, SMS, music, videos, photos, apps and more from Android device to Windows or Mac computer;
- Push music, videos, photos and apps from computer to your Android device easily;
- Freely manage the contact info on computer, such as add new contacts, delete useless contacts and edit existing contacts;
- Send text messages, especially group messages, from computer to any phone number conveniently;
- Restore all or selective backup contacts to Android phone any time you like with one click.
Download the free trial version of the best alternative to Samsung Kies to have a try. Mac users can draw support from Coolmuster Android Assistant for Mac, which works on Mac OS X 10.10 or later.
Go Through The Process of Managing Samsung Galaxy S3 on Computer
Follow on, we will show you how to fully manage your Samsung Galaxy phone by using this managing software. We will set Samsung on Windows version as an example (Operations on a Mac are almost similar). First of all, download and install this Samsung managing program on your computer, launch it to get ready.
Step 1. Connect Your Samsung Galaxy S3 to Computer
Use a USB cable to connect your Samsung mobile phone to the computer. Then, you will see the connected device is detected by this program automatically. If it is the first time to run this software, you may encounter the following picture that requires you to enable USB debugging on your phone. If your device can be detected by the program, you can skip to the next step.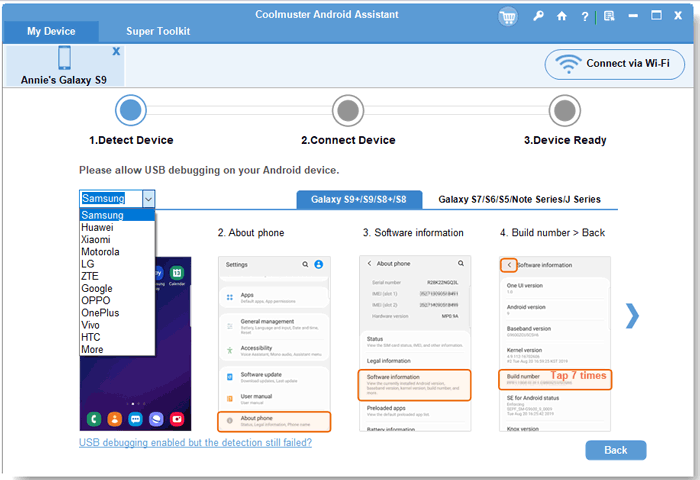 Follow the below instruction to enable USB debugging:
1) For Android 2.3 or earlier: Enter "Settings" < Click "Applications" < Click "Development" < Check "USB debugging".
2) For Android 3.0 to 4.1: Enter "Settings" < Click "Developer options" < Check "USB debugging".
3) For Android 4.2 or newer: Enter "Settings" < Click "About Phone" < Tap "Build number" for several times until getting a note "You are under developer mode" < Back to "Settings" < Click "Developer options" < Check "USB debugging".
Once the USB debugging is enabled, click "Allow" on your phone to allow the program super user authorization when an Superuser Request pops up. Then, the parameter information of your device, including phone model, system version and storage space size will be shown in the main interface like below.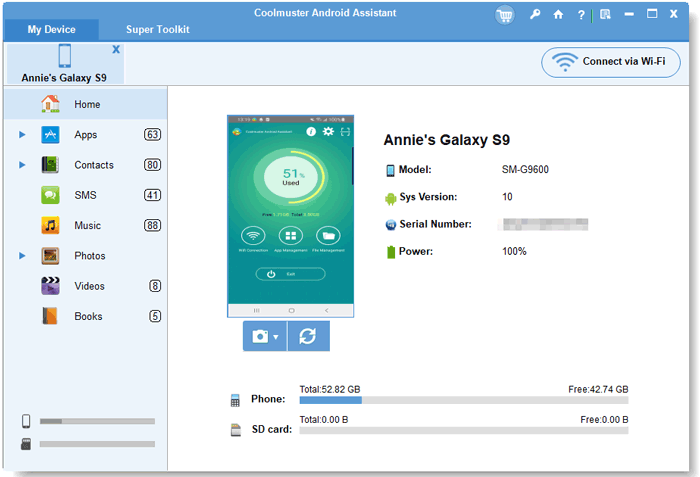 Note: Coolmuster Android Assistant is fully compatible with all popular Android phones, including HTC, Google, Motorola, Samsung, Sony Ericsson, Huawei and so on.
Step 2: Choose managing options
Navigate to the top menu of the software, you can see all the files in your cell phone shows in categories, such as "Apps", "Music", "Photo", "Video", "Book", "Files", "Contacts", etc. And there are a series of options like "import", "export", "backup", "edit", "delete", "add" and so on. Click to choose the desired file types and select the operation you want.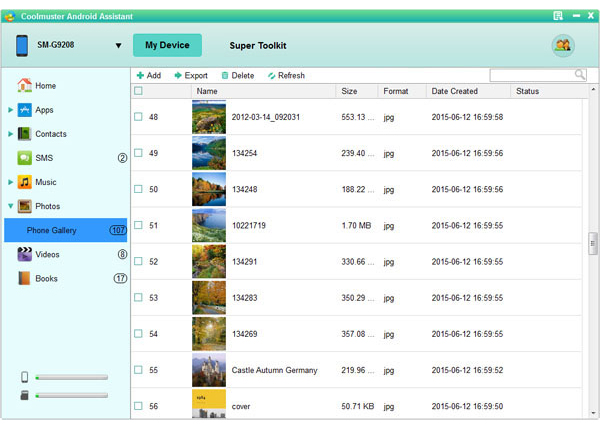 Any option you choose, the software can help you finish the task quickly and smoothly without any error. Stand-alone, safe, risk-free and powerful as this tool is, it's worth a try and will provide you with help at hand!
Related Articles:
Print out Text Message Conversation from Android Phone on Mac & Windows 8/7
How to Send SMS from Computer (Windows & Mac) to Mobile Phone