Recover Photos/Music/Videos When Cannot Touch Screen
Can't touch the screen of your mobile phone so you cannot access the device? This situation happens when you accidentally drop your phone to the ground. That's so frustrating that the phone is unresponsive when you touch the screen and you have no idea how to rescue your crucial and private data stored inside it.
People would possibly send the damaged phone to repair and replace with a new screen display. However, before you send it to get fixed, we recommend you to extract your significant content, including photos, videos and songs from the phone to computer for backup in case of any possible data loss issue. You may ask: I can't touch the screen, how can I extract data from it? Don't worry! Here we recommend you with a tool to help you restore data from a screen damaged phone.
Solution: Restore Data from A Phone When You Cannot Touch Its Screen
Tips: How to Protect Your Phone Screen from Being Damaged?
Solution: Restore Data from A Phone When You Cannot Touch Its Screen
Broken Android Data Extraction is your right-hand assistant to rescue data from broken and damaged phone. It supports file types like contacts, messages, call logs, photos, music, documents, etc. and Android devices like Samsung Galaxy, HTC One, LG G4, Sony Xperia, Huawei, Xiaomi and so forth. To learn more about the tool, please keep on reading.
Preparation: Download and install the free trial version of Broken Android Data Extraction on your computer. Then, follow the steps below to recover media files like photos, videos and music files from screen-damaged phone.
Step 1. Launch the software on computer
Start the program on your computer and select "Broken Android Phone Data Extraction" from the left side of the home page of the program. Choose the "Start" button as your first prior concern.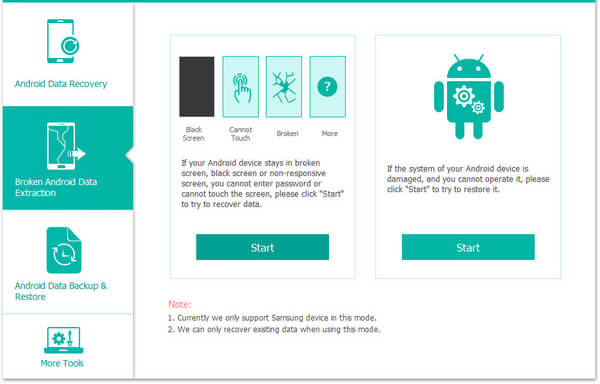 Step 2. Confirm the device name and model
Select the device name and model of your phone and click "Confirm" button. Then, follow the guide to turn your phone into Download mode and the program will detect & scan the phone.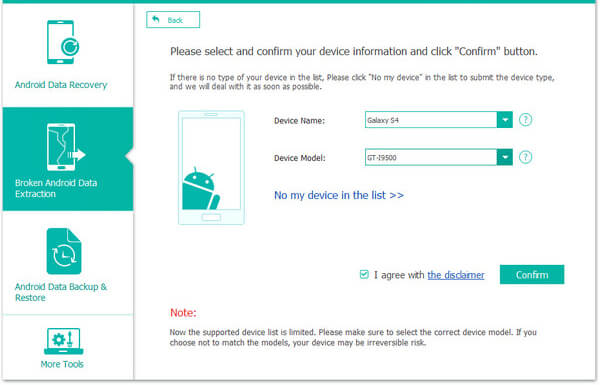 Step 3. Start media recovery when cannot touch screen
Now, you are allowed to preview the scanned out data in various folders like Contacts, Messages, Call Logs, Photos, WhatsApp, Videos and Audio files. Just select Photos, Videos and Audio options and click the "Recovery" button to save all of them on your computer.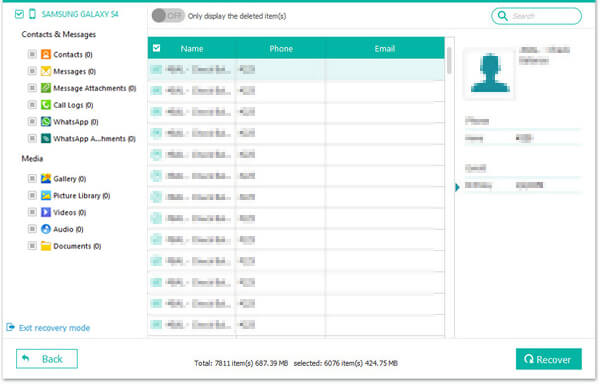 - How to Recover Data from Bricked Android Phone
- Recover Data from Samsung Stuck in Start Screen
Tips: How to Protect Your Phone Screen from Being Damaged?
Here we provides some useful tips and tricks to help you protect your phone screen from being damaged.
1. Use a screen protector to prevent your phone display from being scratched or broken and make sure the protector is in good quality.
2. Use a phone case to protect the phone from being damaged.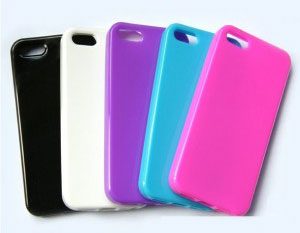 3. High temperature will do harm for your phone, so you'd better keep you phone away from direct sunlight and heat source.
4. Don't use anything sharp to touch your phone screen.
5. Don't let kids play with your phone.
Related Articles:
Backup Samsung Galaxy S8 to Computer