New Phones to Look Out For in 2016
The smart phone market is a lot different from what it was a decade ago. It's all about processing power today, about camera capabilities and about the unique features of the smart phone. The iPhone 5S first introduced fingerprint scanning in smart phones. The Samsung Galaxy Edge series has introduced curved screens, which of yet, remains something unique to Galaxy Edge phones. We are well into 2016 and we have every big company from Apple to Samsung out with a new offering. So, what did we have in 2016 so far? Here is a look at some of the best smart phone launches we have seen this year. This passage is divided into three parts:
1. Phones Released in 2016
2. Phones Yet to Be Released in 2016
3. Best Assistant for New Phones
Part One: Phones Released in 2016
1. Samsung Galaxy S7 – Released sometime in February 2016 this phone has already become a huge hit with its finest features. The phone comes with Quad HD Super AMOLED displays, 4GB of RAM, Qualcomm Snapdragon 820 processors, great 12MP rear-facing cameras and much more.
2. LG G5 – This phone is recently launched in April 2016. The phone comes with Qualcomm Snapdragon 820 processor, 4GB RAM, a 5.3-inch display, and 32GB storage with microSD card slot.
3. Google Nexus 6 – This new kid on the block has already gained a lot of popularity world over. The features include super fast Snapdragon 810 processor, big 5.7-inch Quad HD AMOLED display, a giant 3450mAh battery and a remarkable 12MP rear-facing camera. It comes quite easy on the pocket too.
4. Motorola Moto X Style – Motorola has proved time and again that you don't need complex features to use a good phone. This one from Motorola is their latest addition in the market. The main features include a thick 5.2 inch AMOLED screen, a sturdy processor and a great 13MP camera.
5. iPhone SE - The phone packs in all the features of the iPhone 6S, but in a much smaller form. So, we have the A9 processor powering it, and a good 2 GB of RAM. There is also iOS 9 and a LED-backlit IPS LCD, as well as a capacitive touchscreen. However, instead of the 4.7 inch screen size of the iPhone 6S, the iPhone SE has a 4 inch screen, much like the iPhone 5S. The phone is primarily aimed to improve Apple's sales in emerging markets like those of India.
6. Symbian/Microsoft - Symbian has not released any new phone since 2012. Microsoft had till last year, but the sales were not up to expectations, a reason Microsoft has decided to steer away from the smart phone business, for now. However, rumors are that Microsoft will launch the Surface Phone soon, though we are not sure about the date as of now.
Part Two : Phones Yet to Be Released in 2016
Some of the upcoming releases of 2016 include:
1. Motorola Moto G 4 – This is going to be released in July 2016
2. Samsung Galaxy Note 6 – This is scheduled to be released in August 2016
3. Huawei P9 – This is going to be released in April
4. iPhone 7 – This is scheduled for a September 2016 release
Part Three: Best Assistant for New Phones
While everyone is buying mobile phones these days there are certain things that many would not even know. A professional support will always help you make the best of your investment so that you can have the best utility of your smart phone.
For Android phones:
Make sure that you have the Coolmuster Android Assistant or Coolmuster Android Assistant for Mac installed in your computer to have the best of your Android phone. With this software, you can transfer, share, install and uninstall apps with this support. Moreover, this software can be your best backup assistant to transfer all files from your device to the computer within simple clicks in case of sudden data losses.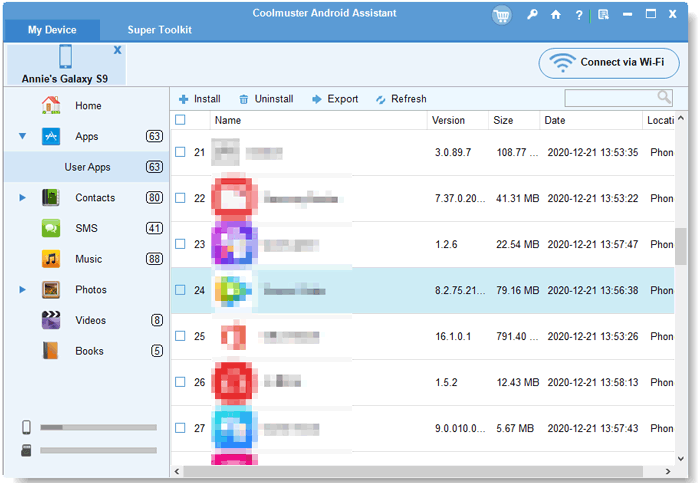 For iPhones:
You can also get Coolmuster iPhone Data Manager (Windows/Mac) support from this software. All you need to do is install the software and get going with your phone. Then this software allows you to easily transfer all files from your iOS device to the computer as a backup. After all, your important data could be possibly lost due to various reasons. Also, this software is fully compatible with all generations of iOS devices. That is, it can also be the best manager for iPad and iPod.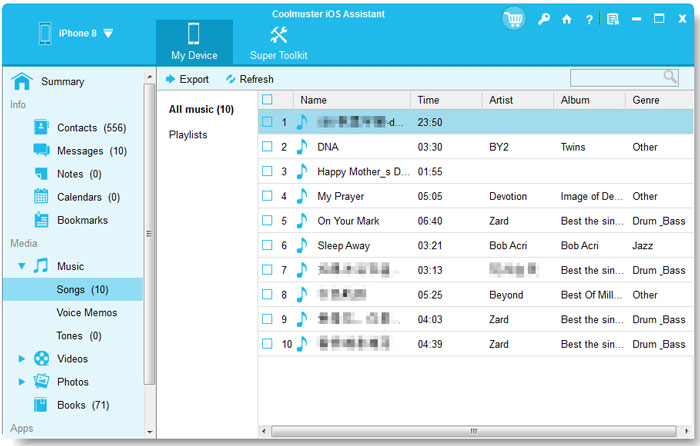 Related Articles:
Best Contacts Editor for Android Phones