Recover Deleted Photos & Videos from Motorola Mobile Phone
Many people have used or are using, or are planning to use Motorola cellphone. The good quality and conveniences it provides are indeed an attraction. Never the less, using a Motorola is not about using the phone itself, but about trying to handling many functions of it. For example, you should try to know how to make videos with it. One video made by yourself is a reward for your creativity, so is one well taken photos.
Have you ever met such problems: when you are trying to show others your well made video or photo work, you suddenly find that you can't see them in your storage medium? Your response must be: oh, my god. Well, god will not help you in this regard if you can't help yourself. But if you know enough about the solution, you will easily solve it with the bless of god. Here we will tell you how to recover lost photos and videos from a Motorola cell phone.
Related: Possible Causes for Android Data Losses
What makes it possible to recover photos or videos from Motorola?
The retrieving process can not work without a professional tool. That is data recovery. Some people who have used Coolmuster Lab.Fone for Android (For all Windows versions) or Coolmuster Lab.Fone for Android (Mac) told that when they first met the problem of losing videos and photos, they were very annoying, not knowing how to deal with the problem. But Coolmuster Data Recovery successfully found their videos and photos. This is recovery software with many usages and easiness to operate. With the help of it, countless people have gotten their precious videos or photos again.
To serve better their users, the designers of Coolmuster Data Recovery also tried the best to make this software more useful. Besides Motorola Moto X/Atrix/Droid, it can also recover deleted photos, videos, music, documents and more file types from any external hard drive, USB drive, Android mobile phones, MP3/MP4, and other storage media. Download the free trial of the software to have a try.
Learn More:
* Recover Text Messages from Android with Black Screen
* Recover Data If Samsung Cannot Access System
How to Retrieve Deleted Videos & Pictures & Music from Motorola Phones?
Step 1. Connect your Motorola phone to computer
Double click on the shortcut icon of the program on the PC after you download and install it. Then, you will see its primary interface like the picture below. Connect your Motorola phone to the computer with a USB cable to get your phone detected by this program.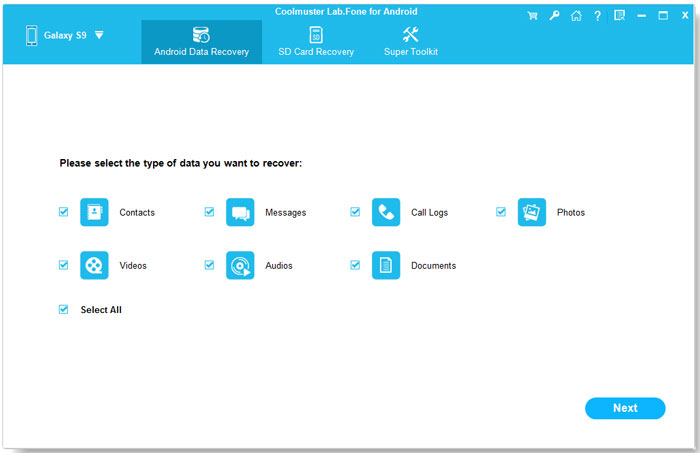 Step 2. Scan your Motorola phone for lost files
Now, you will see that all different file folders are arranged on the left panel. You can click on the right folder to preview more files in details.Then just hit the Recover option to recover the lost videos and photos from your Motorola phone in one click.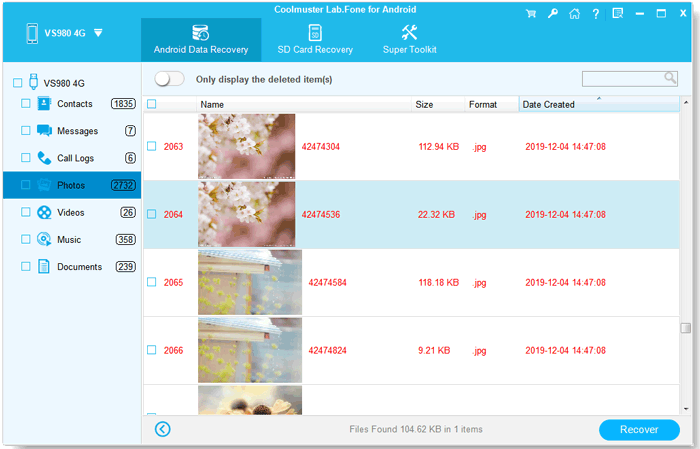 A path choosing dialog will appears, asking you to choose an output location to save the recover photos and videos. We kindly suggest you not to save them to your Motorola phone again, in order to prevent file overwritting. Just save them to your computer or other storage devices as well.
What else you should remember:
If you want to keep your videos and the like more secure, you should take some steps beforehand. First, you have to make sure that the quality of your storage medium is reliable enough. Second, you need to copy your videos or photos after you have recording or taking them. And third, you had better use a good cellphone such as motorola ones to further guarantee the reliability of your storing. With the coming out of more and more brands and models of cellphones, you will enjoy more during your using of your mobile equipment.
By the way, if you need recovering lost text messages and contacts from Android phone only, you can fully depend on Android SMS+Contacts Recovery.
Video Tutorial
Related Articles:
Recover Deleted Contacts & Text Messages from Sim Card for Android