I have a few colleagues who are used to making contact with their friends and family via text messages. But as they have an increasing number of messages stored on the phone, they cannot pick the ones needed out in an instant, and when the device breaks down or goes out of battery, nor can they read the text messages with important personal or business information inside, which turns out to be a big constant headache. They wondered whether there was any means for them to print out the significant ones for later use.
Where Are Text Messages Stored in Sony Xperia Phone?
Unlike photos, videos, audio and music that are stored on the external memory card, SD card, and can be transferred to the computer via a USB, text messages, the same as contacts, are stored on the internal phone memory and cannot be exported to the computer in such way. Provided that you have bought a new phone and want to remove your text messages to it, you're required to copy them to your SIM card first. However, no matter where you store your messages, either on the phone memory or the SIM card, it's impossible for you to directly print them out or transfer them to the computer like the photos for printing.
As a result, a professional tool is in great need to deal with such a thorny problem. Coolmuster Android Assistant (for Windows and Mac) is the one to be strongly recommended here to help you print your text messages from your Sony Xperia Z6/Z5/Z4/Z3 phone with ease. It extracts the ones selected automatically to your desktop and does the printing in a second, avoiding the troublesome transferring process. As an excellent assistant, it's applicable to all Android phones and can also assist in recovering, deleting and removing your data of different types. Undoubtedly, it will be the best option for you. Just take a shot at it and enjoy the convenience it creates!
Learn more:
* How to Print off Text Conversations from Motorola?
* How to Print Photos from Android Smartphone/Tablet?
Read on and follow the detailed operations as below to get your Sony text messages printed off. First of all, you can download the free trial version of the software to have a try.
Note: Coolmuster Android Assistant is fully compatible with all popular Android phones. In addition to HTC Inspire/One/Sensation/Amaze and more, it can also work on Google, Motorola, Samsung, Sony Ericsson, Huawei and so on.
Steps to Get Sony Ericsson Xperia SMS Conversations Printed on A Computer
Step 1. Connect your Sony Ericsson to PC
Download and install the Android managing tool on your computer. Launch it to get ready. Then, connect your Sony Ericsson Xperia to the computer via a USB cable. Once the connection is successful, the managing tool will automatically detect the phone and show its parameter information on the program interface. You may need to enable USB debugging on your phone at first. If you did it before, you can directly go to the next step.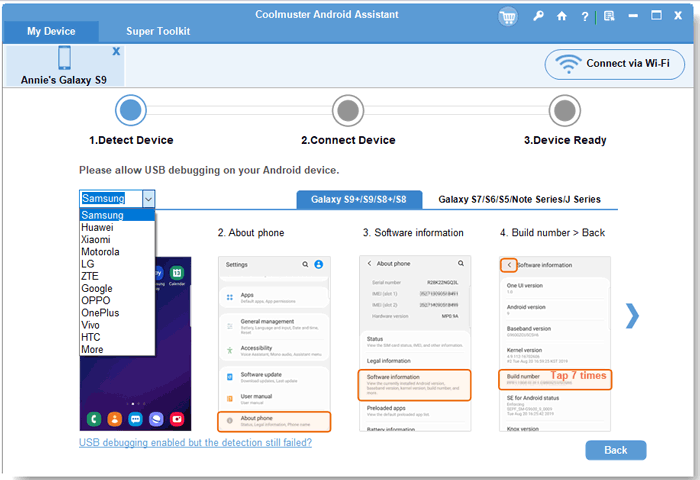 Follow the below instruction to enable USB debugging:
1) For Android 2.3 or earlier: Enter "Settings" < Click "Applications" < Click "Development" < Check "USB debugging".
2) For Android 3.0 to 4.1: Enter "Settings" < Click "Developer options" < Check "USB debugging".
3) For Android 4.2 or newer: Enter "Settings" < Click "About Phone" < Tap "Build number" for several times until getting a note "You are under developer mode" < Back to "Settings" < Click "Developer options" < Check "USB debugging".
Once the USB debugging is enabled, click "Allow" on your phone to allow the program super user authorization when an Superuser Request pops up. Then, the parameter information of your phone, including phone model, system version and storage space size will be shown in the main interface like below.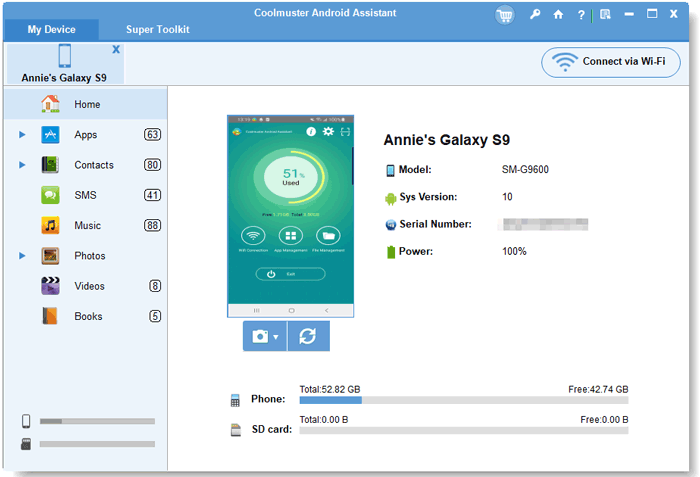 Step 2: Preview and select the target text messages
All your Sony Ericsson Xperia data will be scanned out and displayed on the top menu. Click the "Contacts" icon from the top and click on the "All SMS" option from the left panel, you will see all the text messages in your phone will show in list on the right. Mark the SMS conversation you want to print out and click the button of "Export".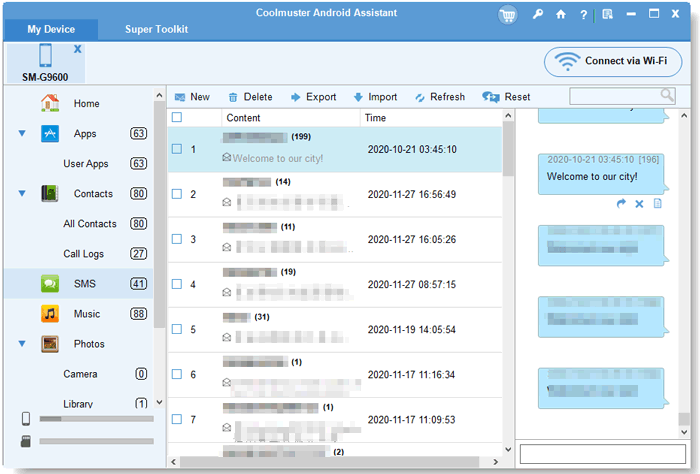 Step 3. Start to export and print SMS
Follow on, there will be a "Path" dialog appears, asking you to choose an output location to save the exported text messages. Just choose a place on your computer and then click the "Ok" button to begin the transfer process. Wait for a short time, all the selected text message conversations will be exported to the specific location. Now, you can print them out into one paper.
Words in The End:
Sony Ericsson, a joint venture between the Japanese Sony Mobile Communications and the Swedish Ericsson Corporation, has been releasing different lines of competitive products to the market, and has meanwhile been committed to further increase the value of its products. Not only does it continuously provide various new apps, but also it stimulates users' desire to access to its services with exciting contents. Cell phones designed and produced by Sony Ericsson are currently popular with a bunch of people across countries, especially students and office workers. Its users can easily be seen here and there carrying such a device to watch TV series, make phone calls, send text or voice messages, or chat with others on different i-messengers.
Video Tutorial
Related Articles:
Recover Deleted Text Messages/Contacts from Sony Ericsson Xperia
How to Send SMS from Computer (Windows & Mac) to Mobile Phone