How to Recover Deleted Call Logs from LG G2/G3/G4/G5?
When an individual has lost their call log, they are normally looking for a quick way to recover it. In many cases, people are trying to recover their data as quickly as possible, and for a number of different reasons. From finding an important number from a call that they have received previously to making sure they have a record of all communication that they have received during a specific period of time. There are many different reasons why this kind of data can be lost, artificial or non-artificial. Fortunately, call logs do not have to be lost forever. Specifically, because there are recovery processes can be performed to get this information back within a short time frame.
One of the most notable involves the use of Coolmuster Lab.Fone for Android (with its Mac version - Lab.Fone for Android Mac). It is an application with which users can get back their lost data, including call history, contacts, text messages, photos, videos, music and more from LG G2/G3/G4/G5/Optimus. It works even when you have no backup file for your LG phone. Besides, this handy Android data recovery software can provide the ability to backup your Android phone to computer, and restore the backup file back to your phone. Please note that the lost files can be replaced by new data and will never be recovered back even with Lab.Fone for Android, therefore, you should stop using the device when deletion happens.
You may be interested in:
How to Recover Deleted Call Logs from Android?
How to Recover Call History from Samsung Galaxy?
The following guide will tell you how to recover deleted call logs from LG G2/G3/G4/G5/Optimus effortlessly, with the help of Coolmuster Lab.Fone for Android. Download the program and have a free trial.
Solution to Restore Lost Call History from LG G2/G3/G4/G5
Step 1. Connect LG phone to your personal computer
Launch the Android data recovery software after you downloaded and installed it on your computer. It will detect your LG phone when you get the phone connected. After that, you will see the interface like the following picture.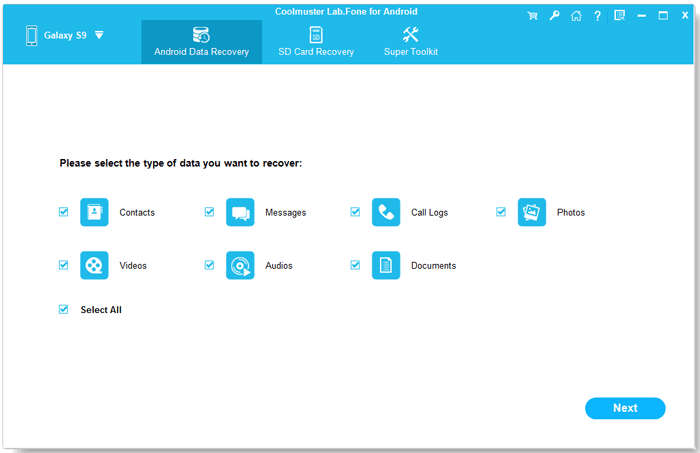 Tips: if you haven't enabled the USB debugging on your phone, the Android data recovery tool will be failed to detect your phone. Therefore, you can follow the instructions in the article to learn how to open USB debugging on your phone.
Step 2. Scan for the deleted calls logs on LG phone
Once the program detects your LG mobile phone, it will perform a deep scan on the device and display you with different files including call history, text messages, photos, and contacts among others that you had lost.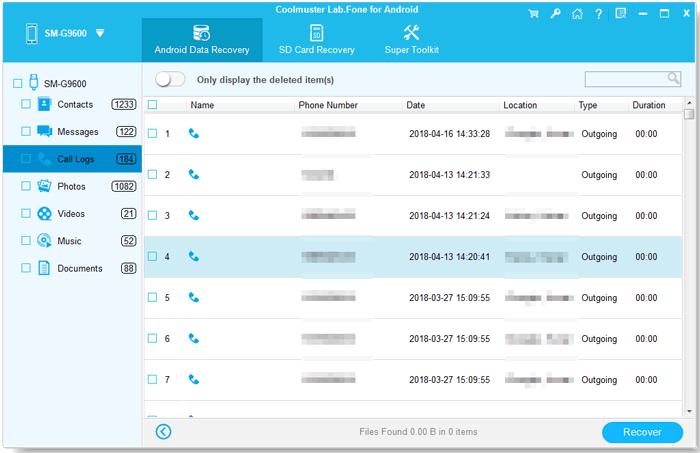 Step 3. Start to recover deleted call logs from LG
Select the call logs that you want to recover and click on the "Recover" button on the bottom right. Then, all the selected call history will be recovered and saved on the local disk on your computer that you will specify.
Related Articles:
How to Recover Text Messages from Broken Samsung Phones