How to Recover GIF from Broken Samsung Phone?
There are times when the Samsung phone becomes broken, necessitating the need to recover the GIFs from the broken Samsung device. For example, accidentally dropping the Samsung device on hard surfaces such as the concrete floors. The phone may have unintentionally slipped from your hands, and the phone becomes broken and irreparable. Water or moisture damage. Here the phone may have slipped from your hand, falling into a bath, puddle of water or even toilet. Drying out the phone may do little to your phone. Android operating system crash, rooting error or ROM flashing. The presence of non-responsive screen due to significant damage like cracks or loss of the password to the Samsung device. At last, corruption of the storage media, making the GIF inaccessible.
You may also want to know: Recover Lost Photos/Videos on Locked Samsung
Whenever such incidences occur, most people are in a dilemma of what to do to recover the much-needed data, such as GIF images in the device. If you are going to retrieve the GIFs, please read on. There are lots of do-it-yourself programs in the market today, which assist in the recovery of such data. A good example of this program is the Broken Samsung Data Extraction. The program enables users to recover lost files, such as contacts, SMS, call logs, photos, videos, music, documents, etc. for Android devices, from both internal and external memory cards in not only Samsung Galaxy S7/S7 Edge+/S6/S6 Edge/Note 4, Galaxy A9/A7/A5 etc. but also other Android phones. And with it, recovering data from such devices is not a big deal.
The following guide will tell you how to recover GIF files from broken Samsung mobile phone by using the this powerful Broken Samsung Data Recovery software. With only three steps, you can make it, without any quality loss.
You may like: Recover data from Samsung touch screen cannot be used.
Easy Way to Restore GIF Images on Broken Samsung Phone
Step 1. Connect your broken Samsung phone to computer
After installing the program on your personal computer, connect the broken Samsung device to the computer using a USB cable. Then directly choose the mode of "Broken Android Phone Data Extraction".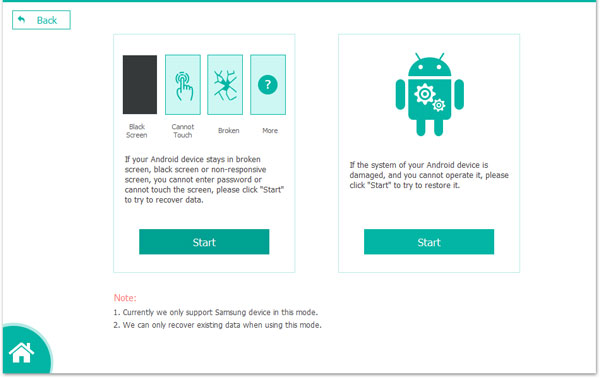 Step 2. Choose the mode for scanning
The broken Android data extraction mode allows users to extract data from a broken device in two different ways:
- If your device is locked and you forgot password, or the screen is unable to touch, you can select the "Start" button to choose the right phone model and name, then click "Confirm" and follow the instructions to get your locked Samsung phone into the Download mode.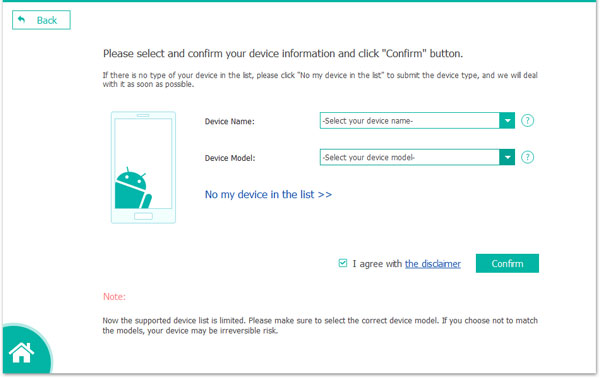 - If your Samsung phone is broken due to system crash, bricked or other reasons, you can choose the "Fix Device" button in the mian interface. Then, you'll be required to select the issue that you wish to fix, and click "Next" to enter the download mode to get the right firmware for your device.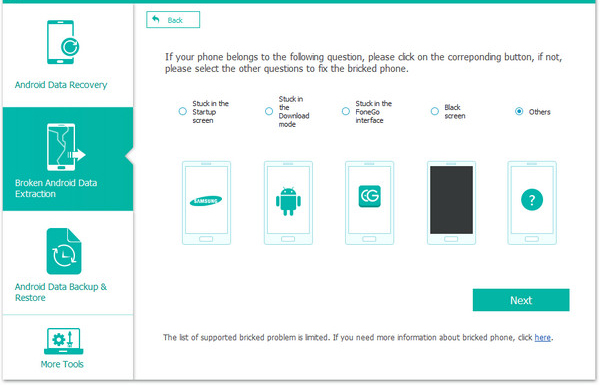 Step 3. Recover GIF images from broken Samsung
Now, you can preview the data and extract your needed GIF images from Samsung as you like. If you just fix the device to normal status, you may need to go to the data recovery mode and scan your device again.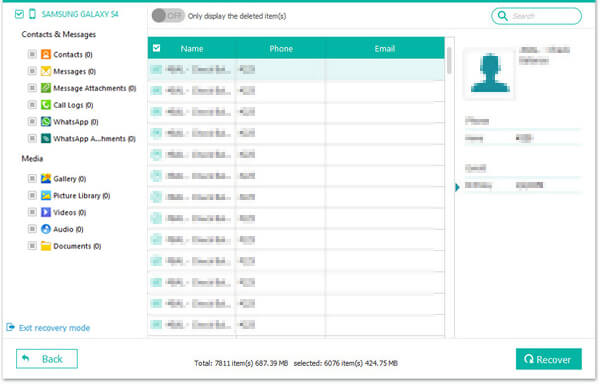 Note: Please be noted that the Android data extraction mode can only help extract the existing data from your locked Samsung devices.
Check Supported Devices of Broken Android Data Extraction
Samsung Galaxy Note:
Note 3: SM-N900, SM-N9002, SM-N9005, SM-N9006, SM-N9007, SM-N9008 SM-N9008V, SM-N900S
Note 4: SM-N9100, SM-N9106W, SM-N9108V, SM-N9109W, SM-N910C, SM-N910F, SM-N910G, SM-N910H, SM-N910K, SM-N910L, SM-N910P, SM-N910R4, SM-N910S, SM-N910T, SM-N910U, SM-N910V, SM-N910W8
Note 5: SM-N920C, SM-N920G, SM-N920I, SM-N920K, SM-N920L, SM-N920P, SM-N920R4, SM-N920S, SM-N920T, SM-N920W8
Samsung Galaxy S:
S4: GT-I9500, GT-I9505, SCH-R970, SCH-R970C, SGH-I337M, SGH-M919, SPH-L720
S5: SM-G900F, SM-G900FQ, SM-G900I, SM-G900K, SM-G900L, SM-G900M, SM-G900P, SM-G900R4, SM-G900R6, SM-G900S, SM-G900T, SM-G900T1, SM-G900W8
S6: SM-G9200, SM-G920F, SM-G920P, SM-G920T, SM-G925F, SM-G925P, SM-G925T, SM-G928P, SM-G928T
Samsung Galaxy Tab:
Tab Pro 10.1: SM-T525
Tips: You should backup the GIF files from your Samsung device to computer from now on, to prevent them from losing once again, with the help of Coolmuster Android Assistant.
Related Articles:
How to Recover Messages from Broken Android Phone?