How to Recover Gmail Password (Simple Steps)?
Gmail account is now widely used on a variety of devices, such as Android, Windows laptops, Apple devices, and more. Forgetting Gmail passwords is constantly happening in our daily lives. Sometimes you don't log in to your Gmail account for a long time, and then you will forget the password; And some people forget the password directly because of frequent changes their Gmail passwords. Forgot your Gmail password, meaning you won't be able to log in to your Gmail account and you won't be able to access your Gmail, as well as YouTube, Google+, Google Maps, Google Drive, and more. This will bring great inconvenience to your life and work.
Ok, it is the time to solve the problem now. In this article, we will tell you how you can recover your Gmail password when you forget it.
Part 1: Step by Step to Recover Gmail Password
Part 2: (Tips!) How to Recover Lost Android Data
Part 1: Step by Step to Recover Gmail Password
Step 1. Open your web browser, type google.com in the address bar, and press Enter to jump to the web page.
Step 2. There is a login button in the upper right corner, click on it, then enter your Gmail account: for example, xxx @ gmail.com, then click "Next".
Step 3. Next, you will be asked to enter your password, skip this and click "Forgot password?".
Step 4. Google will suggest that you try to use the old password you last used before changing your password. If you remember this old password, you can enter it and click "Next". But if you forget your old password, you'll need to click "Try another way".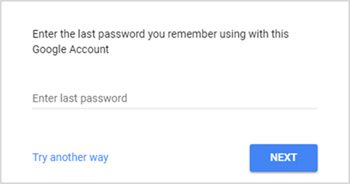 Note: If the last password you entered is correct, you can successfully log in to Gmail directly and follow the on-screen instructions to continue. Of course, you can also reset your password to set a password that you feel easier to remember.
Step 5. Google will attempt to send a verification code to your phone number via SMS or phone call. This phone number is the one you use when signing up for this Google Account. So, you can click on "TEXT" or "CALL" to choose whether you want to receive a verification code using SMS or phone call.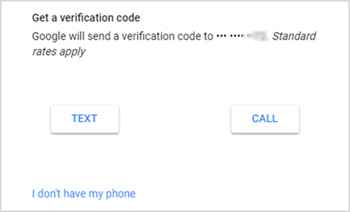 Note: There is an unexpected situation that you have changed your phone number and cannot receive the verification code. In this case, you need to continue reading the steps below to learn how to recover your Gmail password without a phone number.
Step 6. In the lower left corner of the screen, click "I don't have my phone".
Step 7. Enter the recovery email and click Send. Then log in the recovery email to get the verification code.
Note: The recovery email is the one you've set up previously for account security. If you haven't set up recovery email before, you should choose to click "Try another way" to recover your gmail password instead of using recovery email.
Step 8. Tell Google when you created your account, enter the month and year, and click Next.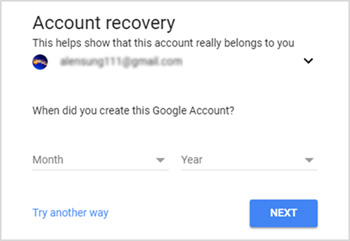 Note: If you can't remember when you created your Google Account, you can only click on "Try another way" to perform other actions.
Step 9. Google will ask you to answer the security question you originally added to your account. If you haven't set this up before, we're sorry that you can't recover your Gmail password and only choose to create a new Google Account.
You may be interested in:
How to Recover Deleted Call Logs from Android?
How to Recover Call History from Samsung Galaxy?
Part 2: (Tips!) How to Recover Lost Android Data
As an Android phone user, you may encounter with the situation of losing important data on the device. Now, it's time to pick out the best Android data recovery software- Coolmuster Lab.Fone for Android (with its Mac version - Lab.Fone for Android Mac) to help you recover lost Android data. It is able to help you recover deleted and lost photos, videos, music, contacts, text messages, call logs and documents on your Android mobile phones and tablets like Samsung, HTC, LG, Sony, ZTE, HUAWEI, Motorola, Google, etc. The best thing about this software is that it's very simple to use, you can finish the data recovery process with a few simple steps.
If you need this, you can download the trial version of Lab.Fone for Android for free. The following steps guide you through the process of Android data recovery, with the help of this Android data recovery software.
Step 1. Plug Android device to computer
After installing the Lab.Fone for Android on your PC or Mac (here we set Windows version as example) and connecting the Android device to the same computer using a USB cable, the software will detect the device immediately and portray an interface like the following picture.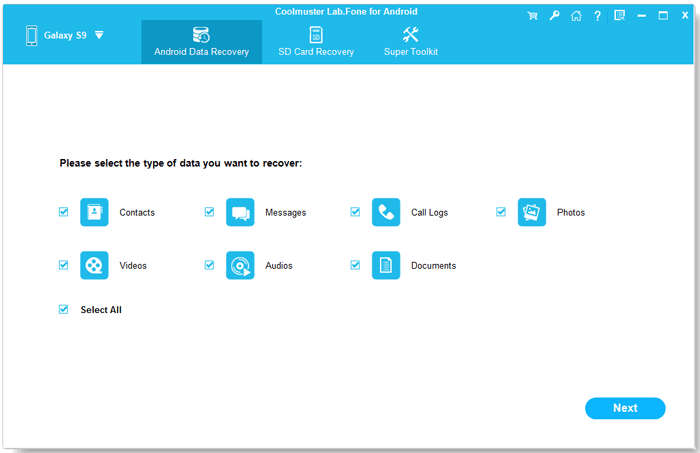 Tips: if you haven't enabled the USB debugging on your phone, the Android data recovery tool will be failed to detect your phone. Therefore, you can follow the instructions in the article to learn how to open USB debugging on your phone.
Step 2. Scan lost or deleted files on Android phone
All the recoverable file types are displayed on the program interface, including contacts, text messages, call history, photos among others. Just choose the file types that you need and click "Next". Then, the recovery software will begin to scan the data of your Android phone or tablet.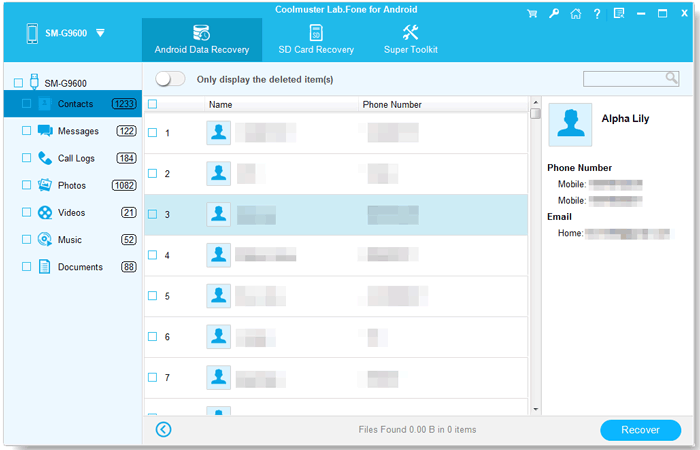 Step 3. Start Android data recovery process
After the scan, all your selected files will be displayed for you to preview. Just select the ones you need and then click on the "Recover" button on the bottom right of the program window and select a location to store the files on your computer.
Coolmuster Lab.Fone for Android is 100% secure and easy to use. All the recovered data will be retrieved without any data loss. Just click the following buttons to give it a try.
Related Articles:
How to Recover Text Messages from Broken Samsung Phones
How to Remove Duplicate Contacts from Android Phone
Recover Deleted Photos from Android Phone