How to Recover Deleted Lenovo Contacts & Messages?
Foreword: Mobile phones and other devices have become a staple in many areas of our lives today. And we usually save hundreds and thousands of important and private contacts, text messages in the phone. Here in this article, we will set Lenovo phone as an example to show you how to recover lost contacts and text messages from Lenovo mobile phone.
Adults and children alike are depending on their mobile devices for a wide range of activities. Some of which involve keeping up with relatives, friends, and co-workers too. Mobile phones are also used for emergency situations so people are entering all of the names and the numbers that they may need during these times. This is one of the primary reasons why these contacts and SMS features are so important to everyone today. From reducing the time that is needed to find a specific phone number to keeping a list of the people that everyone calls on a regular basis, these features are no longer a luxury but a necessity.
Read Similar Guides: How to Recover Lost Data from Android SD Card?
What if your important contacts and text messages are deleted or lost on your Android mobile phones, such as Lenovo K3 Note, K3,Tab, Vibe, A390, A7000, K80, A6000, S60.etc.? Fortunately, there are recovery applications available today that have been introduced, such as Coolmuster Lab.Fone for Android (with its Mac version - Lab.Fone for Android Mac). In fact, when the user needs to recover their contacts and SMS files from the Lenovo mobile phones, they can do it very quickly with only a few basic steps. The program is also great for providing clear instructions that walk users through the entire process. With it, recovering deleted contacts, text messages, as well as photos, videos, music, etc. from Android mobile phone can be as easy as pie.
The contact and SMS data recovery process for Lenovo Android mobile phones has been made easy, and it can be done by the average user. Therefore, the mobile phone user does not need assistance from a techie to recover these files for them. So, for people who are interested in recovering their contact and SMS files, here is a 3-step process that has been provided below.
Read More: How to Recover Deleted Files on Samsung Galaxy S6?
Tutorial to Retrieve Lost Contacts & Messages from Lenovo Phones
Step 1. Launch the program on your computer
Connect the Lenovo phone to the user's computer via a USB cable and wait until the computer detect your phone. Then install and run the Coolmuster Lab.Fone for Android on the same computer after you downloaded it.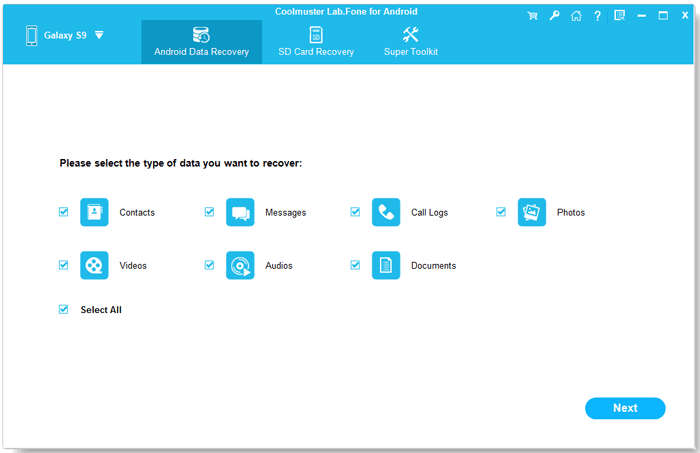 Tips: if you haven't enabled the USB debugging on your Samsung phone, the Android data recovery tool will be failed to detect your phone. Therefore, you have to follow the instructions below to open USB debugging on your phone.
For Android 2.3 or older, Go: "Settings" < Click "Applications" < Click "Development" < Check "USB debugging".
For Android 3.0 to 4.1: Enter "Settings" < Click "Developer options" < Check "USB debugging".
For Android 4.2 or newer: Enter "Settings" < Click "About Phone" < Tap "Build number" for several times until getting a note "You are under developer mode" < Back to "Settings" < Click "Developer options" < Check "USB debugging"
Step 2. Scan Lenovo phone for lost contacts & SMS
Once the connected Lenovo phone has been detected by the program, the program can scan the phone for the lost files that they are looking for (contacts and SMS). After this process is complete, the user can select the files that they want to keep or they may choose to keep all of the files that they view.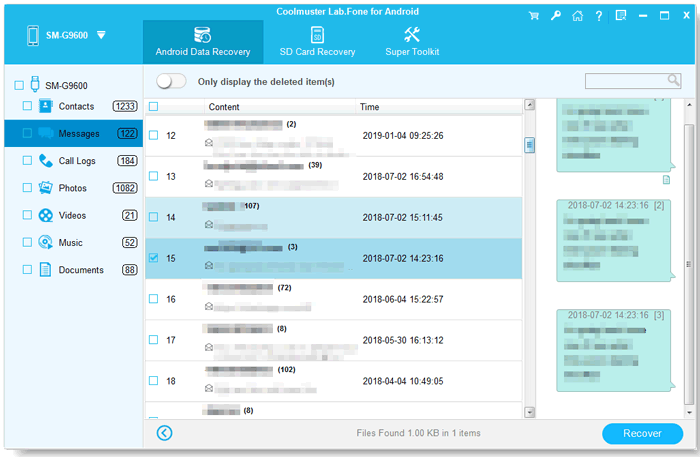 Step 3. Recover Lenovo contacts and text messages
Once their selections have been made, all the user has to do is to click on the 'Recover' button to recover all of their selected contacts and text messages on the computer.
Note: Do not save the recovered data back to your Lenovo phone again, in case of data overwritten problem.
Related Articles:
Recover Deleted or Lost Data from Android Phone
How to Recover Deleted Contacts from Google Nexus 6
Add a comment