Easily Recover Lost Contacts/SMS Messages from Broken Android
Now, with more and more functions integrated in one, we seems to store our entire world inside our Android smartphones, starting from entertainment options like songs and videos to news articles and essential documents – everything is saved in the phone along with most important contacts and text SMS . You message your loved ones. You chat with your friends. And you have your own love messages with your sweetheart. Wouldn't you want to read those messages some day, into the future? What if they get lost? Unfortunately, that is a problem many Android owners have to face, as their precious messages seem to get lost easily due to various reasons.
And actually, it will be very rare if you or someone you know never had a broken Android phone due to accidents. We always carry our phones and they can drop from our hands breaking the screen and making the phone unusable. Phones also get damaged by water, virus attacks, accidental formatting and other reasons. All of these causes end in losing our contacts and SMS from the phone. And these potential dangers perfectly illustrate the importance of having a phone backup.
Android Phone Broken, but with No Backup? In this case, you will need to think about recovering lost contacts and messages from your broken Android phones. It is almost impossible to recover the lost contacts and SMS from broken Android phone by yourself. You can try accessing the SD card and searching for the Contacts.db file, but high chances are that you will not find it. The files are secured and needs special software to access them. Another problem that you may encounter while restoring is getting the data corrupted or damaged while recovering. This will make the whole process of recovery useless. The wise choice is selecting a professional software which is able to access your phone content without limitations and recover it successfully. We are going to talk about 2 such programs. It is not easy to restore the messages that you have deleted.
You might Want to Know:
Where to Access Deleted Contacts/SMS Messages from Samsung
How Can I Back up Android Phone if I Forget USB Cord?
This comprehensive data recovery software is capable of recovering many file types along with contacts and SMS It can even get back files that have been deleted off the phone. It scans the SD card and internal memory of the Android phone and recovers it in 3 simple steps. First you need to connect your phone with the computer and run the program. Then another click performs the scan of your device. At last the final click is for previewing and carrying out the recovery process.
Contacts are sourced from the phone and saved on computer in CSV and VCF format for reading and printing easily. The SMS message files are exported as TXT files on PC. It performs a powerful scan and recovers photos, videos, music and documents and lets you preview them before backup. It is completely safe and keeps your data in original condition. Moreover, this software is perfectly compatible with all Android devices.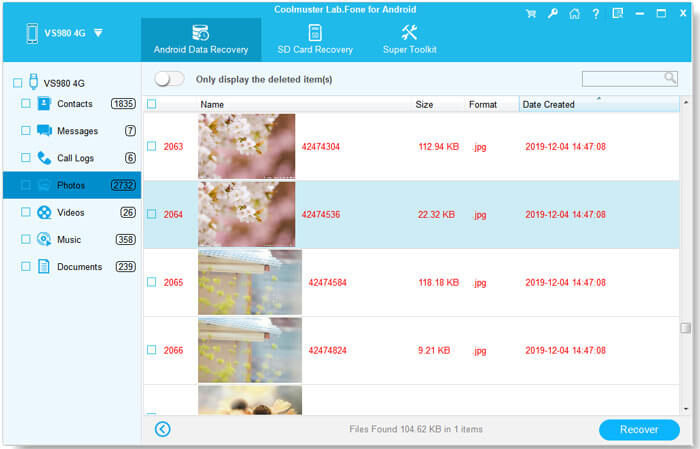 If you are just looking to retrieve your contacts and sms then this is the perfect solution. The comprehensive scan feature searches deeply for deleted and lost sms and contacts caused by physical or water damage, virus attacks or hardware and software malfunction. The recovered contacts include all the details like contact name, number, email id, website and sms attachments. The retrieved files are stored in common readable formats like txt, html or csv. The items can be used to sync your Android phone or stored on computer after previewing them.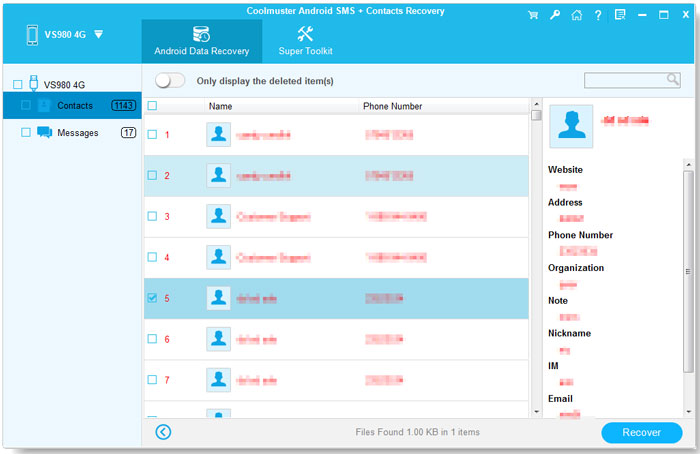 Both these two recovery tools are quite easy to operate, you just need to:
- Download the right version and open it on the computer. Then get your broken Android phone connected to the computer.
- After that, this software will detect your device and display the deleted file folders on the left panel.
- Enter the tabs to choose the files you want to recover and hit the Recover option to begin the broken Android contacts/SMS recovery process.
Extra Bonus: Backup tips for Android users
1. Sync and save your contacts on Android phone with your Google account.
2. Take regular backup of important phone data to prevent data loss.
3. Use cloud services to store your files so that they are not lost.
4. Handle your phone with care so that it does not get damaged or broken.
5. Use professional software for recovery so that your data remains safe.
Speaking of backing up important files from your Android phone, you can't miss this professional backup assistant:
Related Articles:
How to Save Text Messages from Cell Phone to Computer