Easily Recover Lost Contacts/SMS from Broken Android Phone
It will be very rare if you or someone you know never had a broken Android phone due to accidents. We always carry our phones and they can drop from our hands breaking the screen and making the phone unusable. Phones also get damaged by water, virus attacks, accidental formatting and other reasons. All of these causes end in losing our contacts and SMS from the phone. And these potential dangers perfectly illustrate the importance of having a phone backup.
This article is mainly telling you how to rescue your lost contacts and text messages from a broken Android phone.
Part 1: Is It Possible to Restore Contacts/SMS from Broken Android?
Part 2: How to Recover Contacts and Text Messages from Broken Android?
Part 3: Rescue contacts/SMS from SD/SIM card on Damaged Android
Part 4: Avoid Losing Data from Android - Backup Tips for Android users
Part 1: Is It Possible to Restore Contacts/SMS from Broken Android?
If you accidentally have your Android phone broken, it is possible to restore contacts from a broken Android since most data are saved in internal or external memory and they are likely to be safe even though the device is physically damaged. But it is troublesome to access the data on a damaged Android. So, if you have ever backed up your Android with Google Account, you can restore the backup file to another phone easily. But what if you have no backup?
Android Phone Broken, but with No Backup? In this case, you will need to think about recovering lost contacts and messages from your broken Android phones. It is almost impossible to recover the lost contacts and SMS from broken Android phone by yourself. You can try accessing the SD card and searching for the Contacts.db file, but high chances are that you will not find it. The files are secured and needs special software to access them. Another problem that you may encounter while restoring is getting the data corrupted or damaged while recovering. This will make the whole process of recovery useless.
The wise choice is selecting a professional software which is able to access your phone content without limitations and recover it successfully. Keep on reading and we would show you the possible ways to recover lost contacts and SMS from a broken Android.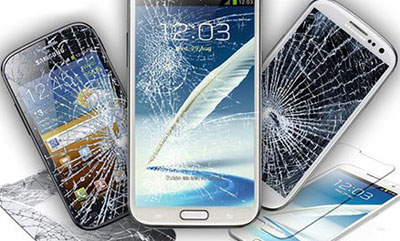 You might Want to Know:
Where to Access Deleted Contacts/SMS Messages from Samsung
How Can I Back up Android Phone if I Forget USB Cord?
Part 2: How to Recover Contacts and Text Messages from Broken Android?
Broken Android Data Recovery is capable of recovering many file types, including photos, videos, music, along with contacts and SMS from broken, damaged or corrupted Android phones. It scans the SD card and internal memory of the Android phone and recovers it in 3 simple steps. First you need to connect your phone with the computer and run the program. Then another click performs the scan of your device. At last the final click is for previewing and carrying out the recovery process.
It performs a powerful scan, recovers the files you need and lets you preview them before backup. It is completely safe and keeps your data in original condition. Moreover, this software is perfectly compatible with all Android devices.
Here is the steps of recovering contacts and messages from broken Android phone:
Step 1. Launch the program and choose "Broken Android Phone Data Extraction", then connect your broken Android to computer with USB cable. Here, click "Start" on the main screen to begin the process.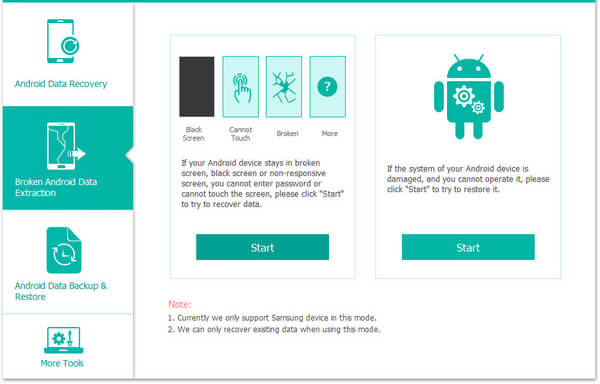 Step 2. choose the phone name and model that you device have, then tick the option besides the "Confirm" button. Hit "Confirm" button to enter the next step.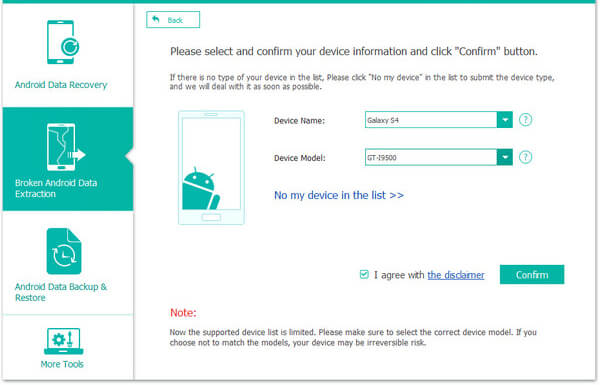 Step 3. Follow the prompt instructions to enter the Download mode, then hit "Start" button to begin the scanning. After that, you can see an interface like below: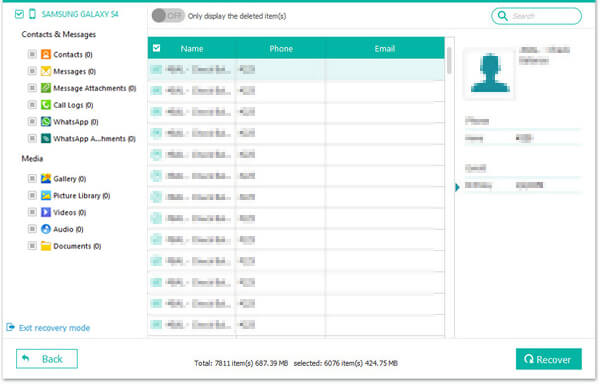 Step 4. Click "Contacts" in the left panel and tick the ones that you wish to restore one by one. Then hit "Recover" button to restore them.
Check Supported Devices of Broken Android Data Extraction
Samsung Galaxy Note:
Note 3: SM-N900, SM-N9002, SM-N9005, SM-N9006, SM-N9007, SM-N9008 SM-N9008V, SM-N900S
Note 4: SM-N9100, SM-N9106W, SM-N9108V, SM-N9109W, SM-N910C, SM-N910F, SM-N910G, SM-N910H, SM-N910K, SM-N910L, SM-N910P, SM-N910R4, SM-N910S, SM-N910T, SM-N910U, SM-N910V, SM-N910W8
Note 5: SM-N920C, SM-N920G, SM-N920I, SM-N920K, SM-N920L, SM-N920P, SM-N920R4, SM-N920S, SM-N920T, SM-N920W8
Samsung Galaxy S:
S4: GT-I9500, GT-I9505, SCH-R970, SCH-R970C, SGH-I337M, SGH-M919, SPH-L720
S5: SM-G900F, SM-G900FQ, SM-G900I, SM-G900K, SM-G900L, SM-G900M, SM-G900P, SM-G900R4, SM-G900R6, SM-G900S, SM-G900T, SM-G900T1, SM-G900W8
S6: SM-G9200, SM-G920F, SM-G920P, SM-G920T, SM-G925F, SM-G925P, SM-G925T, SM-G928P, SM-G928T
Samsung Galaxy Tab:
Tab Pro 10.1: SM-T525
Part 3: Rescue contacts/SMS from SD/SIM card on Damaged Android
If your broken Android can continue work, you can follow the steps in the below to rescue part of your personal data, including contacts, SMS and photos from your SIM card and SD card on your broken Android phone.
1. Remove SIM card and SD card from your damaged Android phone;
2. Connect the SIM and SD card with a new Android phone and sync your contacts, SMS, photos, etc. to the new phone;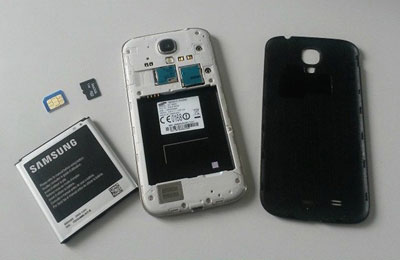 3. If you cannot do the operations like above, you can try to directly connect your damaged phone to your PC with a USB cable;
4. Once it can be connected and detected by the PC, you will be able to read internal storage on the broken Android phone;
5. Open internal storage folder of your broken phone from the computer, and copy wanted files and folders from the phone to your PC.
After the operations above, you can import those transferred data into your new Android phone and reuse those data again.
Extra Bonus: Backup Tips for Android Users
1. Sync and save your contacts on Android phone with your Google account.
2. Take regular backup of important phone data to prevent data loss.
3. Use cloud services to store your files so that they are not lost.
4. Handle your phone with care so that it does not get damaged or broken.
5. Use professional software for recovery so that your data remains safe.
Speaking of backing up important files from your Android phone, you can't miss this professional backup assistant - Coolmuster Android Assistant. To backup contacts from Android to computer by using Android Assistant, you just need to launch the program on your computer > Connect your Android phone to this computer > Choose the contacts you want to backup > Click "Export" to backup your Android phone contacts.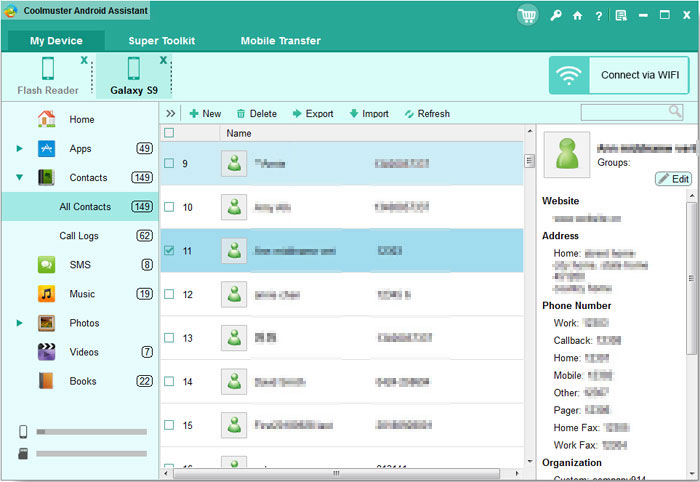 Related Articles:
How to Save Text Messages from Cell Phone to Computer