Recover Lost Files from Samsung with Broken Screen
Phone damage can cause a lot of panic and anxiety. The reason behind the panic is simply because we fear to lose the precious files we stored in the phone. With the knowledge of data recovery, you are saved from this unnecessary recovery. Then, what may cause the screen of a Samsung phone broken? Accidents happen and within a blink of an eye, you have your screen broken. You may accidentally drop the phone. This may happen when you are carrying out your daily activities while still holding your Samsung phone, or a child drop or hit the phone. If any of the above events occur, most people worry less about the phone. This is because they can buy another phone but the greatest worry is how to recover the files.
Read Similar Guides: Recover Deleted Text Messages from SIM Card for Android
Well, this should not be the case since the Broken Android Data Extraction will help you largely in data recovery. This software has gained its popularity for its ability to recover data for Samsung Galaxy S7/S6/Edge/S5/S4 and it guarantees a hundred percent safe and risk-free data recovery for your Samsung phone. It makes it possible for you to recover lost files, such as contacts, text messages, photos, videos, music, etc. through deleting, restoring factory, rooting, flashing, water damage and broken screens. It is compatible with different models and thus makes it the best. Overall Android based phones and tablets like Samsung, HTC, LG, ZTE, Sony, Motorola, Lenovo, Huawei, etc. can be supported.
How to Recover Lost Data from Samsung with Broken Screen?
Coolmuster Lab.Fone for Android is a great tool in helping you recover the lost data from a Samsung Galaxy S7/S6/Edge/S5/S4/Note 7/6/5/4. It runs well on most Android OS versions from Android OS 2.1 to 4.4.The following are some of the steps of data recovery for a Samsung phone with broken screen, by using Coolmuster Lab.Fone for Android.
You may also want to know: How to Recover Data if Samsung Cannot Access System?
Step 1. Launch the broken Samsung data extraction software
Download, install and run the program on your computer. Then, choose the option "Broken Android Phone Data Extraction" from the left side of the program screen and use a USB cable to connect your broken Samsung to the computer.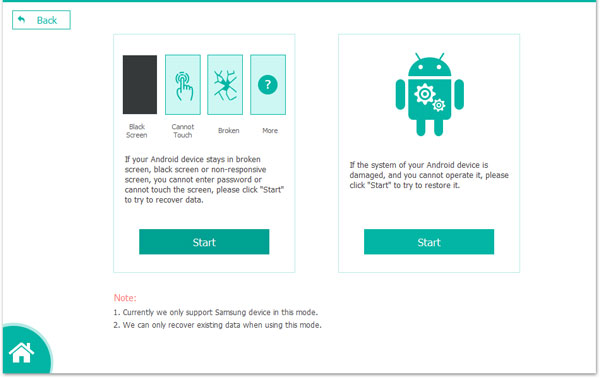 Step 2. Confirm name and model of your Samsung phone
Select the fixing mode and click "Start". Then choose the name and model number of your Samsung phone and click "Confirm". By the way, you can click question mark the program if you are not sure about the information of your phone.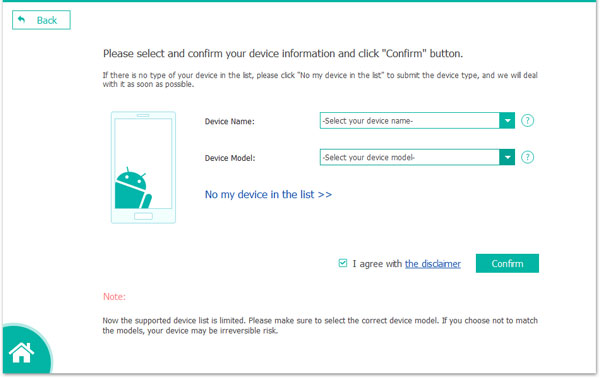 Step 3. Put your broken Samsung into download mode
Follow the instructions on the program window to put your broken Samsung in Download mode. After that, the program will detect the phone and scan out data on it instantly.
Step 4. Recover lost files from Samsung with broken screen
All the recoverable files on your Samsung phone will be scanned out in categories, such as text messages, contacts, videos, photos, etc. Select the media files you want to get back and click "Recover" button to save them on your PC.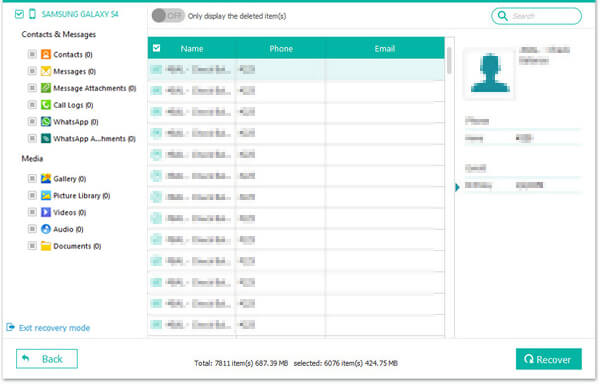 Broken data recovery software for Android guarantees a safe and risk-free file recovery process on your Samsung broken screen phone.
Check Supported Devices of Broken Android Data Extraction
Samsung Galaxy Note:
Note 3: SM-N900, SM-N9002, SM-N9005, SM-N9006, SM-N9007, SM-N9008 SM-N9008V, SM-N900S
Note 4: SM-N9100, SM-N9106W, SM-N9108V, SM-N9109W, SM-N910C, SM-N910F, SM-N910G, SM-N910H, SM-N910K, SM-N910L, SM-N910P, SM-N910R4, SM-N910S, SM-N910T, SM-N910U, SM-N910V, SM-N910W8
Note 5: SM-N920C, SM-N920G, SM-N920I, SM-N920K, SM-N920L, SM-N920P, SM-N920R4, SM-N920S, SM-N920T, SM-N920W8
Samsung Galaxy S:
S4: GT-I9500, GT-I9505, SCH-R970, SCH-R970C, SGH-I337M, SGH-M919, SPH-L720
S5: SM-G900F, SM-G900FQ, SM-G900I, SM-G900K, SM-G900L, SM-G900M, SM-G900P, SM-G900R4, SM-G900R6, SM-G900S, SM-G900T, SM-G900T1, SM-G900W8
S6: SM-G9200, SM-G920F, SM-G920P, SM-G920T, SM-G925F, SM-G925P, SM-G925T, SM-G928P, SM-G928T
Samsung Galaxy Tab:
Tab Pro 10.1: SM-T525
Related Articles:
Recover Deleted or Lost Data from Android Phone