Android Media Recovery: Retrieve Deleted Videos & Music from Android Mobiles
Android is a kind of free and open source code based on Linux operating system, mainly used in mobile devices, such as smart phones and tablets. It is led and developed by Google Company and open handset alliance. After the launch of Android based Smart phones by different companies like Motorola, HTC, Samsung, LG, Sony, etc., in the first quarter of 2011, Android phones have a greater combined market share than Symbian and become the world's number one. In November 2012, according to data display, Android occupies 76% Smartphone operating system market share in the global. Android mobiles can be used to send text messages, make calls, transmit data, as well as store files. If you are a movie and music fan, you must save a huge number of videos and songs in your Android phone.
Where are videos and music stored on my Android phone?
As I mentioned in my last post How to recover SMS from Samsung Mobiles, text messages and contacts are placed in the internal flash memory of a phone. But media files like videos and music are different. They are usually stored on the SD card, which can be an external SD card or an internal SD card. Generally, you can find the videos and music files here: DCIM > Camera or Songs. When you delete these files from your Android SD card, the structural information of the deleted data still remains in the SD card, in another form that is invisible and inaccessible. As long as they are not being covered by new data, you can still recover the original data without any quality loss. Find a professional data recovery tool for your Android phone to recover these deleted movies and songs as soon as possible.
Choose a good tool can yield twice the result with half the effort. Here, we strongly recommend you to use Coolmuster Android Data Recovery or Coolmuster Android Data Recovery for Mac, which is not only a video and music recovery program, but also features with full ability to recover lost or deleted photos from the SD card, text messages and contacts from the SIM card on Android phones. With performing a quick and deep scan on your Android phone along with a few simple mouse clicks, you can effortlessly get back all your videos and music files that you thought you can't retrieve any longer.
Tips: Since the video and music files are stored in the SD card, you can take out the SD card inside the Android phone and perform the data recovery task without using your cell phone. Just put the SD card into a card reader and then insert the card reader into an open USB port on your computer. Wait until your computer detect the SD card and display it in "My Computer".
Can't Miss:
How to Download YouTube Videos to Android Phone/Tablet
How to Transfer Videos from Android Devices to iTunes
How to Transfer or Copy Videos from HTC Phone to PC for Backup
How to Recover Deleted Movies & Songs from Android Mobile Phone?
Both Windows and Mac versions are available for Coolmuster Android Data Recovery. Choose the right version according to your computer system and then refer to the step-by-step guide below, which is appropriate for both Windows and Mac versions. The screenshots we used in the following tutorial are captured from Windows version.
1. Connect Android phone to computer and run the software
Connect your Android phone from which you lost the videos and music files to the computer directly via a USB cable or you can follow the tips as above to insert the SD card without using the phone. Once the connection is successful, you can launch the installed recovery software on your Mac or PC and get its main interface like below. Enable the USB debugging on your Android phone if you haven't done it before.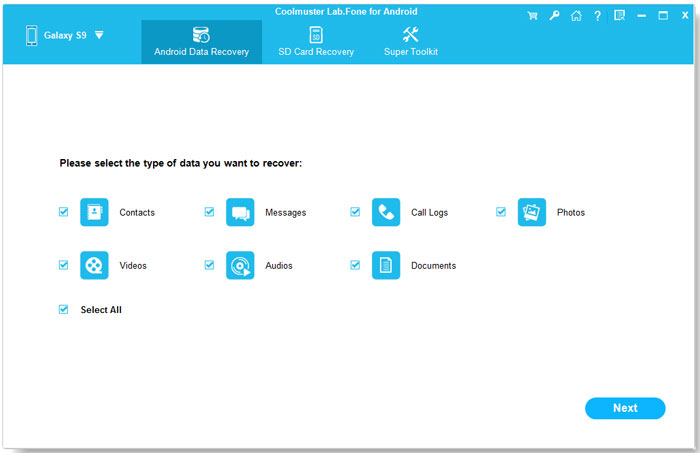 Step 2. Scan for the lost videos & music on your Android phone
When the USB debugging mode has been enabled successfully for you Android phone, click "Allow" on your phone to allow the program super user authorization when an Superuser Request pops up. Then, the launched program will automatically detect your phone or the SD card and scan it deeply. When the scan finishes, all the contained files in your phone will be displayed in clear categories.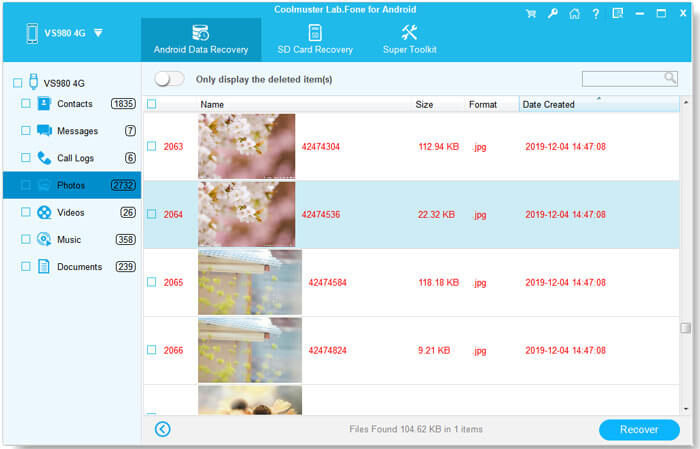 Step 3. Preview and recover the target files selectively
To make it convenient for you to find out the target files you want to recover, Coolmuster Data Recovery provides you with two preview modes to help you find your videos and songs quickly and accurately. Preview the scanned out files one by one and check those you need to recover. Then, you can click on the "Recover" button, customize an output location and the program will start the recovery process for your Android mobile phone immediately.
Extra Information:
By the way, Android Recovery is specially designed to recover lost or deleted contacts and text messages from Android phone.
If you want to recover videos and music not only from the SD card inside your Android mobile phone, but also from other storage media, such as computer, USB drives, cameras & camcorders, MP3/MP4 players, external hard drives and so on, you can have a try with Coolmuster Data Recovery (for Windows 8/7/XP/Vista), or Coolmuster Data Recovery for Mac, which allows you finish the data recovery process in 1 click!
Video Tutorial
Related Articles:
How to Recover Lost Photos from Formatted Micro SD Card