Remove HTC Lock Screen if You Forgot Password, Pattern or PIN
Electing to have a lock screen on your HTC device can help in keeping intruders at bay from the important data it withholds. It is certainly a great feature to take advantage of, even if later on you forget your PIN. Contrary to popular belief, there are simple methods that can aid in removing HTC lock screen when one encounters this matter.
Top Three Simple Methods to Utilize to Remove HTC Lock Screen in a Jiffy!
Part 1: Utilizing Android Device Manager to Remove HTC Lock Screen
Part 2: Remove HTC Lock Screen by Utilizing Alternative Login Method
Part 3: Remove HTC Lock Screen by Factory Reset
Part 1: Utilizing Android Device Manager to Remove HTC Lock Screen
If you possess one of the recent HTC models, then you can count on Android Device Manager to help you. In order to benefit from this method, you should have a Google account, device should be switched on, and connection to the Internet should be stable.
Step 1. The first thing you have to do is opening Android Device Manager and then log in by using your Google account information.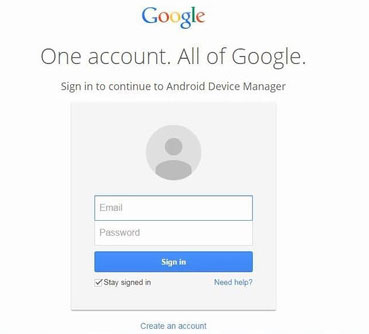 Step 2. Once it finds your device, there are two options available to cause manipulation to take place and thus remove lock screen: reset and lock. The reset option will erase everything, while the lock option changes security locks when security pattern or password is forgotten. Now, you will also notice a "ring" option, but this is often utilized when one misplaces device within one's space.
Step 3. Choose the "lock" option. After doing so, you will notice a pop-up where you will be prompted to enter a new password, which will replace current lock screen password. (On the other hand, if you do not place importance on your smartphone's data, opt for the "reset" option in order for a factory reset to take place. Keep on reading to find out more on this particular reset.)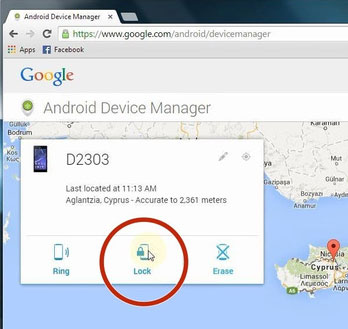 Read Also:
How to Boot Android Phone into Recovery Mode
Recover Android Data After Factory Reset
Part 2: Remove HTC Lock Screen by Utilizing Alternative Login Method
To dodge the lock screen utilizing Google account, you will have to attempt to unlock device a certain number of times. After doing so, you will be presented with choices to login using a substitute method. To take advantage of this solution, you must be connected to the Internet.
Step 1. Attempt to unlock device five times.
Step 2. Google login screen will appear. Log into account that is linked to HTC device.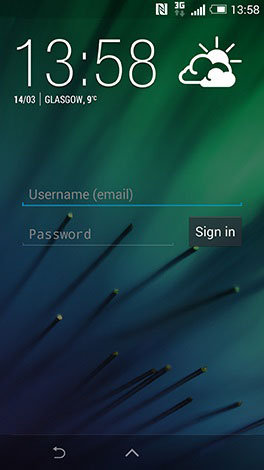 Step 3. After signing in, visit settings app and then security. After doing so, you will be provided the choice of locking your phone with a new password.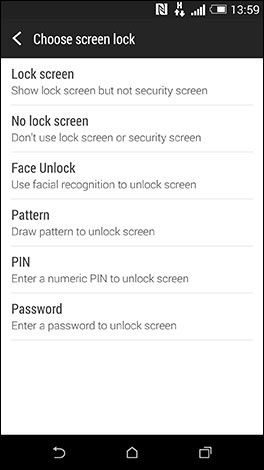 Part 3: Remove HTC Lock Screen by Factory Reset
When everything fails, you should opt to undertake this solution, but you should keep in mind that it will delete all your data. Your device will be free of clutter just like the way it was when you used it for the very first time.
Step 1. Turn of your device. If it is frozen, remove the battery and then replace it after a few seconds.
Step 2. Open your device's recovery menu by holding down both the power button and volume button. You can expect the "recovery menu" to appear within 30 seconds.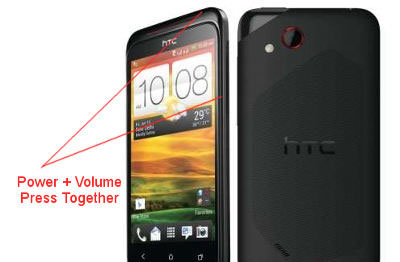 Step 3. Begin the factory reset by selecting the factory reset icon on the recovery menu. Begin the process by opting to press on the power button.
Step 4. Since a factory reset has just taken place, you will now have to set up device just like when you did when it was turned on for the very first time. If you utilized Google account to back settings on device, then they can easily be restored.
Get Your Device Back on Track
Every day, every one of these solutions is used by numerous individuals around the globe, as they simply deliver. If you currently find yourself feeling concern due to forgetting your password, one of these methods can certainly help your device get back on track in this aspect and thus alleviate your worry. Do not take our word for it . . . see for yourself.
Related Articles:
Copy SMS from Motorola Phone to Computer