Restore Data on Water Damaged Samsung Galaxy
During the usage of a mobile phone, users can encounter a variety of damage problems on the device. The breakage may either be external or internal. It is not always that the glass breaks. You can have your screen not working while the glass is still in good condition as this depends on the cause of breakage. A child or even an adult may be using the phone, and somehow if angered they may be through the phone from a distance if it hits something or even the ground then the screen may be broken. The damage may also be caused by water. Most people like going with their phones to the washrooms. Accidentally, the phone may fall and ones it absorbs some water then the screen may not work clearly thus an internal breakage.
Read Similar Guides: How to Recover Android Data After Factory Resettings?
If your Samsung phone unfortunately gets malfunctions caused by water damage, the first thing you should do is to save the data on phone before fixing it. Then how to restore data on water damaged Samsung phone? You can try a professional Samsung data recovery tool like Broken Android Data Extraction to recover photos, videos, songs, text messages, contacts or other major data directly from water damaged Samsung phone completely. Most models of Samsung phones, as well as other Android phones are supported to restore data with this Android data recovery software. Such as Galaxy S7/S6/S5, Note 6/5/4, A9/A8/A7, etc. and HTC, LG, Motorola, Sony, Google Nexus, Huawei, Xiaomi and so forth.
Except water damaged Samsung phone, this powerful Android data recovery tool allows to recover data from broken Samsung phone, Samsung phone with touch screen can't be used,etc. Want to see how to use Coolmuster Lab.Fone for Android to recover lost data from water damaged Samsung phone? You can refer to the following 1-2-3 steps.
How to Recover Data from Water Damaged Samsung Galaxy?
Step 1. Get ready with the broken Samsung data extraction software
Launch the Broken Android Data Extraction software after you downloaded and installed it. Then, select "Broken Android Phone Data Extraction" from the left panel. Then, use a USB cable to connect your water damaged Samsung to the computer.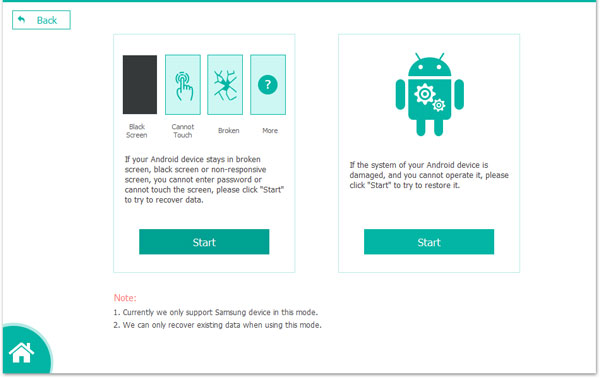 Step 2. Select and confirm device info
Choose the fixing mode and click "Start". Then choose the name and model number of your Samsung and click "Confirm". If you are not sure about the information of your phone, you can click question mark the program will show you how to find the information.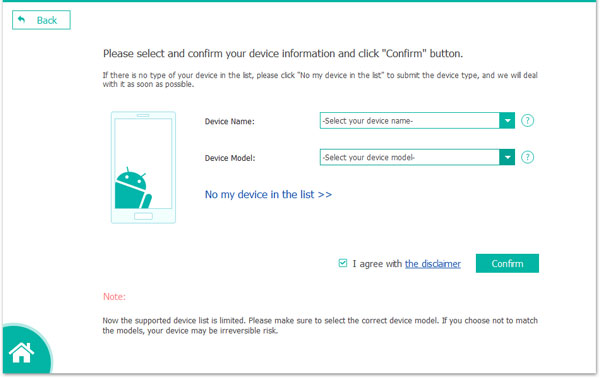 Step 3. Enter Download Mode and get it fixed
You will be asked to put your Samsung device into Download Mode. Just follow the onscreen prompts to put your broken Samsung in Download mode. After that, the program will detect the phone and scan out data on it instantly.
Step 4. Restore data on water damaged Samsung
User should look at the preview of messages to identify and selected which ones that they want to save. After the wanted data has been selected, the user will hit the 'Recover' button to complete the process.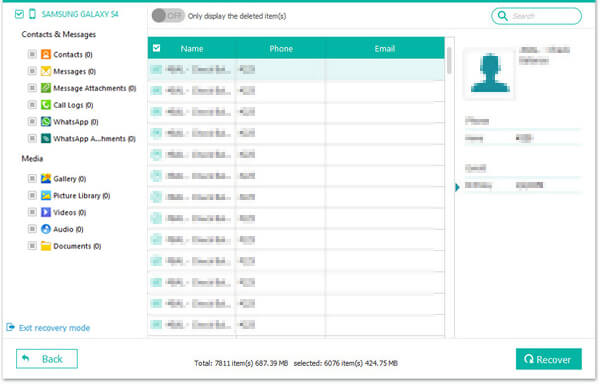 Check Supported Devices of Broken Android Data Extraction
Samsung Galaxy Note:
Note 3: SM-N900, SM-N9002, SM-N9005, SM-N9006, SM-N9007, SM-N9008 SM-N9008V, SM-N900S
Note 4: SM-N9100, SM-N9106W, SM-N9108V, SM-N9109W, SM-N910C, SM-N910F, SM-N910G, SM-N910H, SM-N910K, SM-N910L, SM-N910P, SM-N910R4, SM-N910S, SM-N910T, SM-N910U, SM-N910V, SM-N910W8
Note 5: SM-N920C, SM-N920G, SM-N920I, SM-N920K, SM-N920L, SM-N920P, SM-N920R4, SM-N920S, SM-N920T, SM-N920W8
Samsung Galaxy S:
S4: GT-I9500, GT-I9505, SCH-R970, SCH-R970C, SGH-I337M, SGH-M919, SPH-L720
S5: SM-G900F, SM-G900FQ, SM-G900I, SM-G900K, SM-G900L, SM-G900M, SM-G900P, SM-G900R4, SM-G900R6, SM-G900S, SM-G900T, SM-G900T1, SM-G900W8
S6: SM-G9200, SM-G920F, SM-G920P, SM-G920T, SM-G925F, SM-G925P, SM-G925T, SM-G928P, SM-G928T
Samsung Galaxy Tab:
Tab Pro 10.1: SM-T525
Related Articles:
Recover Deleted or Lost Data from Android Phone