How to Recover Data if Samsung Phone Cannot Access System?
Android phones are wonderful tools to use when you want to contact friend via text, email, or the phone itself. People use it all of the time for their GPS systems and its internet capabilities to find out a wide diversity of information including finding the next best restaurant to take the family for a meal. Therefore, whenever any type of Android phones display a black screen or you just can't access system, it is a great big deal that needs to be fixed right away. The reasons why you cannot access Samsung system can be various. Sometimes the problem appears sporadically and this can occur when there are problems with the phones hardware and sometimes that's because impertinent human operations.
Read Similar Guides: How to Recover Android Data After Factory Resettings?
Once the user knows the causes of the inaccessible Samsung system, the next step is to try troubleshooting it. You can pull out the battery to reboot it, remove any third-party software from the phone or reset your Samsung phone to factory settings. After you solve the problem of the inaccessible Samsung system, you can now try to get back your lost or deleted data from the Samsung mobile phone. The tool we want to introduce to you is the Broken Android Data Extraction, which is a great solution for this type of recovery process for all Android phones and tablets. The process is only 3 steps and the guide can be found in the below.
- Recover data from both the SD card and internal memory of an Android phone or tablet;
- Retrieve overall types of Android data, such as contacts, text messages, photos, videos, music and so on;
- Supports Samsung, HTC, Huawei, Google Nexus, LG, Motorola, ZTE, Xiaomi and other more Android devices.
As stated above, the process for recovery data that the user needs when they are dealing with inaccessible Samsung phone system does not have to be difficult as long as you have the data recovery tool for Android. The following guide will tell you how to use this program.
You may also want to know: How to Restore Data from Broken or Dead Samsung Galaxy?
Effortlessly Recover Data without Entering Samsung Galaxy System
Step 1. Get ready with the broken Samsung data extraction software
Download, install and launch the Broken Android Data Extraction software. Then, select "Broken Android Phone Data Extraction" from the left panel. Then, use a USB cable to connect your Samsung to the computer.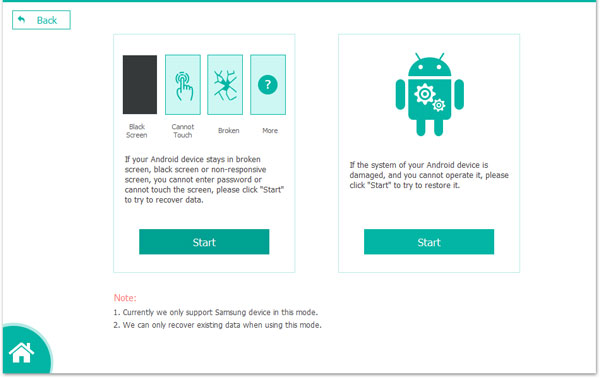 Step 2. Select and confirm device info
Select the fixing mode and click "Start". Then choose the name and model number of your Samsung phone and click "Confirm". If you are not sure about the information of your phone, you can click question mark the program will show you how to find the information.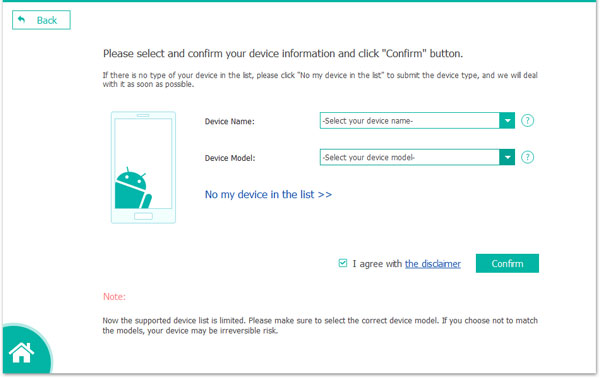 Step 3. Enter Download Mode and get it fixed
You will be asked to put your Samsung device into Download Mode. Just follow the onscreen prompts to put your broken Samsung in Download mode. After that, the program will detect the phone and scan out data on it instantly.
Step 4. Data recovery from Samsung cannot access system
When the scanning is complete, please tick off the data types you want to get back and click "Recover" button to save them on your PC. You can select a place on your computer to store those recovered files.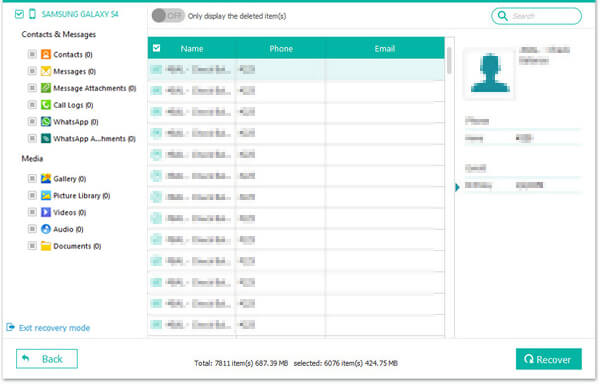 Attention! Even though it is easy to recover data from Samsung phone cannot access system by using this data recovery software. Backing up your Samsung Galaxy phone is very necessary!
Related Articles: