Samsung Galaxy Frozen on Startup, How to Fix?
While technology continues to evolve every single day, there are still a few hiccups when it comes to cell phones. This is especially the case when it comes to the Samsung Galaxy. Any long time user understands the frustration of their phone freezing up on start up. The good news is, there are a few things you can do in order to put an end to this problem.
Let's take a moment to discuss what causes the Samsung Galaxy to freeze, how you can fix it, how to rescue data from a frozen Samsung, as well as a few tips for avoiding it altogether.
People Also Read:
Fix Android Blue Screen of Death Problem
How to Solve Google Backup Not Working Issue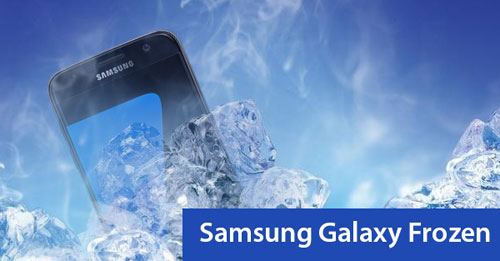 Part 1: How to Fix Samsung Galaxy Frozen on Startup
Part 2: Some Useful Tips to Avoid Freezing Samsung Galaxy
Part 3: How to Rescue Data from a Frozen Samsung Galaxy
Part 1: How to Fix Samsung Galaxy Frozen on Startup
So how do you fix your Samsung Galaxy when it freezes up on startup? Well, there are various options that you can exercise until you are able to pinpoint the exact issue.
1. Start by performing a soft reset. There are times in which your phone may simply be experiencing a glitch. So you should start by holding the power button down and allowing the phone to restart.
2. Next, you should try clearing your cache. There are some instances in which you simply may not have enough memory on your phone. So clear the cache by navigating to your settings and then the Storage section. Select 'cached data' and then select 'OK' to confirm.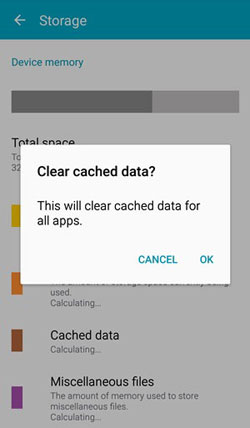 3. You should then all delete faulty apps. Some apps may contain malware which slows down your phone. So use Safe mode to pin point the exact app that may be causing the problem. This are often easy to spot has there may be a few apps that you don't even remember downloading.
4. Perform a factory reset. If none of these options seem to solve your problem then you will need to try a factory reset. So press and hold your power, volume up, and home key buttons simultaneously. When the Samsung logo appears, release the power button and select factory reset from the options on the Android recovery screen. You may then select 'yes,' delete all of your user data and then choose 'reboot system now.'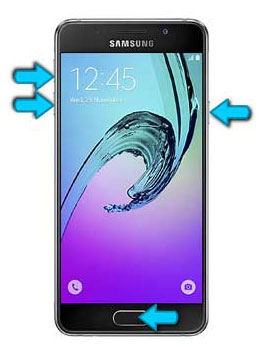 You May Want to Know: How to Solve Android Stuck on Boot Screen
Part 2: Some Useful Tips to Avoid Freezing Samsung Galaxy
Tips 1: Be careful about the apps you download. In many cases, the problem may not be with your phone but the programs that you have downloaded on to it--specifically apps. Make sure you read reviews for the apps so that you can find out if it has affected other people's phones. Doing this research on the front end can save you a lot of unnecessary frustration.
Tips 2. Be mindful of your memory. While you may enjoy taking selfies or downloading all of the latest apps, it's important to keep in mind that your phone can only take so much. It's a good idea to regularly clear your cache so that you won't have to worry about any unexpected surprises when your memory becomes to low.
Tips 3. Shut down processes that are running in the background. Occasionally check in with the task managed to find out if there is something that you're not using at the time. If so, shut the program down
Tips 4. You don't have to be held prisoner by your Samsung Galaxy. You can actually fix the problem yourself. The key is to be aware of what causes the freezing. It's also important that you know how to avoid it altogether.
Part 3: How to Rescue Data from a Frozen Samsung Galaxy
What you are most concern about much be the data and information you saved on the Samsung phone when it is freezing. Well, data recovery on a frozen Samsung Galaxy can easily be done by using a professional Samsung data recovery called Broken Android Data Extraction. It can help you recover data, including contacts, messages, WhatsApp data, call logs, social media data, gallery and documents from a frozen Samsung Galaxy with the highest retrieval rate. It supports Samsung Galaxy S8/S7/S6/S5/S4, Note 7/6/5/4/3, as well as other more Android devices.
Steps to recover data from frozen Samsung with Broken Android Data Extraction:
Step 1. Download, install and launch the Broken Android Data Extraction software on your computer. Then, select "Broken Android Phone Data Extraction" from the left panel of the program interface.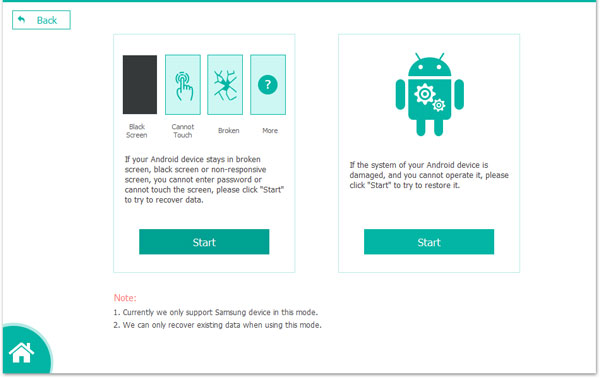 Step 2. Connect your frozen Samsung to the computer via a USB cable. Select the fixing mode from the program interface and click "Start". Then choose the name and model number of your Samsung phone and click "Confirm".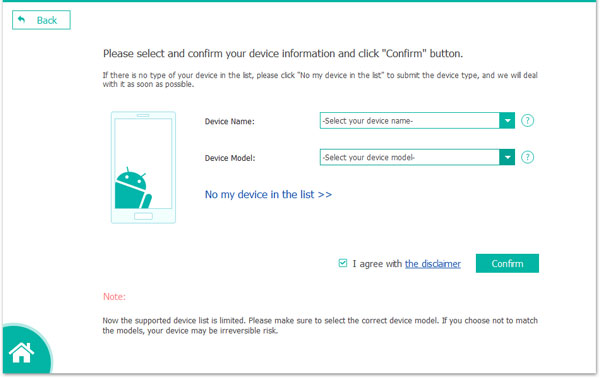 Step 3. Now, you should put your Samsung device into Download Mode so that the program can download repairing package for your damaged device. Just follow the onscreen prompts to put your broken Samsung in Download mode. After that, the program will scan all the content stored on your phone out.
Step 4. When the scanning is complete, you should tick off the data types you want back and click "Recover" button to export and save those recovered data on your computer.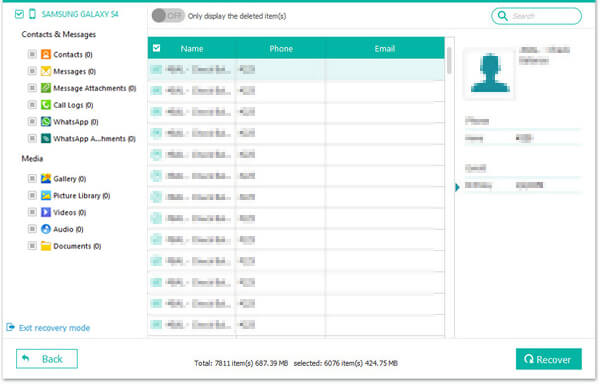 Note: For safety consideration, you'd better backup your Samsung device from time to time.