Easy Way to Search Particular Messages on Android
We know how hard a task it is to manage hundreds of messages on your phone. These selected few texts from your loved ones often get lost between dozens of useless promotional messages sent by companies. It's no wonder then, that finding that cute poem from your boyfriend or the meeting schedule from your boss becomes an uphill task.
This is where the professional assistant comes in. Not only does it allow you to store all your data to a computer, it makes it easier for you to manage your messages, let alone searching particular messages on Android phones. It works with almost every smartphone brand, including Moto, Samsung and Nokia. The software helps you to view all your messages on the big screen in an interactive interface, so you can easily find the text you've been looking for.
- Once you click on the "All SMS" section in the software after connecting your phone, all you have to do is select the messages you want to read.
- The text messages are then saved in a .txt format which you can open with even the most basic of word processing software.
- Other features that come in handy in this respect are that it empowers you to organize and edit contacts and more impressively, send and receive texts directly from your PC. With this feature, it has made mass texting significantly easier.
- You don't need to spend hours sending the same text to dozens of people, just select the people you want to message through the app and you're good to go. The feature easily replaces the annoying touchscreen keyboard that slows down your typing speed.
- All you need to do is type in the phone numbers and the content using your PC keyboard and click on "Send". This sort of convenience is exactly why more and more people are now opting to send messages through their computer.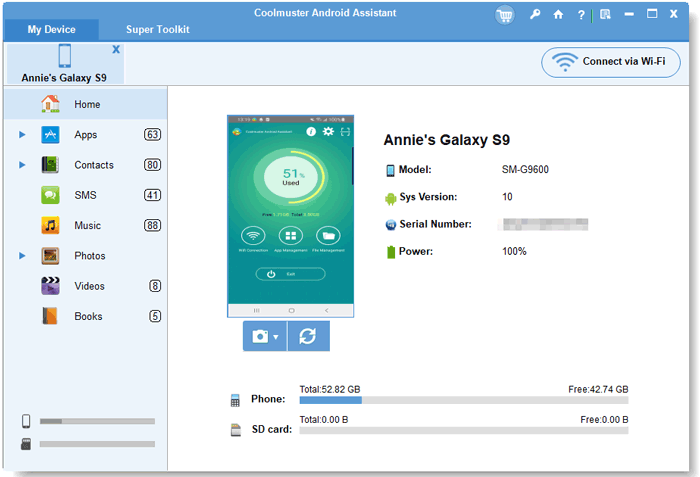 Extra Bonus: Search Lost Messages using Coolmuster Android SMS+Contacts Recovery
Another problem arises with the unpredictable mess that is loss of contacts and messages. Virus attack, failure of software, accidental formatting, anything can be the reason for you losing your valuable texts.
This makes sure that you never have to rue such incidents. And searching lost messages on your Android phone is just a piece of cake. The software easily recovers SMS and phone numbers from your smartphone as well as contact name, email, attachments, company and alternative phone numbers. Here is how you can do it:
- You don't need to restore all the useless messages in your phone to your PC.
- Just preview them in the interface before opting for recovery.
- These recovered messages are saves as popular formats like .txt, .html, .csv, meaning there is no hassle in viewing these files.
As long as you root your device, the software will work on any brand: LG, Moto, Nokia, and Huawei; among others. Coolmuster takes extra care of its customers' privacy and makes sure that the backup files it creates are read only and thus, risk free. While making these backups, the software only goes through the data concerned, and does not modify or distort your valuable information. So you can rest easy while the recovery program does its job.
Related Articles: