How to Transfer Text Messages between BlackBerry and iPhone?
Hey i just bought the iPhone 5S, I was wondering if anyone knows how to copy SMS text messages from a BlackBerry Curve to the iPhone. Is it possible? Thanks!
As iPhone and Android mobile phones are becoming more and more popular, many folks are ready to give up their unloved BlackBerry phones for getting a new Android phone or iPhone 5S/5C/4S/4/3GS. To tell you the truth, changing a mobile phone is an exciting decision, but there are increasing number of BlackBerry users asking how to transfer data, especially plenty of important text messages from the old BlackBerry phone to the new iPhone because they are totally running with different operating systems. That's why we wrote this article to tell you some tricks on how to transfer SMS text messages from BlackBerry to iPhone. Copying from iPhone to BlackBerry phone is also supported.
Easiest and quickest way to move texts from BlackBerry to iPhone:
To get the text messages extracted from a BlackBerry phone and transfer to Apple iPhone, a third-party phone to phone data transferring program is needed. Here we highly recommend the BlackBerry to iPhone Transfer, which is an transferring tool that allows you to transfer data between two phones with different operating systems like iOS, Android and Symbian. With the help of this tool, you can move text messages, contacts, photos, videos, music, apps and more between BlackBerry and iPhone in just one click.
Read More Articles:
Transfer Photos between Motorola and Computer?
How to Transfer Photos to Samsung Galaxy S6?
In the next paragraph, we will show you how to use BlackBerry to iPhone Transfer to transfer SMS between iPhone and BlackBerry phone. Just download the SMS Transfer from the links below to get the software downloaded and then follow the user guide below, which goes your through the SMS transfer process step by step:
The Way to Export SMS from BlackBerry Phone to iPhone 6/5S/5C/4/3GS?
Preparation: Backup BlackBerry to computer
First of all, install BlackBerry Desktop Software and launch it on your computer. Connect your BlackBerry phone to the same computer's USB ports via a USB cable and click "Backup Now" option to backup your BlackBerry device on your computer.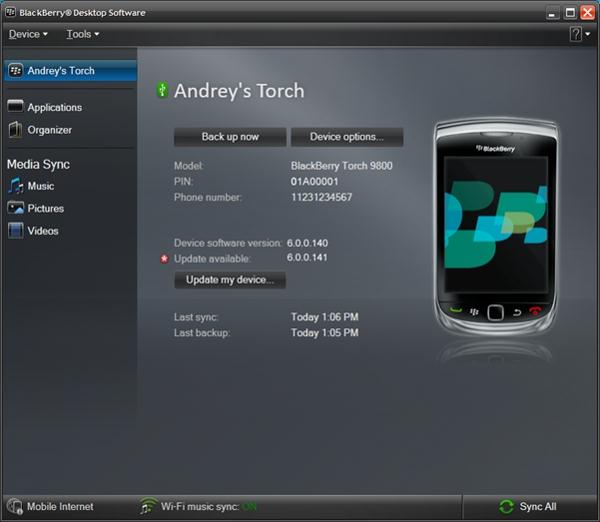 Step 1. Launch the BlackBerry SMS to iPhone Transfer Tool
First you should run the Transfer software on your computer after you install it. You will see its primary interface like below picture, from which you should choose Restore from Backups and click the "Start" button to continue.
Note: Please make sure you have installed iTunes on your computer.
Step 2: Connect your iPhone to the PC
Next, please get your iPhone connected with the computer using USB cable. The launched phone transferring software will detect the iPhone and the backup file for your BlackBerry automatically and show them on the interface side by side.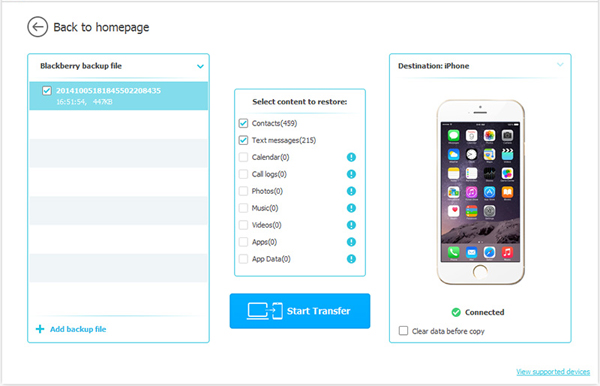 Step 3. Start to Copy SMS between BlackBerry and iPhone
Finally, you should select what you want to transfer. All transferable files like Contacts, SMS, Photos, Videos, Music and Apps are displayed. Just tick the "SMS" option and press "Start Transfer" to begin transferring from your BlackBerry to iPhone.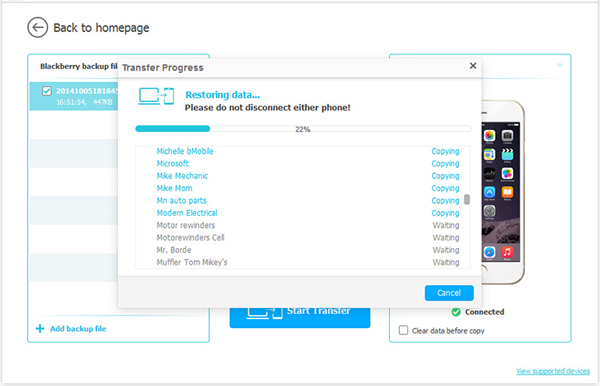 Just disconnect your BlackBerry and iPhone from the computer after the transferring is finished. Do you think the BlackBerry to iPhone Transfer is pretty easy to use? Just pick it!
Related Articles:
Transfer Contacts from Samsung Galaxy Note/S to Computer