How to Transfer Contacts Between LG and iPhone?
When it comes to switching from a LG phone to a new iPhone 5S/5C, one of the most primary concerns is how to swap contacts between LG phone and iPhone. Some suggest extracting the contacts from the LG phone, save them on the computer and then transfer them to the new iPhone. However, it seems impossible because iPhone and Android are running with different OS, the former is iOS and the latter is Android. When you transfer contacts from your LG phone, they will be saved in a format which is incompatible when you export to the iPhone.
Read more: Transfer Music between iPhone and Samsung Galaxy
Being this predicament, it's time to try an efficient and reliable third-party phone data transfer to help you get out of the trouble. It's called LG to iPhone Transfer, giving you the chance to transfer LG phone data to iPhone, and copy data from iPhone to LG with 1 click only. Contacts kept in LG internal memory card or SIM card can be easily copied to the iPhone with all contact information like name, phone numbers, emails, address, job titles, etc. perfectly preserved during the transference. Zero quality would be lost.
LG to iPhone Transfer does not only transfer contacts, but copy text messages, call history, apps, photos, music and videos between the LG Android mobile phone and iPhone without any trouble. Now, check the easy but detailed guide below to transfer your contacts between LG and iPhone. Before that, please download the full-featured mobile transfer software on the computer to get ready. Here, we will set the Windows version as an example.
Read more: Files Transfer after Switching from iPhone to Android
How to Copy LG Phone Contacts between iPhone 5S/5/4S/4/3GS?
Step 1. Run the mobile transfer tool on your PC
Suppose you have downloaded the mobile transfer tool - LG to iPhone Transfer on your computer, install it to show the primary window on the PC screen. Just choose Phone to Phone Transfer mode to continue.
Step 2: Connect your LG and iPhone devices to the computer
Then, connect both the LG and iPhone to this computer via two USB cables. Once the connection is successful, this phone transfer will detect them soon and show them in the places of "Source" and "Destination". You can freely change their positions by clicking the "Flip" button. Data in the Phone on the "Source" position will be copied to the "Destination", and vice versa.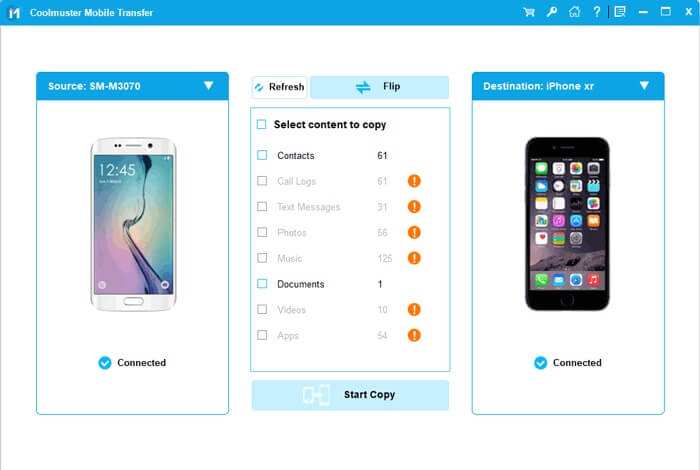 Step 3. Start to transfer contacts between LG & iPhone
This program will acquiescently move all data, including music, videos, text messages, contacts and photos between the two phones. To export contacts only, you should uncheck any other files except "Contacts". Then, click "Start Transfer" to let this phone data transfer tool begin transferring contacts from LG to iPhone or from iPhone to LG.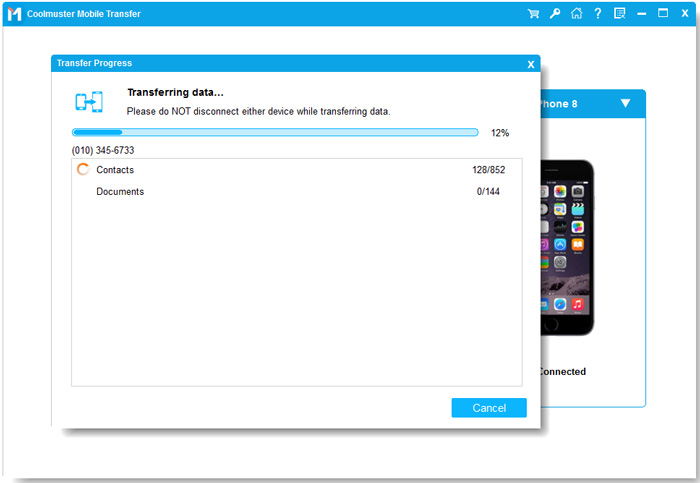 Make sure that the two phones are connected well during the whole transfer process. After the transfer finishes, you can eject the two devices, check the exported contacts in the phone and use them as usual.
Related Articles:
Sync Music between Samsung Phone/Tablet & Computer
How to Send SMS from Computer (Windows & Mac) to Mobile Phone