Top 5 Android Backup and Restore Software
Everyone knows the importance of backing up and restoring your Android devices. No matter, how unfortunate the accident is (here are Top 5 Causes of Android Data Loss), you may lose your smartphone, but backing up ensures that you never lose that precious data of yours. While you can use cloud services like the Google Drive for backing up your device, backing up on your computer is definitely advantageous as you can do it anytime you want and you don't have to pay for it.
Fortunately there are some Android backup and restore softwares that make backing up and restoring Android devices on your computer a smooth and easy task. Just read the description for each of them and pick up the one you like best.
1. Coolmuster Android Assistant
2. App Backup Restore
3. Backup Your Mobile
4. Helium
5. Easy Backup and Restore
Top 1. Coolmuster Android Assistant - best Android Backup & Restore Tool
Coolmuster Android Assistant is a management program that allows you to make backups and restore your Android device in just a few seconds. Whether you've lost your Android device or damaged it, your data will always be protected with the Coolmuster Android Assistant. It features with all powerful functions you may need in managing your Android phone data on computer.
Features of the Coolmuster Android Assistant:
- In just one click, you can backup and restore your Android device.
- Manage, delete and even edit Android data on computer
- It is compatible with all Android brands.
- It only has the Read Only operation to prevent any damage to your Android data on the computer.
- You can even back-up all or some of the myriad of applications that you love.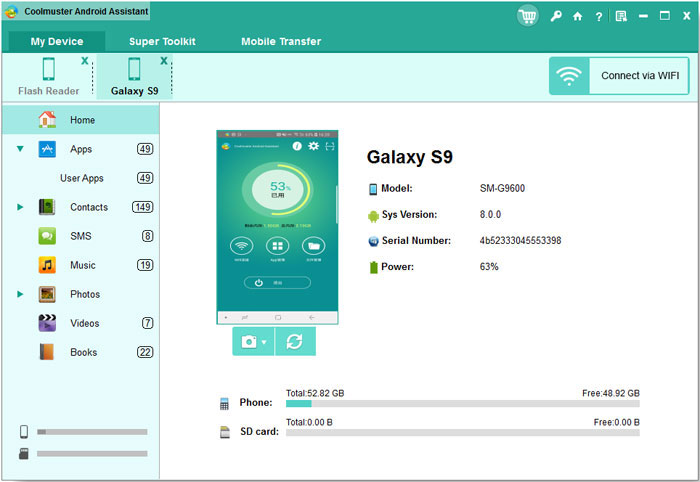 How to use Android Assistant to backup and restore Android with 1 click:
Step 1: Using a USB cable or WIFI, connect your Android device to your PC. Once your device is detected, you will be taken to the main user interface of the software. You can backup your phone or restore it with once click. For this, in the main user interface, just click on the "Super Toolkit" option. You will see two options: "Backup" and "Restore".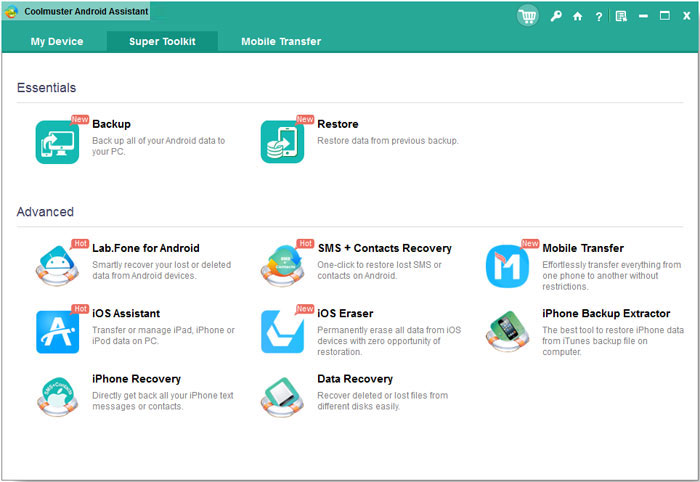 Step 2: For 1-click Backup, click "Backup" option, choose the content that you want to back up and select the destination folder where it needs to be saved. Then choose the option "Back up" at the bottom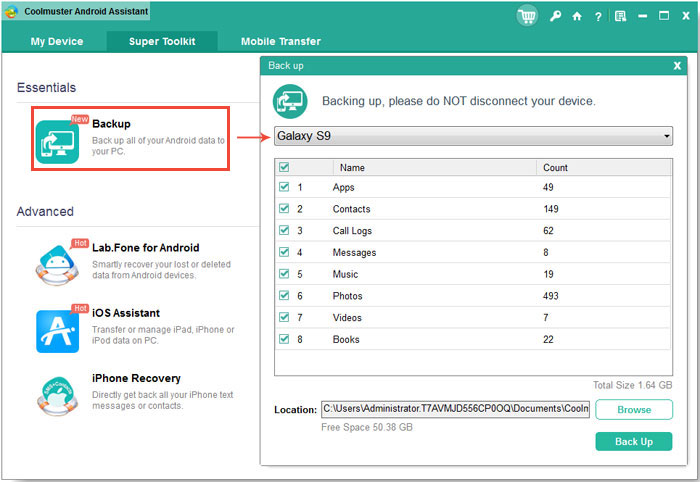 Step 3: For 1-click Restore, click the "Restore" option, select the files that you want to restore and then click on "Restore". The selected files will be restored on your device.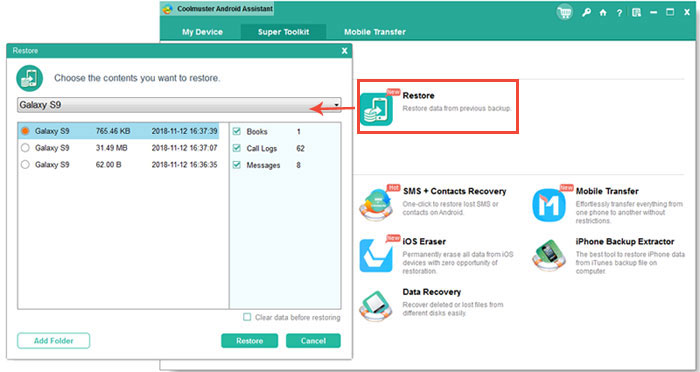 Top 2. App Backup Restore - Backup & Restore Software for Android
This simple back up app can carry out auto back-ups, allows you to make a backup to the cloud or an SD card and you can also back-up and restore APKs. It's simple and doesn't take much time. However, it cannot backup the real app data so if you are looking to save on your precious app info, you might have to think otherwise.
You can download App Backup Restore in Google Play >>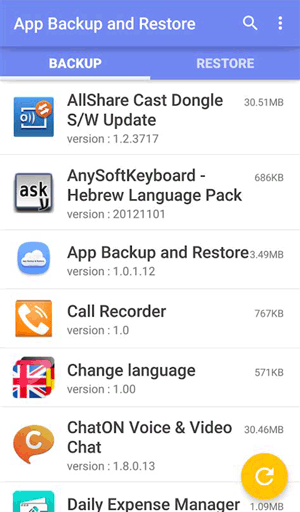 If you don't need an app with a lot of features, this one can help. With a user-friendly interface you can back up your texts, call details and so on. You could back up most of the things you would want, and the entire process is simple. You could get started in minutes. However, the app that can be downloaded for free, has been known to have some bug issues.
You can download Backup Your Mobile in Google Play >>
This backup app requires no root access and you can use this app to make backups directly to your device or to the Cloud. Since it requires root access it's not for amateur users who don't know coding. You can easily go wrong here and you wouldn't know how to get it right. There is a premium version that also allows you to sync the applications and they can be backed up and restored using cloud storage. However, you will need a certain extent of technical knowledge to work with this one.
You can download Helium in Google Play >>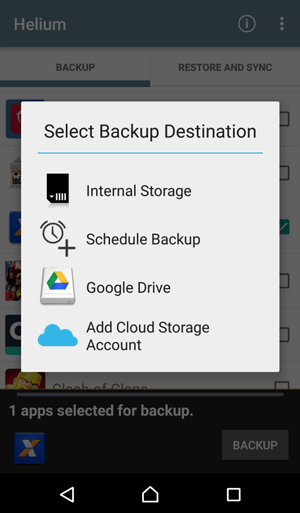 Top 5. Easy Backup and Restore
You can back up your most of your usual data and it can be done on to cloud as well as your device. There are some features for which you will require root access, such as app data and batch restoring applications. While it does seem good for the most part, the problem is that it is a lot unpredictable and you wouldn't really know whether you've been able to back up till the last. If you're unlucky, it would mean you losing out on your precious data.
You can download Easy Backup and Restore in Google Play >>
Related Articles:
Top 5 Android eBook Readers You Should Know