Top 5 Android Expense Managers to Manage Your Finances
First off, why do you need an Expense Manager App?
Keeping track of spending is important and one of the first lessons taught to children with their pocket money. But as you grow up and get busy with work and other commitments, it becomes almost impossible to write down every thing you spend or earn. This is why an expense manager app comes really handy. You carry your smartphone with you everywhere – why not use it to manage your finances too? It will not only help you to save more, but also understand your spending patterns and allow you to allocate your finances better.
Here is a look at some of the top expense manager apps you can find today on your Android phone. With proper planning, you will be able to save more and ensure that you keep a tab on the ban balance. Saving money is sure to get easier than before.
Part 1: Best 5 Android Expense Manager Apps
1. Expense Manager by Bishinews
This application has a straightforward interface. It tracks your expenses and incomes. You can marks a certain expense or income as "recurring". You can backup your data using Dropbox, Drive or SD Card. It includes calculators for loans, and credit card payoff details, too. You can customize the look and color of the app. It is a free app.
You can download Expense Manager by Bishinews from Google Play Store >>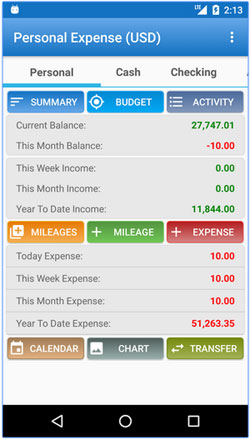 2. Daily Expenses
This has one of the most easy to use interfaces you will see. You can classify your expenses and incomes by category. You can view your reports in daily, weekly, biweekly or monthly format. It is compatible with your tablet and provides a horizontal view. You can password protect your data.
You can download Daily Expenses from Google Play Store >>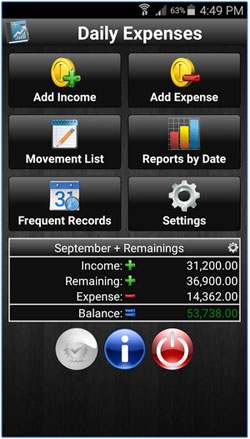 3. Smart Expense Manager
This is one of the most aesthetically pleasing and well designed apps you'll see in the market. It is easy to use as the steps come up one by one once you open it after downloading. The app is completely free. You can also take pictures of receipts. The graphs in this app are very comprehensive and clear to understand.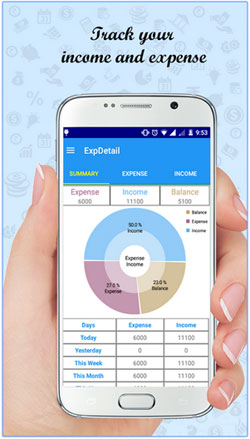 4. Expense Manager by Markus Hintersteiner
This is a lucid and clear application to manage your finances. The design is simple and ad-free. You can set a monthly limit on expenses. You can set it as a widget on your homescreen for faster usage. It allows you to export your spreadsheet. It has certain in-app purchases. It can be integrated with the DashClock.
You can download Expense Manager by Markus Hintersteiner from Google Play Store >>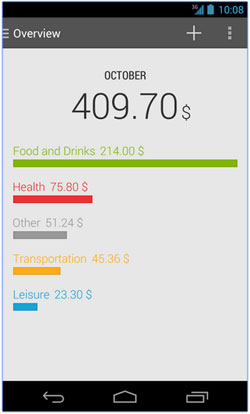 5. AndroMoney (Expense Track)
This application's interface is quite intuitive. It supports multiple accounts. You have choice between simple, detailed or custom budgets. There are trend charts, pie charts and bar graphs that show your expenses and cash flow. You can back up your data to Excel. It can also be synced with other devices.
You can download AndroMoney from Google Play Store >>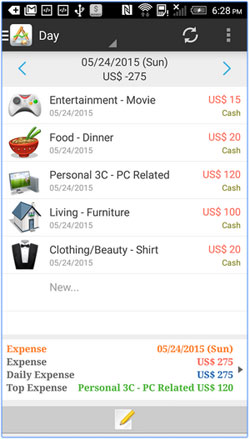 Part 2: How to Manage Android Expense Manager Apps on Computer?
You can manage and use your favorite Expense Manager App not only on your Android phone, but also on your computer. All you need to do is use the Coolmuster Android Assistant (here is the Mac version). Apart from Expense Manager, this app can manage, install, uninstall and export any Android app on your computer. It can also deal with your Android media, contacts, SMS and everything else on your computer.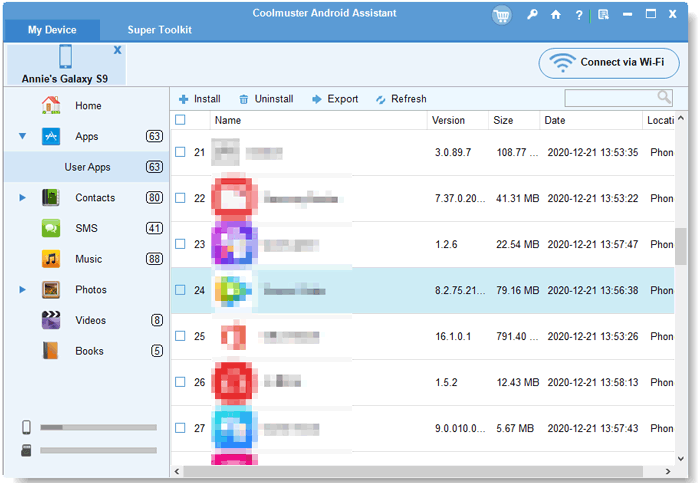 Following are the steps you need to take in order to manage your expense manager app:
Step 1 - Install and launch Coolmuster Android Assistant.
Step 2 - In the main window of the Android Assistant, you will see a menu on the left side. Choose the "Apps" option.
Step 3- Select your Expense Manager app from the apps that show up. You can export, install or uninstall the app from here.
That's all that you need to do to keep a check on your expenses!
Related Articles:
Top 3 Android Notification Manager