Top 5 iMovie Alternative for Android
Presented on the market in 1999, iMovie is a video editing application that is designed to be utilized on Mac and iOS devices. Mac users can use iMovie to edit videos on iOS devices easily. Now, Android users also would like to find an iMovie similar app to edit videos on Android devices.
Part 1: Why Android Users Want iMovie Similar App for Android?
Part 2: Top 5 iMovie Alternative Apps for Android
Part 1: Why Android Users Want iMovie Similar App for Android?
Alternatives for this type of software began to become apparent when Android skyrocketed in popularity, making millions of individuals jump into the craze, without having to resort to purchasing a Mac manufactured device. They provide the same functions that one would expect to garner from a first class video editing application like iMovie. The alternate options are endless. Contrary to what many would believe, alternatives are not made equal, hence the importance of being wise when one is about make a selection.
The following are the top five iMovie alternatives for Android that have been able to garner a grand following due to being innovative platforms that do not lack in any aspect. These substitutes come accompanied by groundbreaking features that in return make them more engaging for users. They can easily be used by anyone, no matter their level of video editing experience. To top it off, they are free! Let's keep reading and pick out the one you like best.
People Also Read:
Top 5 Android Audiobook Apps
Top 5 Android Photo Organizer
Part 2: Top 5 iMovie Alternative Apps for Android
1. AndroVid
This application was developed by Zeoxy, a developer that has become well-known in the industry for implementing the latest technologies on every application it presents to consumers. AndroVid's structure is the perfect example of what simplification in an application should be all about. The possibility of encountering an issue while using it is not something that should cross one's mind, as it was made with the outmost attention to detail to ensure that everything runs smoothly. Video editing can be conducted with a single touch. With AndroVid, users are able to get a variety of tasks done in a timely fashion manner, which tends to not always be the case with other applications. It a simple but yet an effective platform that gets down to business as soon as it is put to good use.
Download AndroVid from here >>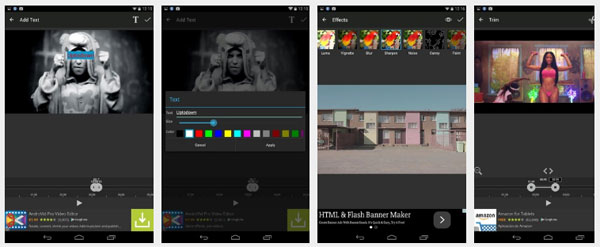 2. Kine Master Pro
Developed by Nexstreaming Corporation, this application is already being regarded as a creative platform where one can obtain features that are very engaging due to their superb function. It is distinctly structured when compared to other choices. There is no other application on the market that looks remotely like it. Nestreaming Corporation definitely knocked it out of the park with its design. All the options are visible in a way that is simple to follow. Everything is order so that one can use it with ease as soon as it is installed.
Download Kine Master Pro from here >>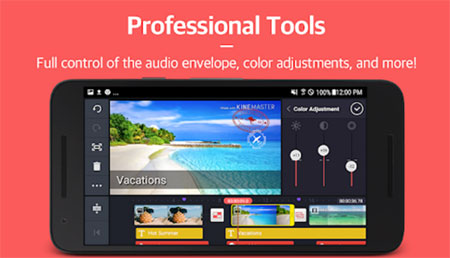 3. VidTrim
Gosset Media has never failed in offering what consumers want; VidTrim is the perfect example of this statement. The editing process that one can expect from this application is outstanding. This platform was structured for editing to be performed in the best manner. Due to its simple layout, everybody can easily get the hang of it in a matter of seconds. No matter the video editing task that you want to conduct, you can count on VidTrim to help in great measure. Your projects will look professional in every aspect, hence why many creators have already made it their new best friend.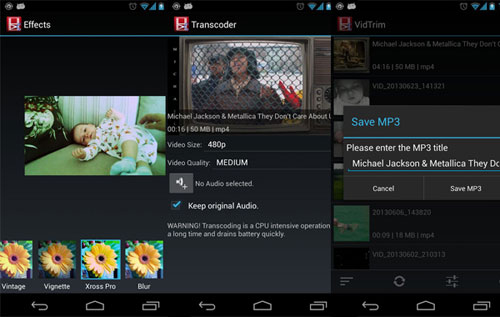 4. Viva Video
Developed by Quvideo Inc., Viva Video has been referred as one of the few applications on the market that provides users with the best results every time. With aid of the camera lens, it ensures that each capture is perfectly conducted to provide user with satisfactory results. With drag and drop features, this iMovie alternative makes slideshow conversions a breeze. It is a platform that reflects simplicity from every angle, one of the top reasons why more people keep installing it on a daily basis.
Download Viva Video from here >>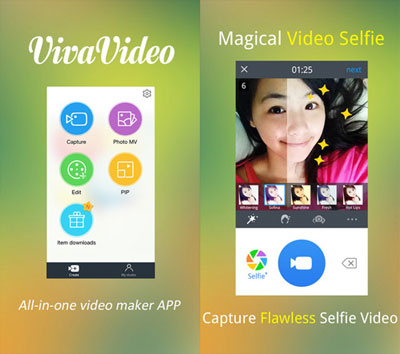 5. We Video
For those individuals who are just interesting in downloading and thus installing software that is identical to iMovie, nothing more and nothing less, then We Video is an option that should be taken into consideration. It has the same functions that iMovie has at the moment. Many individuals who have utilized iMovie have mentioned that this application is similar to it in every aspect, making some forget that they are utilizing an alternative. There are some consumers who have gone as far as to mention in their reviews that We Video is better than iMovie, which would not be shocking as We Video was developed by professionals in the field, who have become well-known for going the extra mile to provide top-notch applications that can stand tall against the competition.
Download We Video from here >>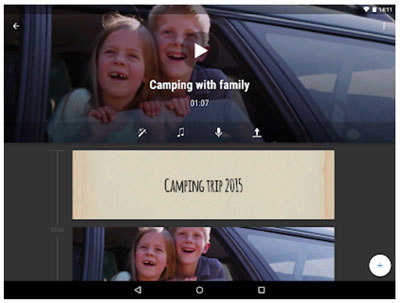 iMovie Alternatives for Every Need and Want
The popularity of these five iMovie alternatives does not appear to be coming to a halt anytime soon. They keep garnering countless positive reviews every day from Android users. It is up to you to decide which one best meets your video editing needs and wants.
Related Articles:
Top 5 Android eBook Readers You Should Know