Top 6 Samsung Data Recovery Software in 2018
Because Samsung is such a popular device, people all over the United States and abroad are carrying this device around with them on a daily basis. Also, it is not uncommon for users to store everything that they can think of on their devices. From storing personal information that they need to pay off an account to keeping a record of their text messages from a co-worker or a friend, the data that they store on their devices can be very instrumental in assisting users with their organizational skills.
Typically, whenever an individual is not able to use their Samsung device because it has been damaged in one way or another, they may be in quite a bit of trouble, specifically if they cannot recover their data. This is one of the main reasons why people need a Samsung Data Recovery tool to access the information that they need as quickly as possible.
So, for those of you who are interested in these type of recovery software products, here are 6 of the top data recovery tools for Samsung phones that you and others can review for your needs and preferences.
1. Coolmuster Lab.Fone for Android
2. iSkysoft Toolbox- Android
3. Samsung Data Recovery
4. iCare Data Recovery Free
5. Jihosoft Samsung Data Recovery
6. EaseUS MobiSaver
Top 1. Coolmuster Lab.Fone for Android
Coolmuster Lab.fone for Android can be described as a superior industry recovery software. In fact, it is now known as one of the best. This is because this Android data recovery product can be used for many different reasons and purposes today. Especially, since it has many advanced features that will allow the Samsung user to recover their files with ease, including contacts, text messages, photos, videos, music, call logs, documents, etc. In fact, it also supports other Android based devices, including HTC, Huawei, LG, Sony, Motorola and so forth.
With only 3 simple mouse clicks away from restoring all of their data files, this software application has been designed specifically to extract the user's data that is stored on its internal memory and the phones' SD card.
Pros:
- User can pick and choose which data they want to restore or they can restore all data at one time
- Data can be restored to a desktop computer or a lap top computer for backup or further use
- Guide provided to walk users through to ensure a simple and intuitive retrieval process
- Supports most types of data loss situations
Cons:
- It's not free, but provide a trial version to you to try its host of features.
How to Use Lab.Fone for Android to recover lost Samsung data?
1. Download, install and launch Lab.Fone for Android on the computer.
2. Use a USB cable to connect your Samsung device to the computer. If the USB debugging is not enabled, you should enable it on the device first. After that, the connected Samsung phone will be detected by the Lab.Fone for Android.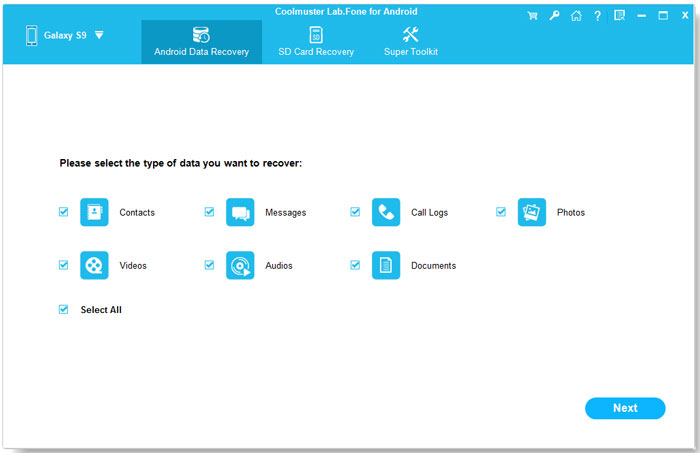 3. Tick off the types of files that you want to recover and click "Next" to continue. Then, the program will scan the connected Samsung phone to find all lost data.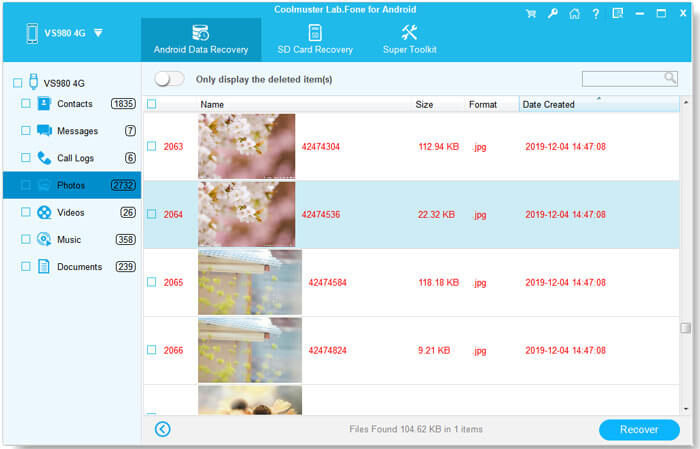 4. Preview the scanned out data carefully and select the files you want back. Then, click on "Recover" button to save them all on your computer.
Read More:
Top 3 Android Repair Software
Top 5 Android Photo Recovery Software
Top 2. iSkysoft Toolbox- Android
iSkysoft Android data recovery software is an excellent choice for Samsung phone users since it gives the user the capability to restore loss data. Because this software product has been built to accommodate a variety of different needs, this recovery tool can be used in many different situations. Even if the device is affected by a disaster, this tool gives the user what they need to restore all of their data. Some of the most commonly known data that needs to be restored from a Samsung phone includes text messages, call history, songs, videos, and the like. All of which are normal things that people prefer to always keep. To recover the data that the user needs, the owner of the device can restore files in several small steps online.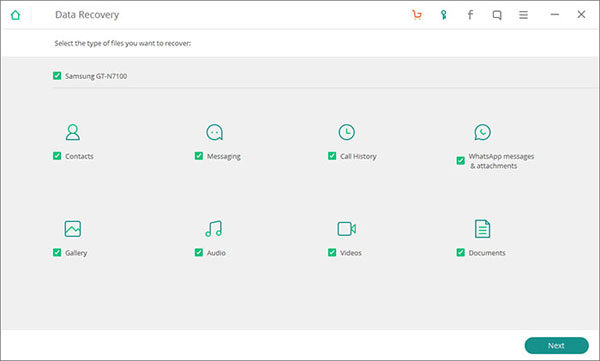 Pros:
- Steps to recovery is intuitive so it is easy to follow from start to finish
- The interface is not only a smart alternative but also lag free.
- Software solutions are compatible with different devices including HTC, LG and Samsung Phone devices
- Software is free on a trial basis
Cons:
- Some file types are not supported
Top 3. Samsung Data Recovery
The Samsung Data recovery tool can be described as an exceptional recovery tool for Samsung devices. The designers of this recovery application have been created what is needed with several different things in mind, including extracting information that recovers at least 8 different data types. Based on the user and their preferences, has also been designed to provide each user with the capability to complete these processes without the use of a USB cable connection. This is a great feature for those that need the functionality to complete the recovery process via Wifi.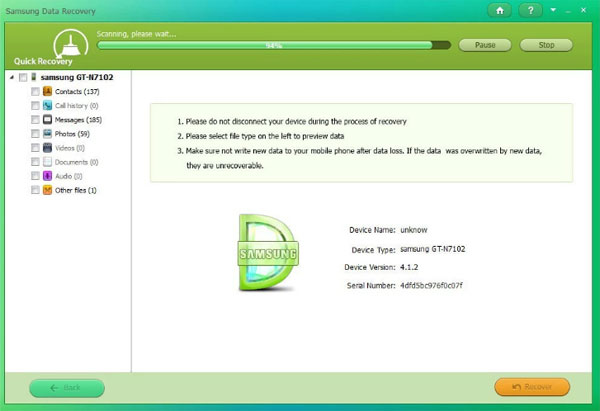 Pros:
- Based on individual situations, this application has been created with multiple different recovery and scanning modes
- Though there is a paid version of this recovery tool, there is a free trial available for people to use too
- The functionality provided with this kind of software helps to recover SMS, Contacts, document as well as other common file types
Cons:
- Free version is not a robust as the paid versions since it has been designed to only perform basic data recovery functions
Top 4. iCare Data Recovery Free
iCare Data Recovery is available in more than one version. One of which is free for any Samsung device user to use for their needs. With the free version of this software recovery application, people can restore different kinds of files like the photos and videos that they have captured over time. Users can also restore documents and audios so that they can be accessed again. In addition to the free version, users may want to also check out the paid option. Specifically, since the paid version comes with additional advance features. For instance, the free version will only allow the user to perform basic data recovery functions. On the other hand, when the user pays for this recovery application, they can extract the files that they need in a number of different ways. One of which will allow the users to unlock advanced options for the paid version users.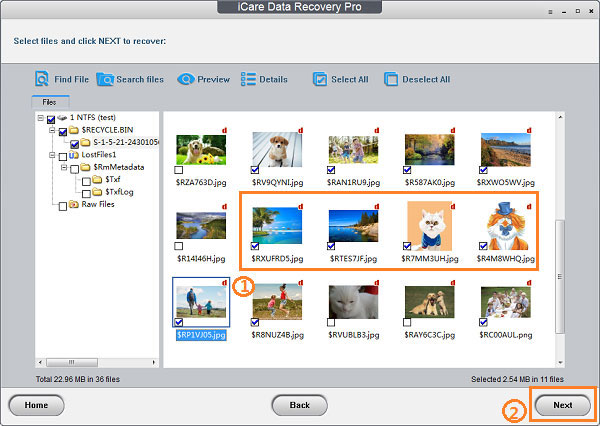 Pros:
- Samsung device users can use this application to recover the files that they have stored on different mediums including the flash drive, internal member and their SD cards.
- Designed to Supports a variety of different common file types.
- No data recovery limits set for extracting and storing data on other devices
Cons:
- Advanced Recovery Data options only available in paid versions of this software
Top 5. Jihosoft Samsung Data Recovery
Jihosoft Mobile Data Recovery can be described as a software application tool that allows each user to restore the data that they need from their Samsung phones selectively. Based on the need or preference, users can have their data restored from both their internal and external memory sources. So, it is important to note that the functionality included in this recovery too must be reviewed prior to its use.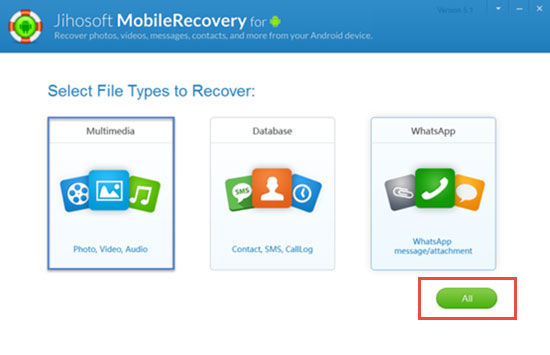 Pros:
- Designed with high secure software functionality in mind. Therefore, the process used does not include any background activities to complete the recovery functions.
- The scanning process can be done in as little time as possible since it does not eat up a lot of time.
- Users can select the files that they want to be restored.
- Designed with read only software applications so cloud processing is not involved in its recovery process.
Cons:
- Some devices may need to be rooted.
- It is not free. Some freeware alternatives available.
Top 6. EaseUS MobiSaver
The EaseUS MobiSaver recovery tool can also be described as an another Samsung data recovery application. Designers of this software have created a tool that helps the user to retrieve the data. The types of issues encountered does not really make a difference because this tool recovers files that have been lost due to the following reasons:
* Improper handling for the phones
* Operating System Errors
* Device Failures and more
All of which are common reasons why the data on a Samsung phone will need to be recovered.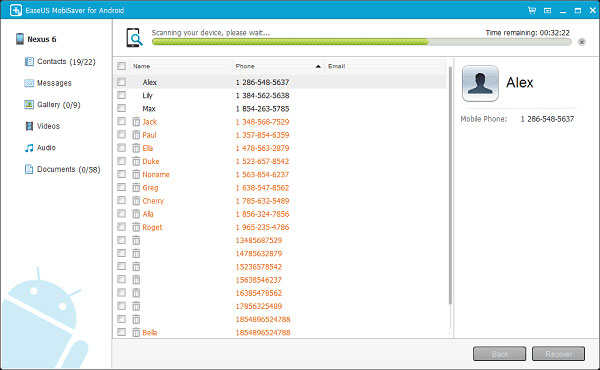 Pros:
- Advanced UI design that has been made to be Innovative in functionality
- Users have the option of previewing of all the data files that can be recovered
- When the user experiences problems with the recovery process, they will also have access to online support. In specific, the user can access LiveChat support whenever they encounter problems resolving user queries.
Cons:
- Some recovered files may be corrupted
- There're various restrictions on the trial version
Related Articles:
Top 5 Android eBook Readers You Should Know