How to Transfer Contacts from HTC/LG Phones to Computer?
Lost contacts from a mobile phone like HTC One M10, M9, M8, HTC Wildfire, or LG G6, G5, G4, G3, etc. can cause serious inconvenience. If you are a businessman, contact loss will directly damage the reputation of your company and make your business seem unprofessional. Rather than thinking about how to recover lost contacts from a mobile phone, such as HTC or LG, we'd better plan ahead to backup HTC/LG contacts to computer for futher record. But you may ask: when I plug my phone into the computer, we can easily find and backup videos, music and photos to computer, but where are the contacts? How can we export them to computer?
In this article, we will show you 4 different yet efficient ways to transfer contacts from HTC and LG phones to computer easily.
Way One: Transfer HTC/LG Contacts to Computer with Android Assistant
Way Two: Backup HTC/LG Phone Numbers with Android Data Recovery
Way Three: Save HTC/LG Contacts to Mac with Mobile Transfer
Way One: Transfer HTC/LG Contacts to Computer with Android Assistant
Well, the storage locations of media files and contacts are different. The former is external memory card and the later is in SIM card or internal flash memory. We can easily transfer media files from phone to computer via USB cord, but for contact's transfer, we need to ask help from third-party software, which is able to help accessing the internal flash drive of a phone and extract them out. Coolmuster Android Assistant (for all Windows versions) or Coolmuster Android Assistant for Mac is such kind of program to access and export contacts from not only LG or HTC phones, but also any brands of Android phone to computer and save in CSV or XLS format, which can be opened easily with desktop applications.
Learn More about The LG/HTC Contacts Manager:
1. Coolmuster Android Assistant is all-included software that not only transfer phone number, but copy email address, company's name, home address, and more contacts info to your computer.
2. All your phone contacts will be displayed in the program interface where you can delete useless contacts, add new contacts and edit existing contacts on computer directly.
3. In addition to contacts, other types of phone files like text messages, applications, eBooks, videos, music and more can be transferred between phone and computer easily.
4. And you can send messages from computer to any phone number.
Sounds wonderful? Let's check from the below guide to see how easy it is to handle this software.
After copying all the contacts to computer, you can efficiently avoid the hassle of having to recover lost or deleted contacts. With only one click on the "Restore", you can sync the back up contacts to your phone quickly. Below is the detailed guide showing you how to transfer and backup contacts from Android phone to computer by using this transfer tool. We will set LG and HTC phones as examples. First of all, download the free trial of the program to get ready.
Step 1. Connect Your LG/HTC Phone to Computer
Use a USB cable to connect your phone to the computer. Then, you will see the connected phone is detected by this program automatically. If it is the first time to run this software, you may encounter the following picture and required to enable USB debugging on your phone at first. If your device can be detected by the program, you can directly skip to the next step.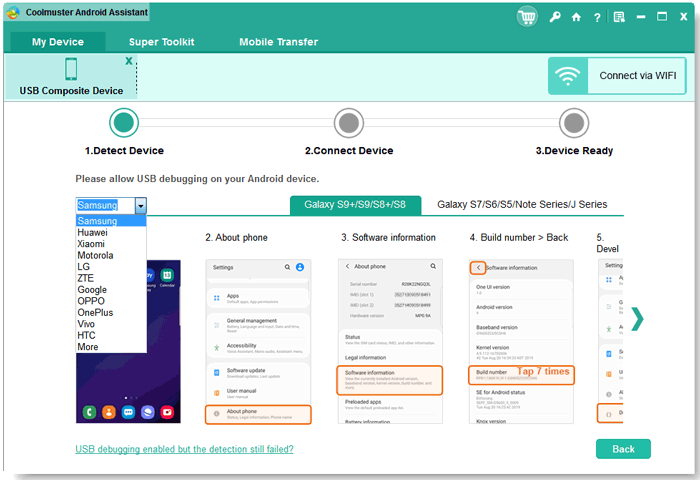 Follow the linked instruction to enable USB debugging on your phone.
Once the USB debugging is enabled, click "Allow" on your phone to allow the program super user authorization when an Superuser Request pops up. Then, the parameter information of your phone, including phone model, system version and storage space size will be shown in the main interface like below.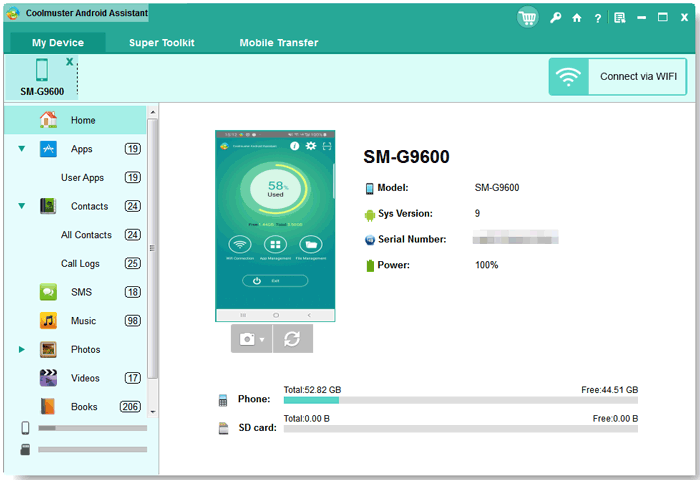 Note: Coolmuster Android Assistant is fully compatible with all popular Android phones, including HTC, Google, Motorola, Samsung, Sony Ericsson, Huawei and so on.
Step 2: Enter the Contacts window
From the left side menu, you can see all the files in your cell phone will show in categories. Click the "Contacts" icon and you will enter the Contacts window. By clicking on the "All Contacts", all the contacts in your phone will show in list here. Mark the contacts you want to backup on your computer and click the button of "Export".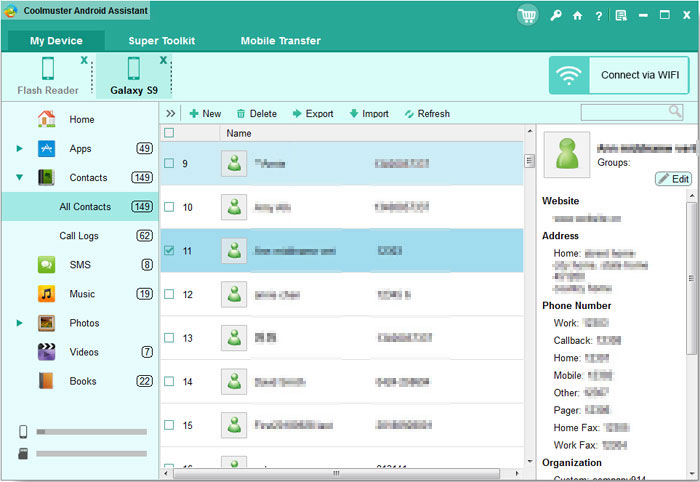 Step 3. Start to backup contacts at once
There will be a "Path" dialog appears after your click the "Export" button. Just choose an output location for saving the exported contacts and then click the "Ok" button to begin the transfer process.
Video Tutorial
Read More Articles:
* Transfer Android Files to External Hard Drive
* How to Backup Android Calendars to Computer
Way Two: Backup HTC/LG Phone Numbers with Android Data Recovery
The "Recovery" ability featured with Coolmuster Lab.Fone for Android is also very helpful for the use of backing up and recovering files from HTC and LG Android phones. It can recover lost contacts from HTC and LG phones and copy the lost and even existing files to the computer for backup. The software can manage to do so as long as the lost files are not overwritten yet. Therefore, you should stop using your phone until the lost data is recovered.
Step 1. Connect your HTC/LG phone to your personal computer
Use your USB data cable to link your HTC phone or LG phone to the computer and run this Android data recovery software. The software will automatically detect your connected phone and portray an interface.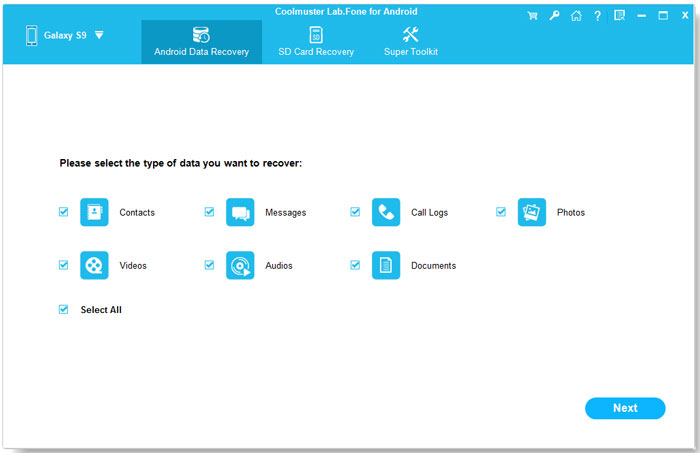 Step 2. Scan for all contacts on the connected phone
Once the software recognizes your HTC/LG mobile phone, you can select the type of data you want to recover. Here, you should tick off the "Contacts" option and click "Next". Then, it will perform a deep scan on the device to find all lost and existing contacts.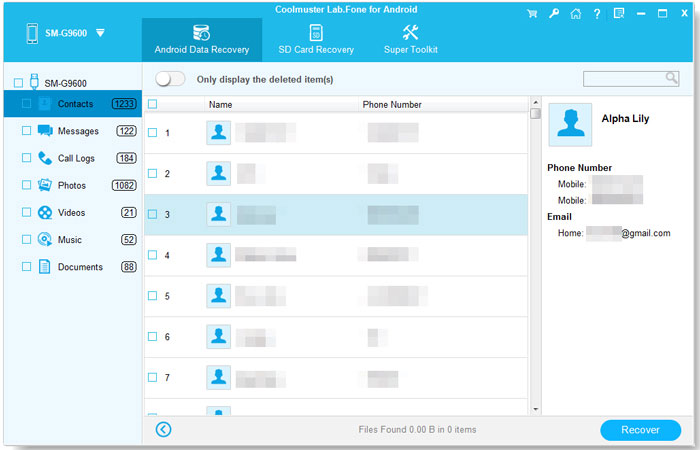 Step 3. Start to backup HTC/LG contacts on computer
Preview and select the contacts that you want to retrieve and click on the "Recover" button. Then, all the selected contacts will be saved on the local disk on your computer that you will specify.
Way Three: Save HTC/LG Contacts to Mac with Mobile Transfer
Coolmuster studio has another excellent tool named Coolmuster Mobile Transfer (Windows) or Coolmuster Mobile Transfer for Mac, which will do a perfect job for you as it can not only back up all or only required contacts from your HTC or LG or other Android mobile phone to computer as per your wish, but also can transfer everything, such as contacts, text messages, photos, videos, music, apps, etc. from one phone to another phone. Following is the short guide teaching you how to use the Mobile Transfer to copy contacts from Android phone to computer. It also has Windows and Mac versions for your choice.
Click below buttons to download the Coolmuster Mobile Transfer software to get ready;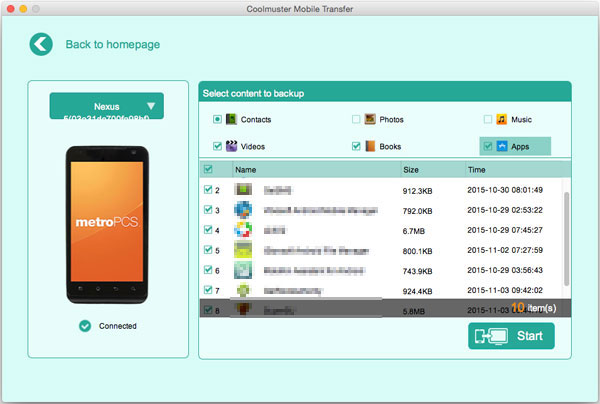 Process of using the Coolmuster Mobile Transfer:
Step 1. Install Mobile Transfer in your computer and run it. Connect your HTC or LG phone to the same computer via a USB.
Step 2. Click "Back up Your Phone" from the program interface to enter the Backup panel.
Step 3. Tick off the "Contacts" category you want to backup and click "Start" button to begin.
Related Articles:
Transfer Contacts from Samsung Galaxy Note/S to Computer
How to Send SMS from Computer (Windows & Mac) to Mobile Phone